What to See in Suzhou
Known as the"Heaven on Earth", "City of Gardens", "Silk of Land", Suzhou is one of the top tourist destinations in China. Suzhou is an old city with the history of over 2500 years, which endows aboundant tourism resoreces, such as rivers, grand canal, hills, historic streets, classic gardens, etc. Suzhou city not only feature natural scenic spots and Chinese classic gardens, also it gets the fame of "Venic of the East" because of the ancient water towns like Zhouzhuang Water Town, Tongli Water Town, Luzhi Water Town, etc. Follow Suzhou Private Tours, we would like to show you what to see in Suzhou, help you to find an easy way to explore Suzhou. Below are the top attractions and sevaral kinds of attractions in and around Suzhou:
Humble Administrator's Garden (Zhuozheng Yuan)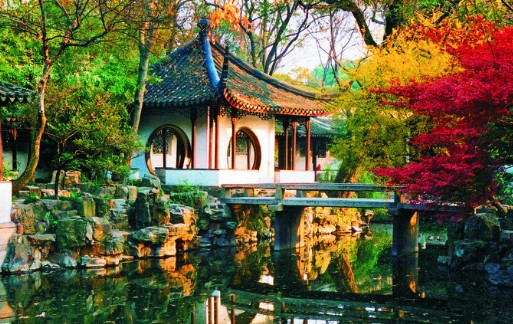 The Humble Administrator's Garden is the largest and most famous Chinese garden in Suzhou. It is also the best representation of Chinese classical gardens of the Ming Dynasty in the south regions of the Yangtze River, and hailed as the "mother of Chinese gardens". The Humble Administrator's Garden covers an area about 52,000 square meters(12.85 acres), which has been inscribed as a World Heritage Site by UNESCO along with other classical gardens of Suzhou in 1997. Humble Administrator's Garden is celebrated by its delicate layout of pools, rockeries, islets, bamboo grove, pines, pavilions and corridors.And its design is duplicated in many gardens all over China, and there is even a replica in the New York Metropolitan Museum.

Opening Time: 07:00 to 17:30 (Mar to Nov)
07:30 to 17:00 (Nov to Feb)
Admission Fee: CNY 90
How to get to Humble Administrator's Garden: Take tourist buses No.1, 2, 5, or buses No. 40, 78, 202, 313, 529, 923, and get off at the stop of Humble Administrator's Garden (Zhuo Zheng Yuan)
Lingering Garden (Liuyuan)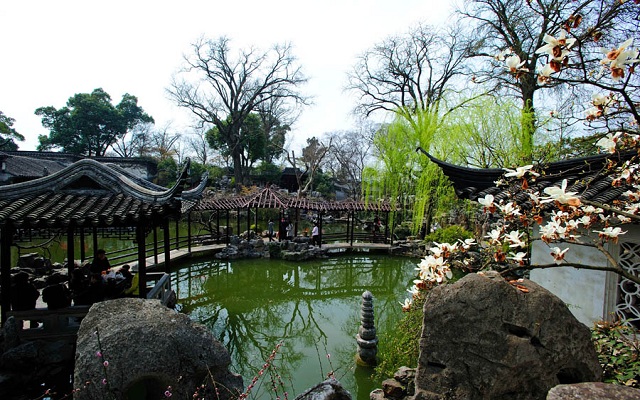 Located outside of Changmen Gate, Lingering Garden is world cultural heritage, which is a famous tourist scenic spot in Suzhou. Lingering Garden called China's four big gardens with the humble administrator's garden, the Summer Palace, Chengde summer resort. Lingering Garden covers an area of more than 30 acres, set housing, ancestral temple, temples, gardens, and integrated the jiangnan landscape gardening art. Landscape architectural space processing of Lingering Garden is very exquisite, using a variety of artistic techniques, built a unique space system, becoming one of the world civilization examples of architectural space art processing.
Opening Time: 7:30am-5:00pm.
Admission: CNY 55 per person (Peak season)
CNY 35 per person (off-season)
How to get to Lingering Garden(Liuyuan)
Bus Routes: No.7,22,33,44,70,85 get off at the station of Liu Lingering Garden road
Subway Routes: Take subway No.2 and get off at the station of Shilu Station
Master of Nets Garden(Wangshiyuan)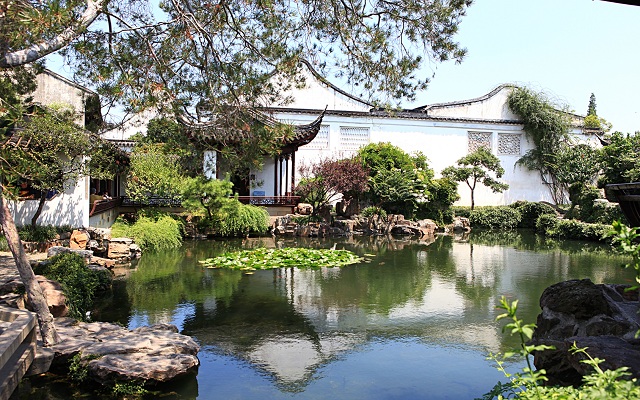 The Garden of the Master of the Nets is the smallest of the Suzhou residential gardens, yet it is the most impressive one because of its use of space which creates the illusion of an area that is much greater than its actual size. The garden is divided into three sections: a residential section, the central main garden and an inner garden. The garden is especially fancied by overseas visitors and is praised as the most ornate and intact private gardens in Suzhou. Some tourists even offer a huge amount of money to buy it. Moreover it's an UNESCO World Heritage Site boasts animpressive garden and nightly Kunqu opera performances, and it's best known for its architectural splendor.
Opening Time: 7:30 am– 5:30 pm
Admission Fee: CNY 30
CNY 100 ( Night Garden Show)
How to get to the Master of Nets Garden: take bus No.55 ?02? 529? 811?931 ?and then gets off "master of the nets Garden"
Tiger Hill (Hu Qiu)

The Tiger Hill extends over an area of 1.4 hectares (3.5 acres) and is 36 meters (118 feet) in height. Though small in size, Tiger Hill is provided with many gorgeous scenes, historical sites, numerous towering ancient trees and a Tiger Hill Pagoda on the top of the hill. Tiger Hill is also famous as Surging Sea Hill because of its natural beauty. You will find lots of historical sites in Tiger Hill scenic area, some of which can be traced back over 2500 years to the founding of Suzhou. The Tiger Hill has been the must for tourists. The great Song literary man Su Dongpo said, "It would be a pity if you had been to Suzhou but didn't get to visit the Tiger Hill." As a showcase of Suzhou and one of the first ten exemplary civilized tourist attractions of China.
Opening time: 07:30-18:00
Admission Fee: CNY60 (Entrance Fee)
CNY50 (Bonsai Exhibition in Wanjing Mountain Villa)
How to ger to Tiger Hill: take tourist lines No.1, 2, 32, 146, 816 and 949 get off at Huqiubeimen (north gate of Tiger Hill)
Hanshan Temple (Could Mountain Temple)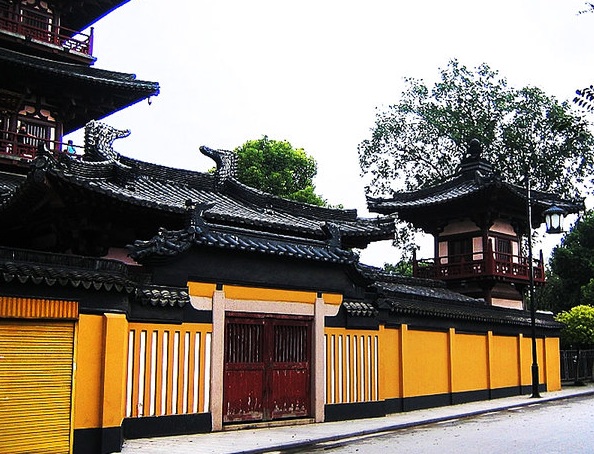 Traditionally, Hanshan Temple is believed to have been founded during the Tianjian era (502–519) of the reign of Emperor Wu of Liang, in the Southern and Northern Dynasties period with a history of more than 1400 years. The current name of the monastery derives from Hanshan, the legendary monk and poet. Hanshan and his disciple Shide are said to have come to the monastery during the reign of Emperor Taizong of Tang (627–649), where Hanshan became the abbot. Hanshan Temple (Cold Mountain Temple) is a Buddhist temple and monastery in Suzhou. Cold Mountain Temple is often known for its bell rings, the bell is ringed to pray for safety, peace and happiness. It is said that all your trouble in one year will be driven away by the bell. Hanshan Temple is also famed in East Asia because of the poem "A Night Mooring by Maple Bridge", composed by Tang Dynasty poet, Zhang Ji.
Opening Time: 8:00am – 5:30pm
Admission Fee: CNY 20
How to get to Hanshan Temple: take bus No.2,6,9,17,21,31,301 and tourist bus Line 3 to get off at the Fengqiao Stop(Maple Bridge).
Grand Canal (Beijing-Hangzhou Grand Canal)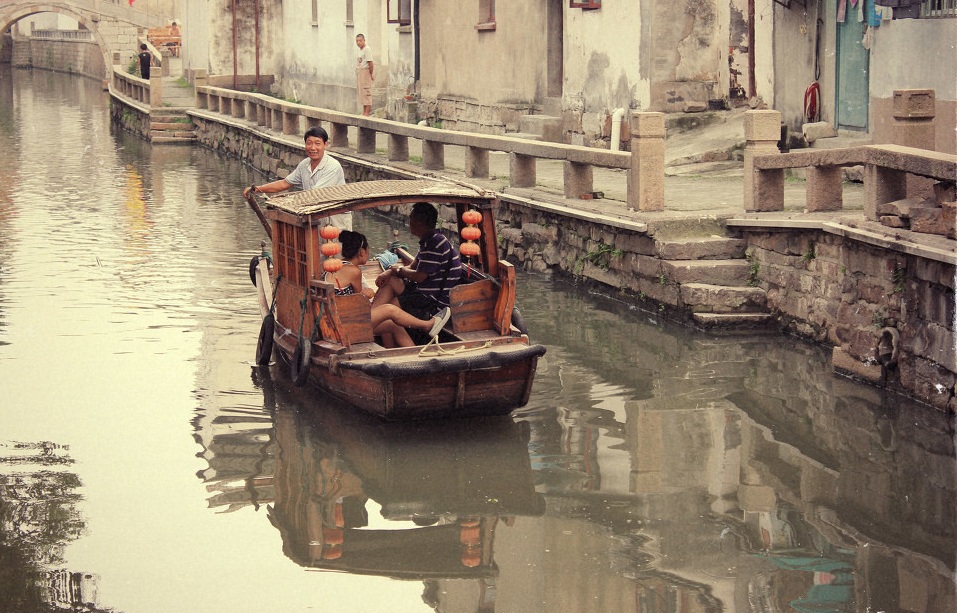 The Grand Canal (also known as the Beijing-Hangzhou Grand Canal), a UNESCO World Heritage Site, is the longest canal or artificial river in the world and a famous tourist destination. Starting at Beijing, it passes through Tianjin and the provinces of Hebei, Shandong, Jiangsu and Zhejiang to the city of Hangzhou, linking the Yellow River and Yangtze River. The canal is a communication artery connecting north and south China in ancient times. The Grand Canal Suzhou Section refers to the part from Wuqi Bridge (the border of Suzhou and Wuxi) to Yazi Ba (the border of Suzhou and Zhejiang Province),which covers around 82.35 km. Suzhou Section is the essential part undertaking freight transport on the canal.
Opening Time: 09:00am-17:00pm, 19:30pm-20:45pm
Admission Fee: Free
How to get to Grand Canal: take buses No.7, 39, 47, 305, 522, 602, or tourist buses No.2, 5.
Suzhou No.1 Silk Mill (No.1 Silk Facory)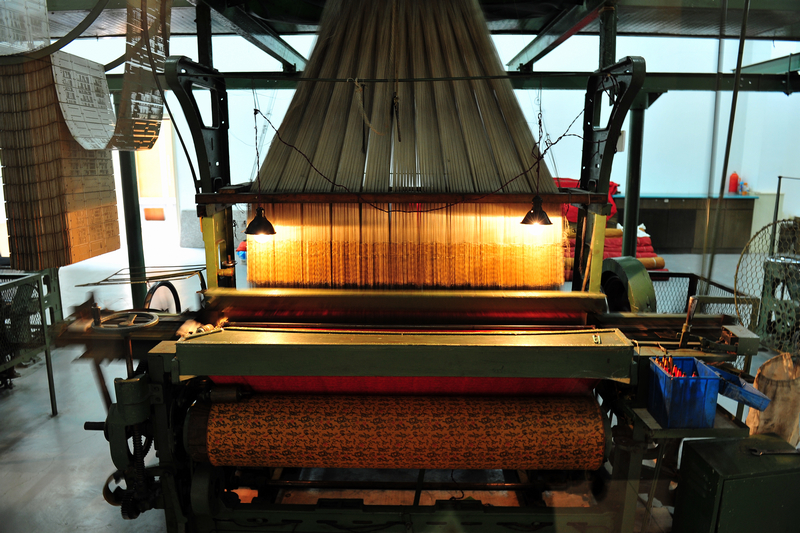 Suzhou No.1 Silk Mill, also named Suzhou Silk Factory, which was founded in 1926, it is a near one hundred year old state-owned factory. Suzhou Silk enjoyed a worldwide reputation from as early as the Tang and Song Dynasty, because of its historical association with riches and royalty. This Suzhou Silk Factory gains a good reputation in China silk for its traditional skills to make silk and the exhibitions of culture and history of silk in China, it has been a leader in local silk production. A complete silk manufacturing facility, the No. 1 Silk Factory handles every facet of production from raising silkworms and cocoon boiling to reeling and packing. Visit this Suzhou Silk Factory, travelers can get the knowledge of the whole life of a silkworm, the process of silkworm breeding, how the silkworm spinning silk, how the silk make into various kinds of stuffs and appreciate various kinds of silk scarves, bedding and other items.

Admission Fee: Free
How to get to Suzhou No.1 Silk Factory:Bus RouteTake No 40, 89
Pingjiang Historical Street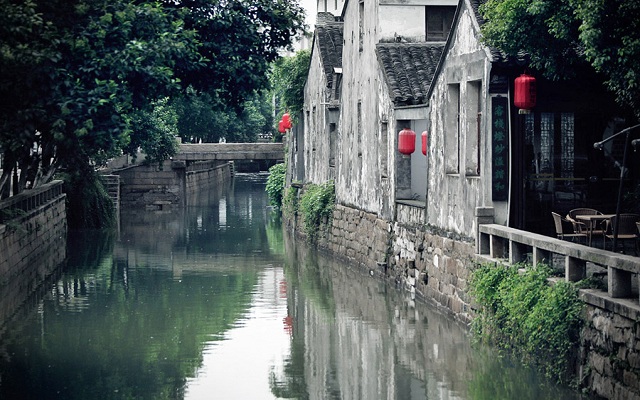 For an authentic taste of city life in old Suzhou, a stroll down Pingjian Street is a great way to get acquainted with the local vibe. Quiet, leafy and slow-paced, the street is lined with old Chinese houses as well as restaurants and teahouses serving traditional food and drink, upscale cafés catering to the historical chic crowd, as well as a few hostels. In addition, the Pingtang Museum and Kunqu Opera Museum and Schoolare along the road. Waling on the Pingjiang road, you can see all the scenery was as beautiful as a painting. The black tiles have the traces of white wall when it rains, just like a Chinese ink. Because of its ancient style, Pingjiang Road becomes the symbol of Suzhou ancient city.
Opening Time: Whole day
Admission Fee: Free
How to get to Pingjiang Street: take bus No. 529, 518, 309, 178 or 202 and get off at the "Vinegar Workshop East Guanqian Street".
Lion Grove Garden (Shi Zi Lin)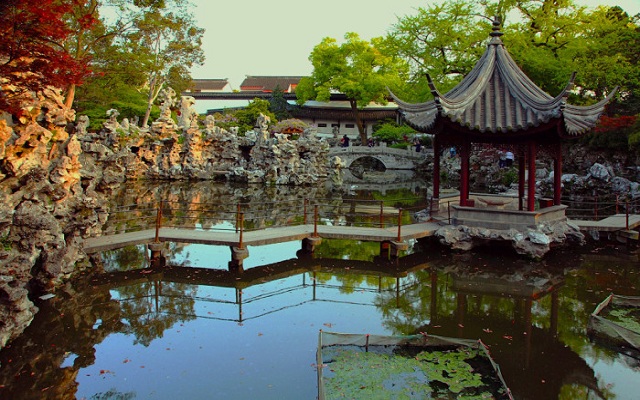 Lion Grove Garden is the greatest example among its kind in Suzhou, it is famous for the large and labyrinthine grotto of taihu rocks at its cente which has the reputation of being the funnest garden in Suzhou because there is a complex maze people get lost in. It was in inscribed in the UNESCO World Heritage List in the year 2000. The name of the garden is derived from the shape of these rocks, which are said to resemble lions. The garden is recognized with other classical gardens in Suzhou as a UNESCO World Heritage Site to to be masterpieces of Classical Chinese-style gardens.
Opening Time: 07:30am-5pm.(Oct-Feb)
07:30am-5:30pm(Mar-Oct)
Admission Fee: CNY 30 (Apr-Oct)
CNY 20 (Oct-Apr)
How to get to Lion Grove Garden (Shi Zi Lin): Take Bus No.518, 112, 55, 262, 202, Y2, Y5 South Line, 811, 529, 309 get off at the bus station of Suzhou Museum(Humble Administrator Garden/Lion Grove Garden).
Suzhou Museum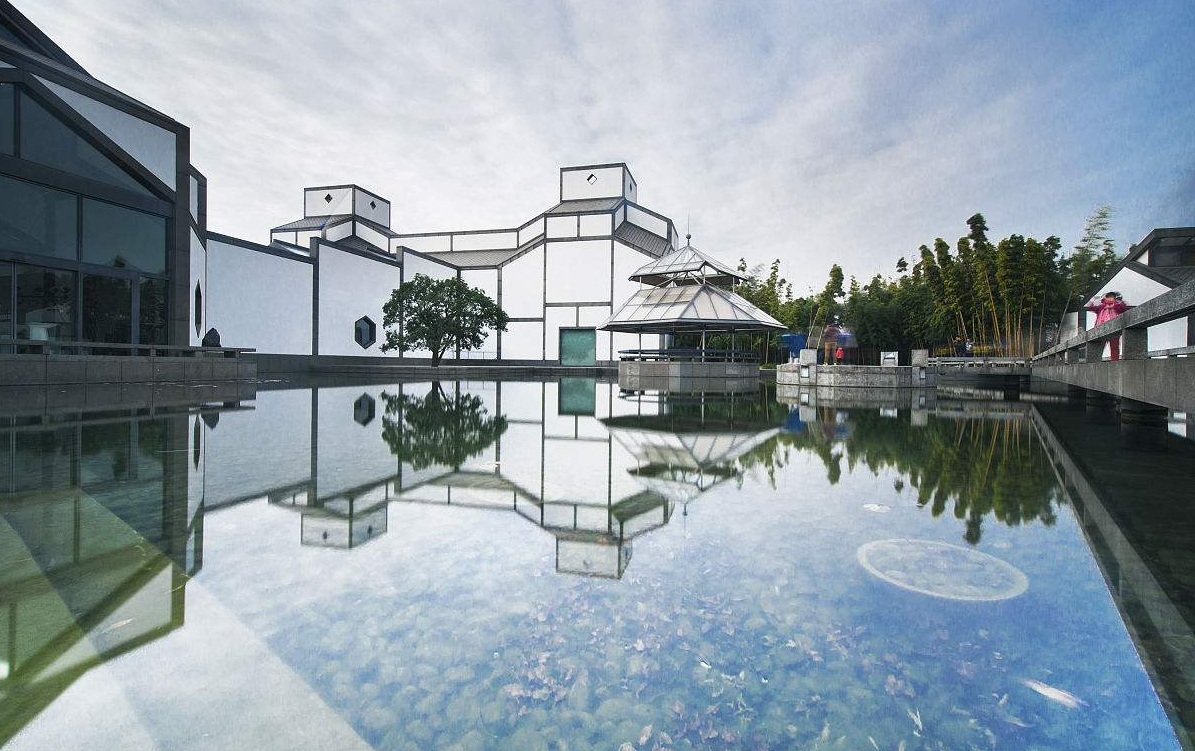 Featuring a southern Chinese architectural style, Suzhou Museum is well-equipped with advanced service facilities and combines modern and ancient elements together. Designed by the famous architect Ieoh Ming Pei, Suzhou Museum is a historical and artistic museum in Suzhou, sitting on the very site of the Residence of Zhongwang (Li Xiucheng, a leading general of Taiping Heavenly Kingdom), and it's now listed as one of the key cultural relic units under China's state protection. Suzhou Museum covers an area of 2200 square meters, displaying Chinese paintings and calligraphies, porcelains, gold and silver wares, jade wares and precious stones.
Opening Time: 9:00am - 5:00pm (Close on Monday)
Admission Free: Free
How to get to Suzhou Museum: take bus No. 112
Water Towns nearby Suzhou
Zhouzhuang Water Town

Zhouzhuang gets the fame of one of six famous water towns in China, lies at the middle between Shanghai and Suzhou, is an ancient town of Kunshan city. It abounds with rivers and lakes, has a history of more than 900 years old with many houses built in the Ming and Qing Dynasties. The ancient Zhouzhuang water town is noted for its profound cultural background, the well preserved ancient residential houses, the elegant watery views, and the strong locally colored traditions and customs. There are about 100 houses with courtyards and 60 of them have arch gateways made by carved bricks. Largely due to these waterways, the town avoided the most of the chaos and wars that raged at the time. Because of the peace enjoyed there, most of the architectural structures have remained basically intact. All those make a visit most enjoyable. also, one can enjoy the fairyland atmosphere of the evenings.
Admission Fee: CNY 100
Location: 38 kilometres from the southeast Suzhou City, Jiangsu Province.
Tongli Water Town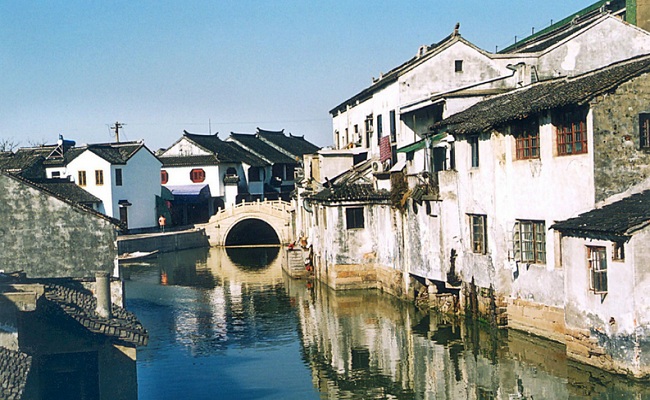 Tongli water town covers an area of 24 square miles (63 square kilometers) and has a population of over 33 thousand. It was established in the Song Dynasty, has a history of over 1,000 years, rich in cultural heritage. Also, Tongli is one of six famous water towns in east China with Zhouzhuang water town, Wuzhen water town, Luzhi water town, Nanxun water town and Xitang water town. For its long history and special beauty, Tongli water town is a fantastic travel destination where you can spend a marvelous holidays or learn traditional Chinese culture. Walk around Tongli, enjoy its rivers, streets, bridges, civil residences, and gardens are integrated perfectly as one, also you can be able to taste daily life in Tongli.
Admission Fee: CNY 100
Location: Wujiang County, Sushou, Jiangsu Province, China
Luzhi Water Town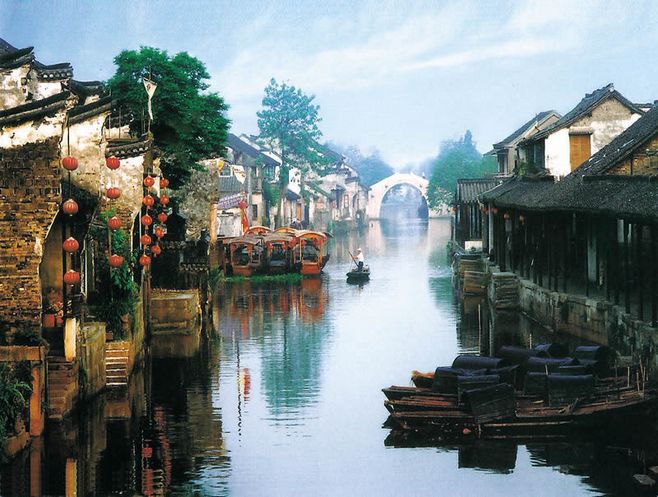 Located to the east of Suzhou, Luzhi water town is one of 6 famous water towns in China. Luzhi was also known as Puli, but in the Qing Dynasty it was officially re-named Luzhi. Luzhi water town is one of the best preserved old towns in China with a history of more than 1400 years, along with its old canals and streets. Luzhi town is noted for several historical and cultural sites, such as Baosheng temple, the Wansheng Rice Company and the White Lotus Flower Temple of the North Song dynasty. The town's most notable features are its numerous quaint stone bridges, which were built in the Song, Yuan, Ming, and Qing dynasties. Due to this, Luzhi has the reputation of being the "Museum of Ancient Chinese Bridges". A walk in the ancient town Luzhi is said to be a walk into history frozen in time, tranquil and serene.
Admission Fee: CNY 78
Address: 21 Xiaoshi Road, Luzhi, Wuzhong District, Suzhou