Suzhou Pingtan Museum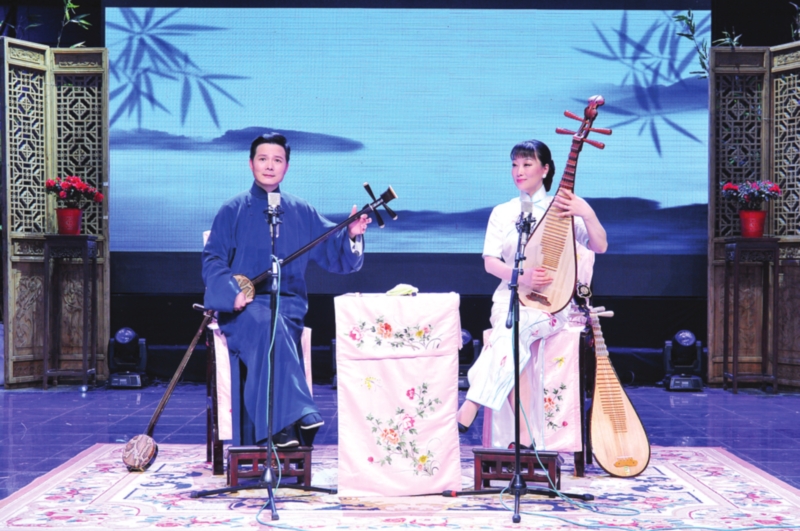 Suzhou Pingtan Museum, Suzhou (Chinese: 苏州评博物馆)
Suzhou Pingtan Museum
Brief Introduction
Suzhou Pingtan Museum, approved by the Ministry of Culture, was established and opened to the public in 2004, in order to inherit and spread China's traditional arts. Suzhou Pingtan Museum is located nearby Shen's Grand Mansion was once located in the late Qing Dynasty and the early Republic of China, covering an area of 839 square meters.
The museum possesses different kinds of valuable materials and scripts of unique copies of Pingtan which were once stored in Suzhou Opera Research Institute and Pingtan Materials Research Institute. Besides, Ms Yu Ruomu, wife of the great proletarian revolutionist Chen Yun donated 500 pieces of audio and video materials about Pingtan to the museum. This has laid a solid foundation for Suzhou Pingtan Museum.
The design philosophy of Suzhou Pingtan Museum of China is "close to the mass and appreciative to all". While focused on demonstrating the history of Suzhou Pingtan and the performance characteristics of renowned masters of different schools, the museum makes full use of high technologies to demonstrate Pingtan's historical performance scenes and customs to bring more entertainment and fun. Contrary to the elegant art style of China Kunqu Opera Museum nearby, it displays a different aspect of China's traditional culture.
Pingtan Culture (评弹)
Pingtan, also known as Suzhou Pingtan is known for its story telling, joke cracking, music playing and aria singing. It is performed solo, in duet or as a trio, and involves singing and storytelling. The small three-stringed plucked instrument and Pipa(lute) are used as accompaniments. The Ban, or wooden clappers, produces various styles of tone and melody.
Pingtan, originated in the city of Suzhou about four hundred years ago. It is a combination of "Pinghua" and "Tanci" which are two forms of Chinese narrative musical tradition. It dates back to Song Dynasty. It is influenced by the Wu Culture including art, music and literature.
Created by the work of the Pingtan artists, this art form enjoys great popularity in Jiangnan. The long history has also laid a solid foundation for its development. Its contents are rich, though the form is simple. "story telling, joke cracking, music playing and aria singing" are the performing techniques, while "reasoning, tastes, unexpectedness, interest and minuteness" are the artistic features. Although it originated in Suzhou, Pingtan flourished in Shanghai with the development of commerce and culture at the turn of the 19th century and the 20th century. After that, Pingtan became a new form of performance by innovating and carrying on the tradition.
Pinhua (评花)
Pinghua is mostly performed by a narrator that holds a fan and a piece of wood whiletelling s historical, judicial, heroic and epic stories. The most popular stories are The Tale of Yue Fei, Gallant Heroes, The Water Margin, and The Seven Gallant Men and Five Heroes from the Three Kingdoms, The Sui and Tang Dynasties.
How to get to Pingtan Museum
Take bus No.529, 501 and arrive there
Travel Guide
Admission Fee: Free
Opening Time: 9:00-12:00,15:30-17:00 (Close on Monday)
Pingtan Show Time: 12:00-15:30 (Not allowed visitors get in during the show)
Pingtan Show ticket:
Ordinary seat: CNY 20 (Including a cup of Gragon Well Green Tea)
VIP seat: CNY 30 (Including a cup of Biluochun Green Tea)
Address: No.3, Zhangjia Alley, Suzhou
Tel: 0512-67271797