Suzhou Opera Musuem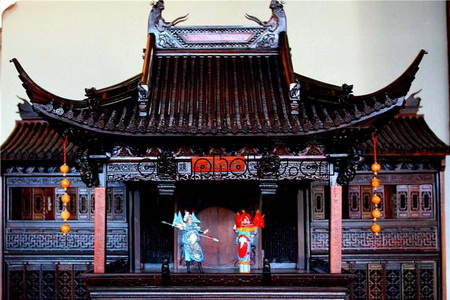 Suzhou Opera Museum (苏州戏曲博物馆)
Suzhou Opera Museum
Suzhou Opera Museum is located in a picturesque neighborhood in the east of Suzhou, the Quanjin Guild Hall on Zhangjia Lane. This building was financed by merchants in Suzhou during the Qing Dynasty. Now the museum is used for performance and daily shows. The museum displays traditional instruments, lyrics and scores and other artifacts connected with musical drama in the Suzhou region, especially Kun Opera (a traditional art form from Jiangsu) and Suzhou Pingtan (story telling in Suzhou dialect). Suzhou is regarded as the cradle of Kunqu Opera which is the oldest opera in China.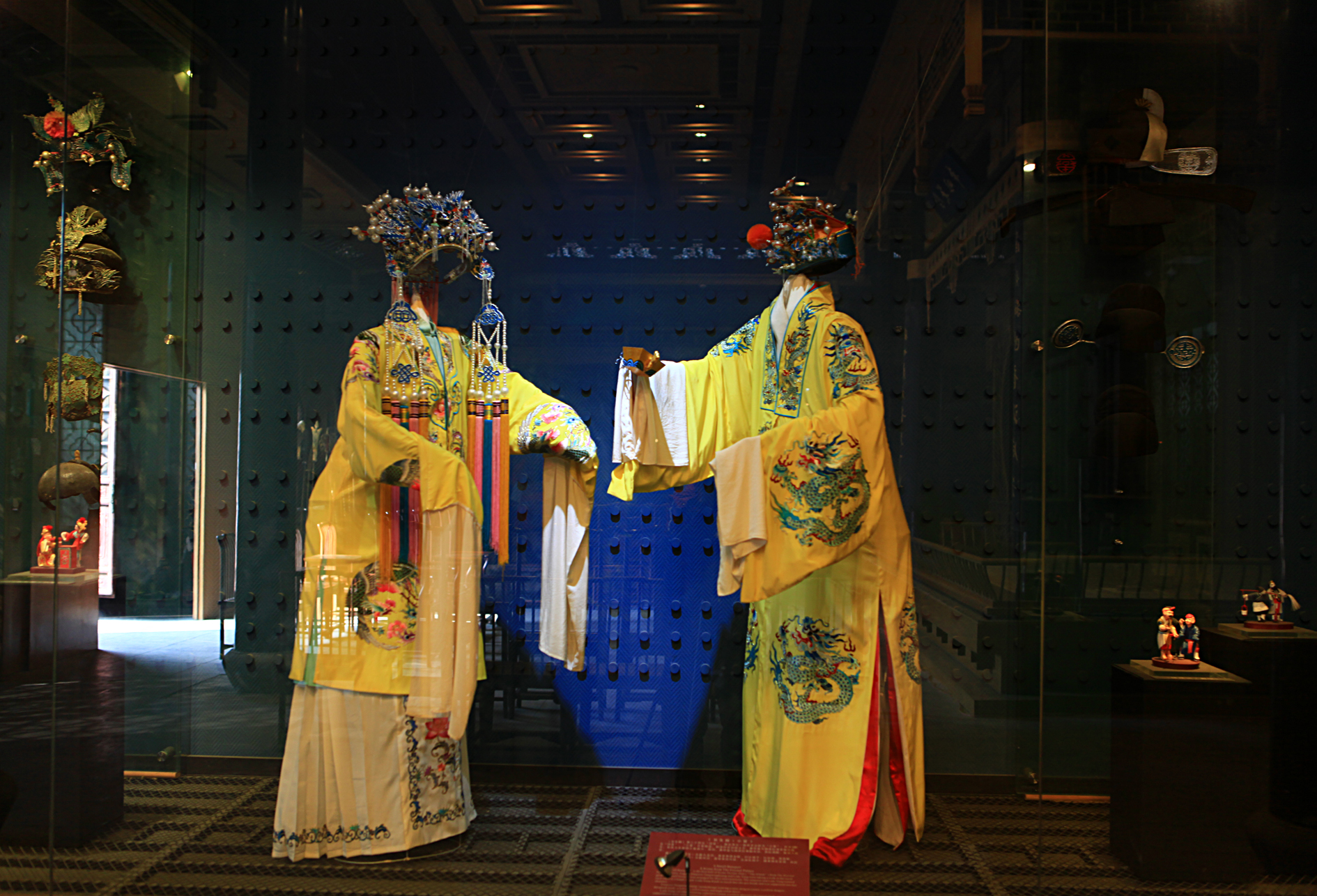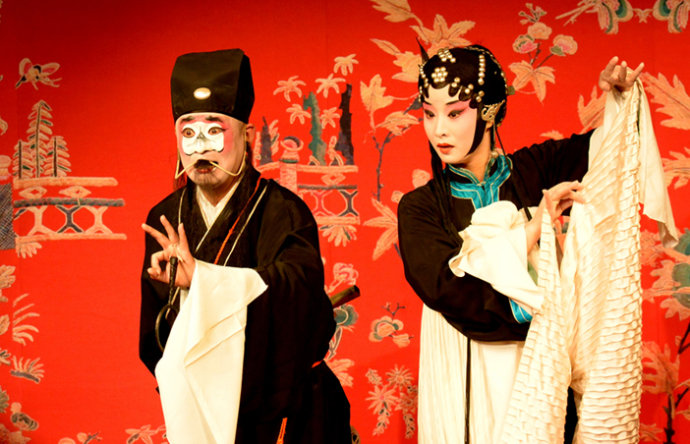 Du Liniang And Her Maid Du Liniang And Liu Mengmei Meet In A Dream
The exhibits in the Suzhou Opera Museum are most meaningful for visitors who love arts. It displays from troupes' account books to musical scores and libretti – where most of visitors think it will be the most enjoyable part of the Museum to be the performances. The Museum puts on a couple of scenes from a wider work. We saw two sections from one of the most famous Chinese plays, the Ming-Dynasty Peony Pavilion (1598, and thus contemporary with Shakespeare, as someone pointed out to us).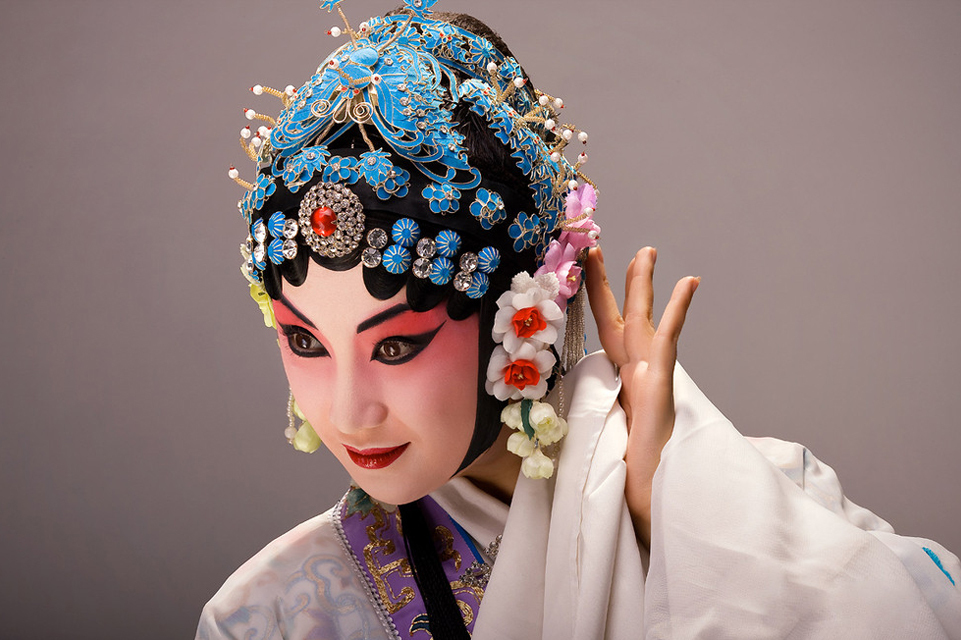 First, the heroine Du Liniang takes a walk in her garden with her maid; among the beauties of the garden, she falls asleep and dreams of a handsome young scholar, with whom she falls instantly in love. When she wakes and realises that she has no way to find her beloved, she pines away and dies. The second section tells a story about that,the young man, Liu Mengmei, who is contemplating the drawing of a young woman who has recently died – none other than Du Liniang. Meditating on the portrait, Liu Mengmei is convinced that he has seen this beautiful woman before and, as the truth dawns on him (for he, too, had a dream), he prays for her to be reunited with him. Cue a deus ex machina, as the god of the underworld rules that these two lovers belong together, and everyone lives happily ever after. As I said to a friend, it's like Orfeo, but more upbeat.
Liu Mengmei Du Liniang And Liu Mengmei
Kunqu opera is an acquired taste for People ears. The singing sounds very slow, with some discordant twists of melody, but there were some interesting parallels in performance with the contemporary Baroque style. The romantic hero in kunqu opera sings in falsetto (although Liu Mengmei was a veritable clown, more like Bertie Wooster than one of Metastasio's tortured heroes), and there was extensive use of very graceful hand gestures. But the most dazzling aspect was the costumes and makeup: the dazzling headdresses, flowing robes and astonishingly long sleeves, which were used as if they had a language as complex as that of fans in the West.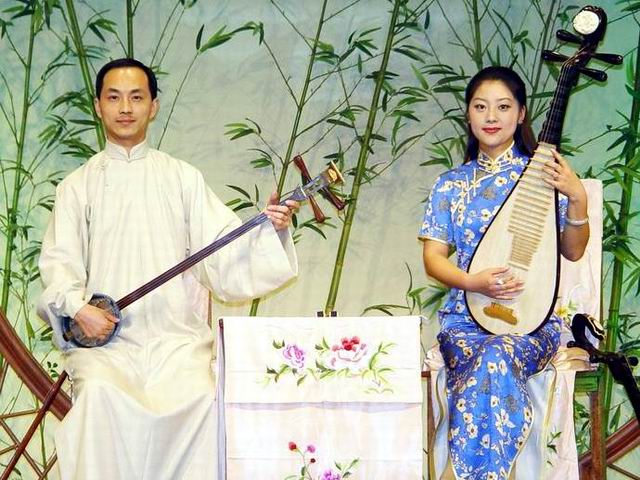 Transportation
How to get Suzhou Opera Museum
Bus Routes: Take bus No. 202, 204 to the east of Guanqianjie (Guanqian Street) stop
Travel Guide
Admission Fee: Free (CNY 30 For show)
Opening hours: 08:30–16:30
Address: No. 14 Zhongzhangjia Xiang, Suzhou
Tel: 0512-6727 3334