West Garden Temple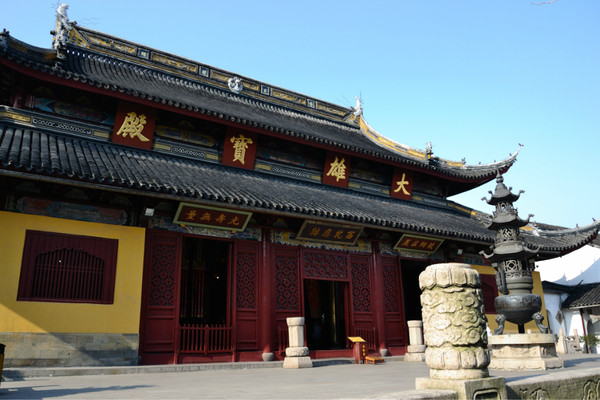 West Garden Temple ("西园寺", also refer to the xiyuan temple of Suzhou)
Brief Introduction of West Garden Temple
West Garden Temple, located in No.18 West Garden Lane, Liuyuan Road, Gusu district, Suzhou city. West Garden presents factually a garden style temple now. It was first built in the Yuan Dynasty (1271-1368), covering an area of 1.6 acres and its layout like a shapely plan. With over 700 years history, West Garden Temple features Buddhism temples and Chinese classic gardens, it has been the largest temple in Suzhou, which consists of Arches, Mountain Gate, temples and Fengsheng Pond and so on. This is a good choice for Buddhists pray to Buddha. West Garden Temple is the largest temple in Suzhou City. It blends together garden art andtemple art. In the temple you can see the ancienttrees flourish, the temple houses, the bendingriver, the green grass, the birds singing and thefragrant flowers. What a splendid spectacle it is!
History of West Garden Temple
The temple was founded in the Yuan dynasty, was ruined and then became part of a large classical garden, Xiyuan or West Garden. The garden belonged to a Senior Government Official during the Ming Dynasty. When he died, his son donated the garden to the monastery. Most of the buildings were destroyed during the Taiping Rebellion in 1860. It was rebuilt after the war.
The temple is known for its statues, Arhat Hall and Free Life Pond, where 2 famous long-life Asian Giant Softshell Turtles lived. One turtle died in 2007 at the age of 400, and the other has disappeared.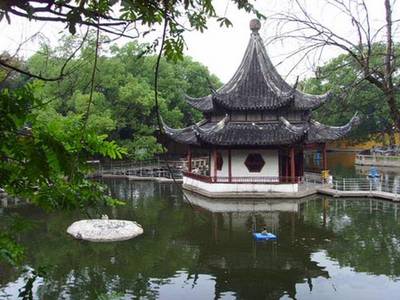 The highlights of West Garden Temple
Arhat Temple
The Arhat Temple is the feature of West Garden Temple, was built in Ming Dynasty. There are five hundred Arhat statues in total, they all have specific names and totally different facial expressions, these statues are same size as human and seated with clothes of good texture. These five hundred arhats were carved and painted with special care by the skillful craftsman in the southern area of China, they all kept the Ming and Qing Dynasty style. In Buddhism, they are regarded as the symbol of power and luck by everyone in all walks of life containing the deep connotation of Chinese Buddhism and Chinese Culture.
Fangsheng Pond
Fangsheng is a Buddhism language, means to free captive animals. In the center of the Fangsheng Pond, there is an octagonal pavillion standing in the water and connected with the bank by zigzag bridges. Many fish are swimming freely in the pond as well as many turtles, among all of which, there is one turtle with over 300 years old, it will come out of the pond in summer only, Buddhist regarded this as a wishing pool.
Transportation
How to get to West Garden Temple
Bus Routes
1. Take bus no. 6, 10, 11, 17 and get off at Xiyuan stop
2. Take tourist bus No. 1, 2, 3, 5 and get off at Xiyuan East stop
Information
Address: West of Lingering-in Garden, XiajinqiaoRoad
Admission Fee: CNY 25
Opening Time: 7:30am - 17:30pm
Best Time to Visit: 1 Hour