Tiger Hill Wedding Street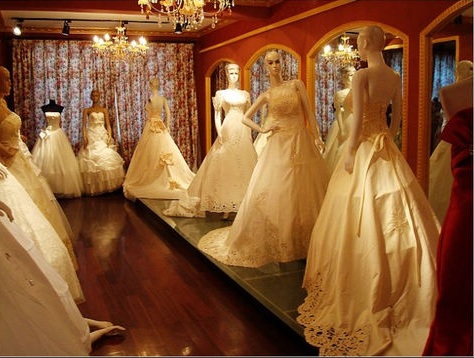 Tiger Hill Wedding Street (Huqiu wedding street) (Chinese: 虎丘婚纱一条街)
Tiger Hill Wedding Street
Brief Introduction
Suzhou is a romantic city, it nor only have a lot of love stories, but also have a prosperous wedding industry. Suzhou has a significant wedding dress market where the wedding dress, with its low prices. This is attracting couples from all over the country, even from abroad. The market actually is based predominately along a street near Tiger Hill, with more than 700 wedding related outlets. It is known as the Southeast Asia's largest wedding marketplace.
Tiger Hill is a favorite attraction in the Suzhou area, located on a Sprawling block within walking distance of Tiger Hill, Suzhou's Wedding Gown street has none of the grace of its more famous neighboring attraction. drawing travelers and locals alike to enjoy the gardens and the historic Yunyan Pagoda. Lesser known too many of the area's visitors is the quietly unassuming bridal garment district nearby. Packed with locally run stores and workshops, the area is a must-see for anyone with a taste for local flair and certainly shouldn't be missed by any brides-to-be.
Gowns on Tiger Hill Wedding Street (Huqiu wedding street)
It is the centre of wedding dress designing, manufacturing and merchandising. There are thousands of wedding dresses, evening dresses, and bridal dress, all at competitive prices. In fact, the dresses are half of what you would pay in Shanghai. It is even possible to get white gowns at 140 -300rmb after much bargaining.
Nowadays, newly wedded couples have the option to have fancy costume photography. Some bridal shops not only have modern evening gowns, they also have costumes from the Victorian, Baroque era.
Shops on Tiger Hill Wedding Street (Huqiu wedding street)
Brides from all over China visit the area to shop for gowns, Huqiu wedding street often referred to as a market, the area is in reality a scattered grouping of shops, with the more high-end stores located along the main street, even if you don't have an eye out for a wedding gown; Many of the former shop and factory production and sales model, so easily tailored to the guests cut, these workshops can tailor dresses in one or two hours based on the customer's needs, what are wrong place can be modified locally, meaning a bride can really find her dream dress. And reduce the visitors pick up time and transportation costs.
If you are planning to buy a wedding dress, then Suzhou has everything you could possibly dream of. For those not intending on getting married it is still very worthwhile to window shop and learn more about the ways and means of this burgeoning industry, China-style.
How to get there
From Suzhou train station
Take bus No. 1 and get off Huqiu shoumozhan (虎丘首末站)
Travel Guide:
Opening Time:7:00—22:00
Admission Fee: Free
Time for Visit: 3 hours
Address: HuQiu FengJingQu Zheng DaMen, Suzhou