Maple Bridge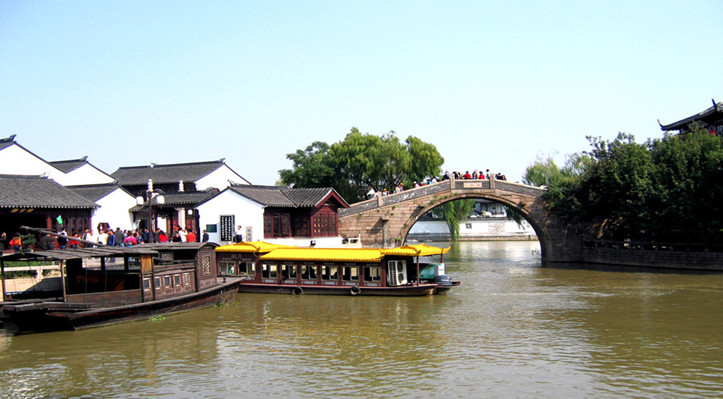 Maple Bridge
Brief Introduction of Maple Bridge
The scenic area has a long history ever since the Sui and Tang Dynasty bred by ancient canal town. A poem entitled "A Night Mooring by Maple Bridge" in Kaiyuan period of Tang Dynasty. The poem says "While I watch the moon go down, a crow caws through the frost; Under the shadows of maple-trees a fisherman moves with his torch; and I hear, from beyond Suzhou, from the temple on Cold Mountain, Ringing for me, here in my boat, the midnight bell." This poet made Maple Bridge famous in the world. The Maple Bridge is 3.5Km from the ancient city of Suzhou, which covers 10 hectares. Hanshan Temple, Jiang Feng bridges, iron bell ancient customs, Maple and ancient canal town are the five old major attractions of the provincial-level scenic spots. Maple Bridge, incorporated into the National Tourism Development Plan by National Tourism Administration has been built since 1986. After years of construction and development, it has beautiful environment and rich cultural landscape.
History of Maple Bridge
The date when Maple Bridge was built is not recorded in any historic materials. Maple Bridge Town located in west of Suzhou was the most important water transport hub for grain, food and tribute since the Sui Dynasty. There are many rice shops, traditional crafts shops, embroidery studios and also weaving and textile shops on the streets. And Zhang Ji was from mid Tang Dynasty, therefore it can be concluded that Maple Bridge was built in early Tang Dynasty.
Because of its age, Maple Bridge was destroyed and restored several times. It was repaired in 45th year of Qing Emperor Kangxi's reign (1706) and 35rd year of Qianlong Emperor's reign (1770). It was destroyed in 10th year of Xianfeng Emperor's reign (1860) and restored in 6th year of Tongzhi Emperor's reign (1967) and in 1985 again.
What to see
The attractions in Maple Bridge
Maple Bridge is the vital communication line for water and land traffic in ancient time with a rice guard station built here. Whenever rice transported to the capital by water and passed here, the water channel would be blocked to ban other boats from passing by, therefore it was called Feng (Chinese character: 封, meaning blocking).
The east end of Maple Bridge adjoins the Tieling Guan built in 36th year of Ming Emperor Jiajing's reign (1557), which had a dense population and busy streets, where visitors and merchants from other places came in a continuous stream.
Recreations
Paper Umbrella
Chinese paper umbrella originated from a paper or cloth umbrella, spreads all over Asia, such as Japan, Korea, Vietnam, Taiwan, Okinawa, Thailand, Laos and other places. In order to make people understand that, not only a paper umbrella functions as sunshade for daily necessities, but also an essential item of Marriage.
Boat Boxing
Boat boxing originated in the Wu and Yue Kingdom, and formed in the Ming and Qing dynasties, becoming one of the unique boxing Gangs. Boat boxing in the treasure house of Chinese martial arts is unique, originally popular in the river.Based on performance characteristics and incorporate advantages of factions, boat boxing canals criss-crossing waterways have their own unique features.
Tips
Maple resort is easy to get accidentally out of the area, Hanshan Temple as well. You can first have a visit in the Maple District, then go somewhere else. Otherwise, it takes much trouble to go back when out.
Transportation
No.30 north line, No.30 south line, No.31, No.33, No.40 East, Line,No.40 West Line, No.44 line, No.300 north line, No.300 South line, No.301 Line, No.301 Long Line, No.307, 313, 324 ,332,406,415,442,622,816,932, get off at "He Monutain Bridge" station
No. 30 north Line, No.31 Line, No.33 Line, No.313 Line, No.415 Line,No.622 Line, then take Metro Line 1 to "BinHe Road" station, then walk north about 70 meters along the road to take transfer bus.
Information
Admission Fee: Free
Opening Time: 8: 00-17: 30 Type: Cruise river town / village bridge
Time for Visit: 1-2 hours
Tel: 0512-65575100
Address: Fengqiao Road, Jinchang District, Suzhou 215008, China