Day 1
Place&Transport: Suzhou
Today's Activities: Lingering Garden, Panmen Gate, Hanshan Temple, Shantang Street, Suzhou, The Master of Nets Garden(The Garden Show with Kun Opera & Pingtan)
Accommondation: N/A
Meal: N/A
Pick up from your hotel lobby or Suzhou train station with a welcome signage "Suzhou Private Tour". Two day tour in Suzhou including the following attractions: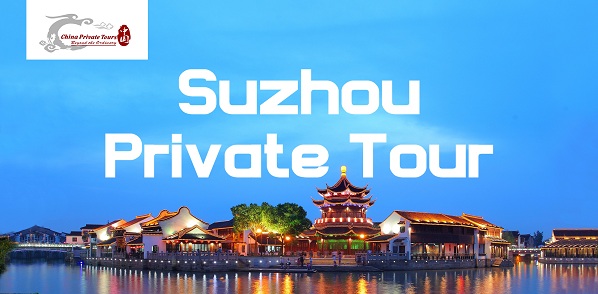 Our pick up sign"Suzhou Private Tour"
Your tour starts with Lingering Garden, also refer to Liuyuan Garden, which is located in the southern city of Suzhou Chang outside,it is a famous tourist scenic spot, is the world cultural heritage. It is with the humble administrator's garden,the Summer Summer ResortPalace,Chengde summer resort are called China's four big gardens.Landscape architectural space processing is very exquisite, using a variety of artistic techniques, built a unique space system, becoming one of the world civilization examples of architectural space art processing.The garden of the space 23300 square meters, the main style of Qing dynasty style.Liu Lingering Garden looks concise and rich forest of.Building looks a lot, but does not lose the feeling of quiet.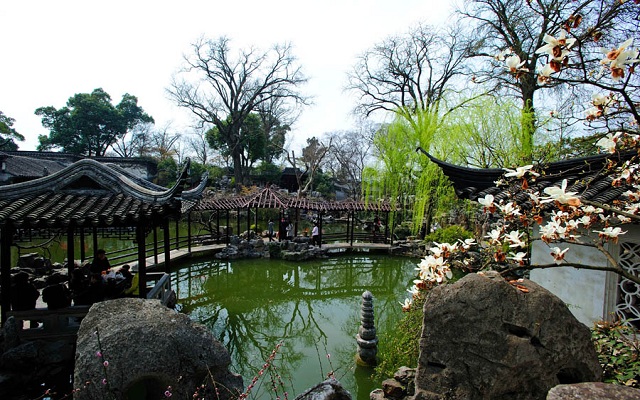 Next stop is Panmen Gate. The history of the Panmen Gate dates back to 514 AD. Built by Wu State during the spring and autumn period, Panmen is the only ancient city wall still intact in Suzhou.
Continue the tour to Hanshan temple(Cold Mountain Temple) is a Buddhist temple and monastery in Suzhou, China. It is located at the town of Fengqiao (lit. Maple Bridge), about 5 kilometres west of the old city of Suzhou. Traditionally, Hanshan Temple is believed to have been founded during the Tianjian era (502–519) of the reign of Emperor Wu of Liang, in the Southern and Northern Dynasties period.More than thousand years ago, a poet had described the midnight bell rings of Cold Mountain Temple. The temple is famous for its bell rings at night. It took its current name from a monk named Cold Mountain, which meant Cold Mountain in English. The temple can be traced back to 6th century, and it was destroyed and repaired for times in history.A sitting statue of Buddha is in the main hall of the Hanshan Temple. On each side of the statue there are nine gold-plated Arhat statues, each with a different facial expression. If you come to visit them, you will definitely be touched by their life-like designs.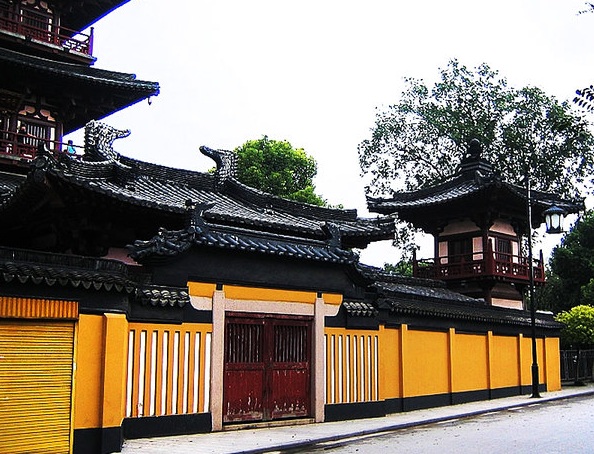 Then, you will visit the Shantang Street, it also called Seven-mile Shantang, is located in the northwest of Suzhou, and the total length of it is about seven li (3.5 kilometers). Shantang Street in Suzhou attracts many tourists from home and abroad. Most of them prefer traveling along the canal, enjoying beautiful scenery. Owing to its distinguished geographic location and convenient water and land transportation, Shantang Street was one of the streets which trade and culture were most highly developed in Ming and Qing dynasties, regarded as "the No.1 Ancient Street in China". The renovated Shantang Street becomes the place which shows the essence of natural views and human landscapes of Suzhou, which is rated as "the miniature of old Suzhou and the window of Wu culture". There is a folk song, singing "There is a paradise in heaven, but there are Suzhou and Hangzhou on the earth. Hangzhou has the West Lake while Suzhou has Shantang. Both are good places with boundless sceneries", which is the vivid image of Shantang.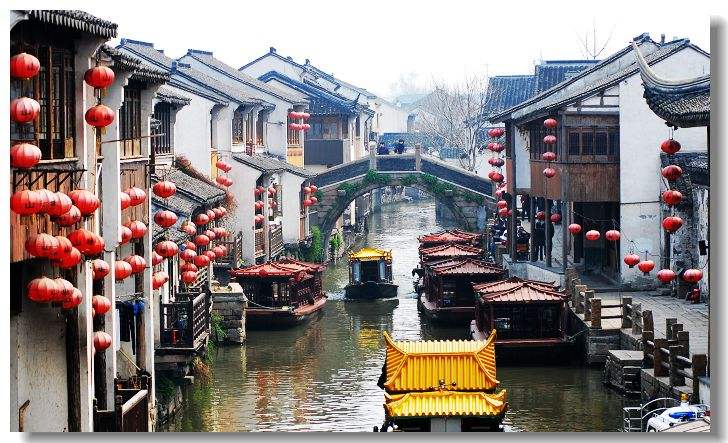 After dinner, take you to The Master of Nets Garden, it is the most impressive because of its use of space which creates the illusion of an area that is much greater than its actual size. This 12th century gem (later refurbished in the 18th century) and UNESCO World Heritage Site boasts an impressive garden and nightly Kunqu opera performances, but it's best known for its architectural splendor.
The Garden Night Folk Dance & Music Performance is a fun night time excursion into the garden. The show is actually eight performances in different parts of the garden. You wander from place to place, watch a ten minute performance of Chinese opera, instrumental music, dance or singing and move on. You don't have to arrive at an exact starting time.
Drive you back to your hotel.
Day 2
Place&Transport: Suzhou
Today's Activities: Grand Canal, Suzhou No.1 Silk Mill, Tongli Water Town
Accommondation: N/A
Meal: N/A
After the breakfast, pick you from your hotel.
Then go to the Grand Canal(Including Boat Ride) (also known as the Beijing-Hangzhou Grand Canal), a UNESCO World Heritage Site, is the longest canal or artificial river in the world and a famous tourist destination.Starting at Beijing, it passes through Tianjin and the provinces of Hebei, Shandong, Jiangsu and Zhejiang to the city of Hangzhou, linking the Yellow River and Yangtze River. The canal is a communication artery connecting north and south China, it is the oldest and longest artificial waterway in the world. The Grand Canal Suzhou Section refers to the part from Wuqi Bridge (the border of Suzhou and Wuxi) to Yazi Ba (the border of Suzhou and Zhejiang Province),which covers around 82.35 km. Suzhou Section is the essential part undertaking freight transport on the canal.The Grand Canal in Suzhou, with wide surface, abundant and crystal clear water, has been the best part of the Grand Canal for shipping. The old canal is about 35km long from Hushu Pass to Wujiang City, running through the centre of town and there is a network of smaller canals and passageways. It is a wonderful example of a waterside town with whitewashed and black-tiled-roof houses and small bridges.
Next is Suzhou Silk Factory: It is located in this famous city, which people call 'Paradise on Earth'. Exquisite gardens, meandering water and green mountains around the city attract a great number of visitors every year from both home and abroad. Comparatively, Suzhou's fame as a vital ancient silk center pales beside its natural scenery. Suzhou Silk Museum is the best place to learn the city's prosperity of silk in the past. In the Suzhou Silk Museum you will also find a 'Ming and Qing Street' lined with replicas of time-honored silk story.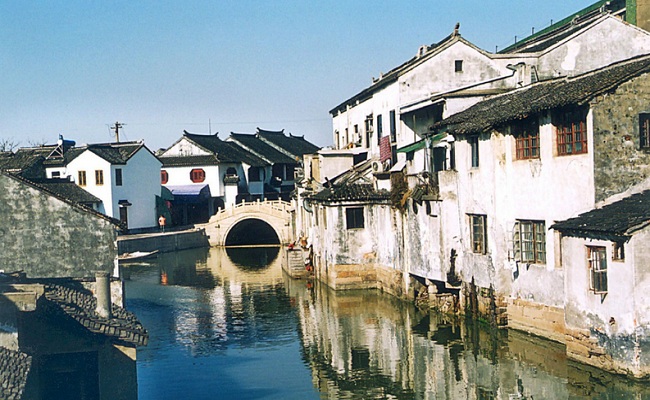 In the afternoon, drive you to Tongli water town, Tongli in Jiangsu Province is one of the many ancient water towns in the south of the Yangtze River Delta,which are famous for their rivers, ancient bridges and house complexes. Tongli occupies an area of 51 square miles (133 square kilometers) with a population of 55,000. The city is separated by 15 rivers into seven islets, which are connected through 49 ancient bridges.The most famous bridges among the 49 bridges in Tongli are the three bridges called Taiping (peace), Jili (luck) and Changqing (celebration) bridges, which has been important landmarks of the place and regarded as the sacred architecture by the locals. Tongli is located a short drive from Suzhou and about a hour drive outside of Shanghai. Tongli Water Town deserves its name of a "museum of ancient architectures" as there are many homes and temples dating from the Ming and Qing Dynasties. Designed along the riverside and embellished with carved windows, porcelain furniture, figured clay bricks, flying eaves, dapper gardens and tiny stairs leading all the way down to the water, these complexes named Tongli Water Town could be a shining pearl among the water townships south of Yangtze.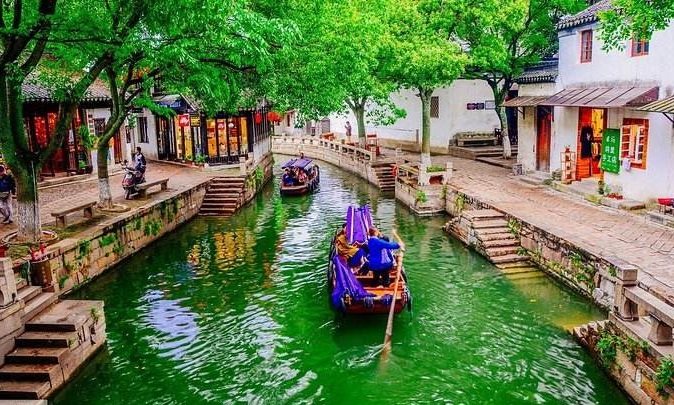 After finished the tour of Tongli Water Town, drive you back to your hotel or Suzhou train station and your tour ends.
If you visit Suzhou from Shanghai, there are some useful tips for you to puchase Train Ticket:
From Shanghai to Suzhou:
Option 1: G7104 Shanghai Hongqiao Station to Suzhou Station: Depart at 08:54AM and arrive at 09:30AM
Option 2: G7006 Shanghai Station to Suzhou Station: Depart at 09:00AM and arrive at 09:25AM
Please choose one of the above options according to your hotel location
From Suzhou to Shanghai
Option 1: G7119 Depart at 17:56 from Suzhou Station and arrive at Shanghai Hongqiao Station at 18:32
Option 2: G7243 Depart at 18:02 from Suzhou Station and arrive at Shanghai Station at 18:27
You can ask your hotel help you book it or you can book it online by yourself. (Recommende Web: ctrip) Note: Plz book the train ticket in advance in case sold out, especially on weekend or public holiday.
Optional Activities
We provide off the beaten track Suzhou activities as below to enhance your tour experience. You can choose some of them to customize the above tour. Or if time permits, you can add one or two of them in the above itinerary (Only additional entrance fee required. And some are free charge of entrance fee).
A Touch of Life in Suzhou - Morning Wet Market Experience (Free of Charge)
Visit the local wet markt is an oppotunity to experience the local's life in the hidden parts of the city, avoiding the beaten tracks or fully packed tourist sites. You will be immersed in the local culture as we make our way through the hustle and bustle of narrow alleyways surrounded by the buzzing of vehicles and yelling of street vendors. For the time being the Wet Market scene in Suzhou is all still very much "old China"and is very much alive.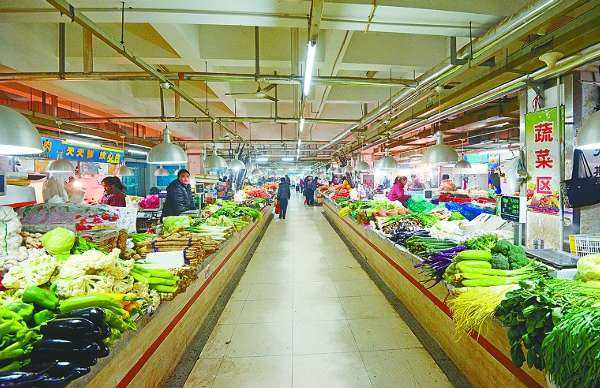 Getting into Suzhou Tiger Hill Wedding Gown Street (Free of Charge)
If you want to look gogorgeous on your wedding day but don't want to splurge your entire life savings on your wedding, then Suzhou Tiger Wedding Gown Street is a paradise for you. It is a street after street of endless shops selling nothing but wedding stuff with affordable price but good design & quality. Think of it as a one stop solution to all your wedding day needs.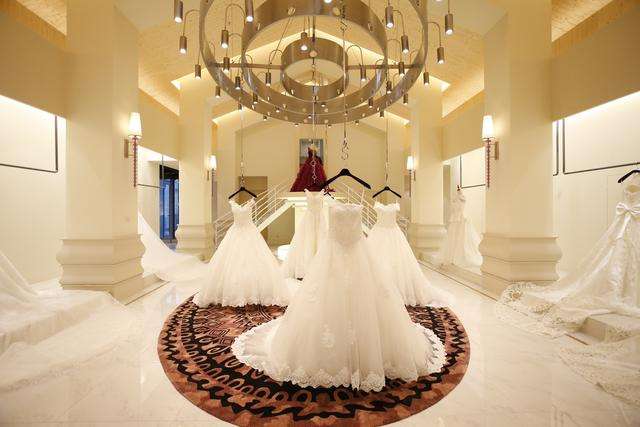 Delvo into the brillant culture of Su Embroidery (Free of Chagre)
Gian a comprehensive cultural introduction of Su Embroidery with your guide by visiting the Su Embroidery Research Institute. Su Embroidery is one of the four major styles of Chinese embroidery. Here you'll be able to learn the process of how to make the most exquisite silk hand embroidery - Su Embroidery.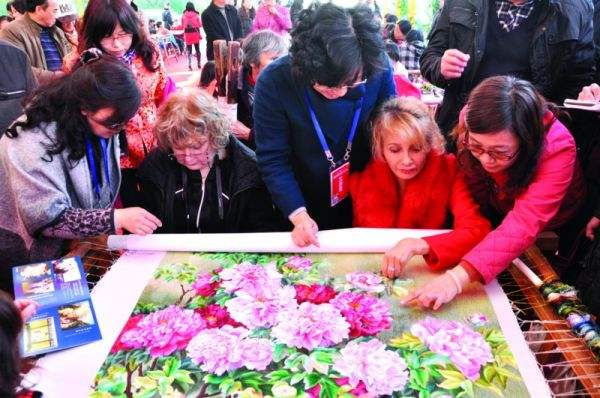 Shopping Like A Local (Free of Charge)
Shopping at Suzhou is not only enjoy the materials, but also to receive a kind of taste and culture. The rivers and lakes at the south of the Yangtze River bring intelligence to the Suzhou people, which make them produce particularly delicate goods. Just follow your tour guide, enjoy your shopping in Suzhou, you'll get a feeling of leisure.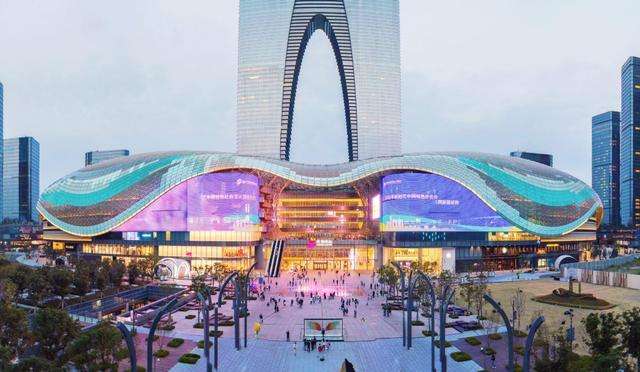 Experience Chinese rickshaw ride at Suzhou old Town (100RMB/rickshaw, max: 4 people)
If you want to travel Suzhou in-depth, riding on a rickshaw at Suzhou old town is fantastic. See the narrow lanes, the open markets and the local people's life more clearly. And the professional rickshaw pullers are often familiar with Suzhou's history, culture and folk customs, from whom you will gain a more understanding of traditions and cultures of this famous garden city.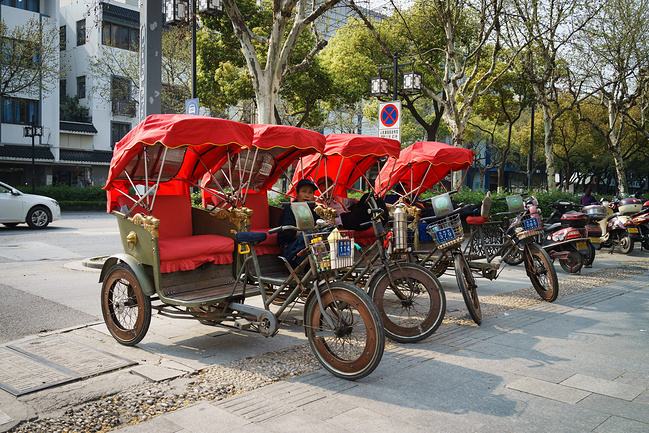 Night Show: Kunqu Opera & Pingtan Show in Master of Nets Garden (100RMB/person)
Do you like Kunqu Opera & Pingtan Show? Are you a fan of Chinese architectures? Spend one night and follow your guide to the Master of Nets Garden, a UNESCO World Heritage Site boasts animpressive garden and nightly Kunqu opera performances, and it's best known for its architectural splendor, let you be amazed by Chinese Opera and Suzhou unique culture.
The Guanqian Pedestrian Street - The Most Bustling Night Snack Street in Suzhou (Free of Charge)
A local saying goes: "Suzhou is a paradise on earth, and Taijian Lane provides the best food". Stroll down the street to find the best of Su-style cuisine. Taijian Lane in the middle of Guanqian street has become a famous food street in Suzhou with more than 10 renowned restaurants, such as Songhe Lou Restaurant, Deyue Restaurant, Wangsi Restaurant and Wufangzhai Restaurant.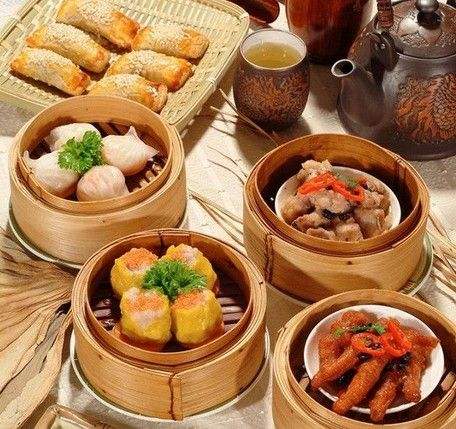 Private Boat Ride on Grand Canal (180RMB/boat, max: 6 people)
Enjoy a private boat ride on Grand Canal in Suzhou to appreciate the ancient black-tiled-roof houses, old bridges, and get a fell for the life of the locals. Tranquil, peaceful and historical, just like a time machine to take you back to the old era when ancient people communicated mainly by shipping on the waterway.
Act as A Local - Enjoy A Cup of Tea at Local Teahouse (80RMB/person on average)
Drink tea and enjoy the Suzhou opera in an old-world ambience is a prat of local's life. The local teahousw is famous for its tea and "Ping Tan" (a Chinese form of storytelling accompanied with music played by stagers.) You'll definitely be attracted by the architecture and the Ping Tan nice sound from inside. It is a good way of appreciating the Suzhou culture by drinking tea and listening to the traditional Ping Tan.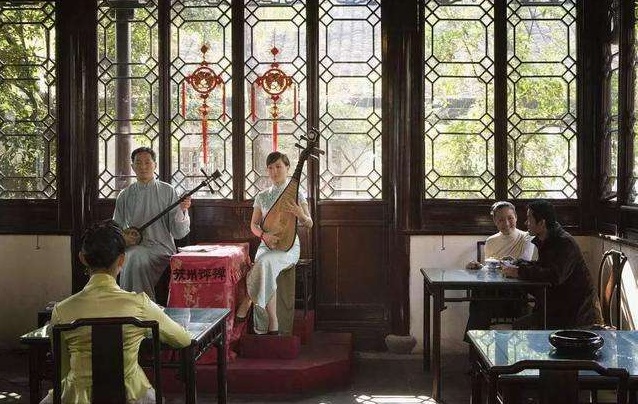 Experience Pottery in Suzhou (100RMB/person)
If you are interested in Chinese ceramics culture, why not take a short class to learn how make a pottery in your way. Your teacher will teach you how to make a good pottery artwork even you are the first time to experice the ceramic pottery making, our tour guide will translate to you.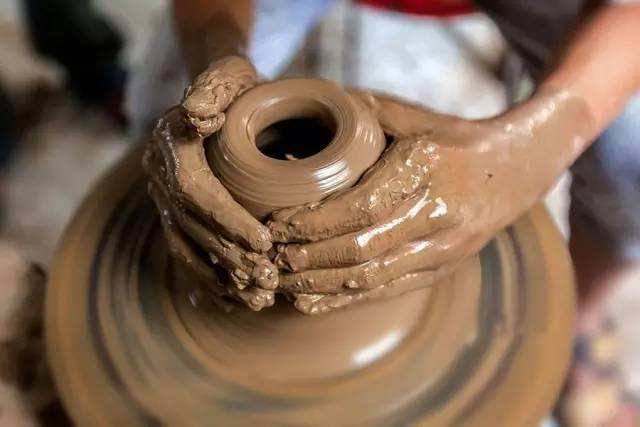 Learn How to Perform Suzhou Kunqu Opera (Price is TBA)
Kunqu Opera in Suzhou is one of the oldest extant forms of Chinese opera. Under the guidance of your teache, get your own way to know how to use Kunqu style body language to show your emossion. you'll wear the Kunqu dress and learn how to act the Kunqu Opera. Also, you could have chance to learn how to do Kunqu Opera style make-up.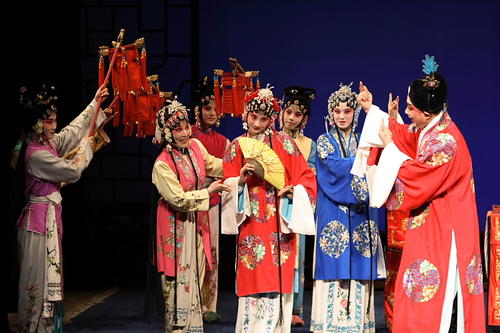 Price Per Person in US Dollars