Day 1
Place&Transport: Arrive in Shanghai
Today's Activities: The Bund, Yuyuan Garden, Shanghai Bazaar, Shanghai Museum, Nanjing Road
Accommondation: 4 Stars Hotel in Shanghai (Can be customized)
Meal: N/A
Upon arrival in Shanghai, our Shanghai local tour guide will pick you up at the exit of Shanghai Pudong Airport, you will find a welcome signage "Shanghai Private Tour". And you will start your tour in Shanghai directly.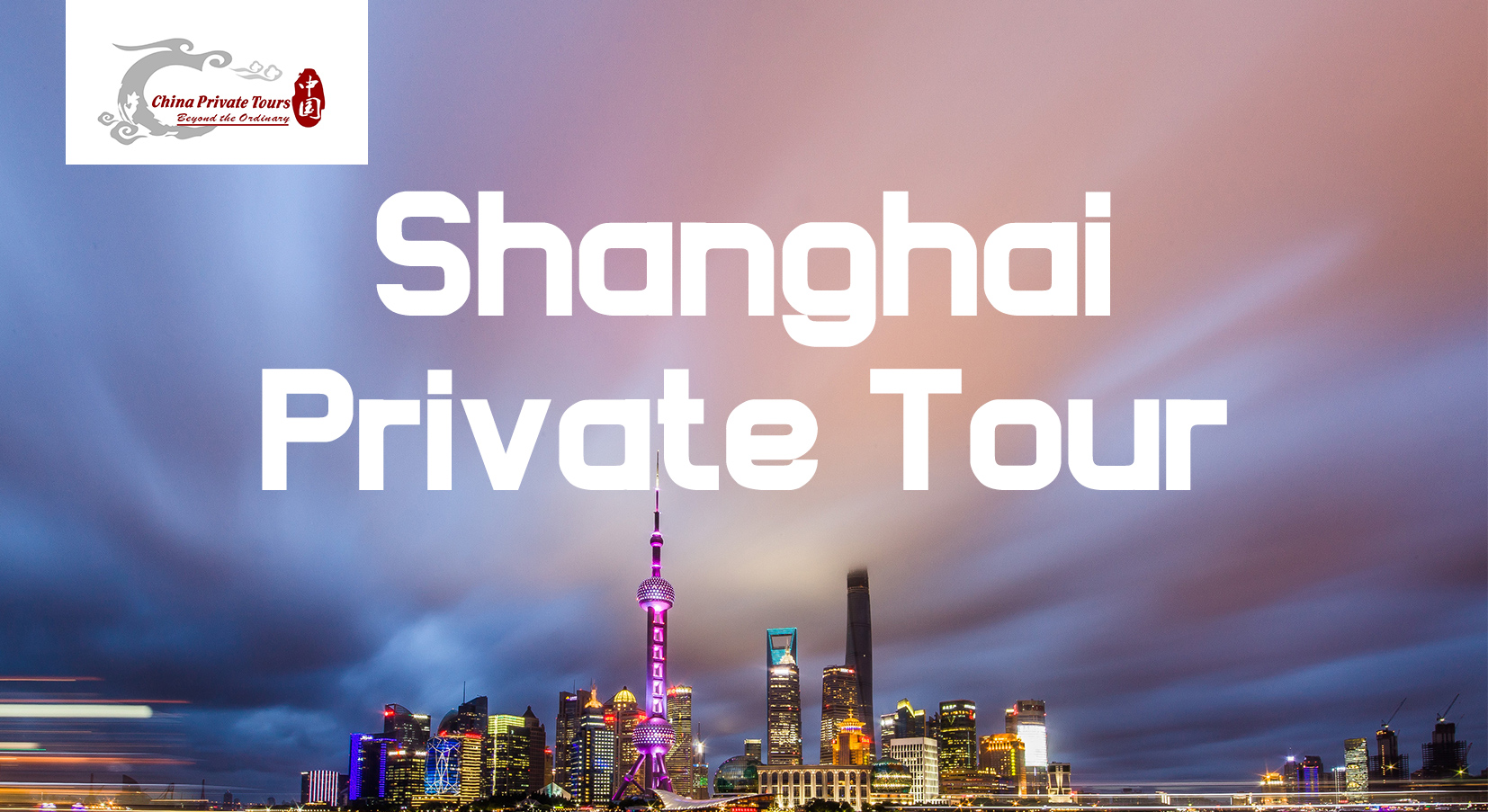 Our Shanghai Pick up Sign "Shanghai Private Tour"
The first stop is the Bund, which is a waterfront area in central Shanghai. The area is in the eastern part of Huangpu District centers on a section of Zhongshan Road ,which runs along the western bank of the Huangpu River, facing the high, modern skyscrapers of Pudong, Traditionally, the Bund begins at Yan'an Road in the south and ends at Waibaidu Bridge in the north, The Shanghai Bund on which you can embrace the best cityscape, feast on the rich architectural fashions ( Gothic, Baroque, Rome, Renaissance, Classic and Mixed Eastern and Western style, etc.) and know why Shanghai is glorified as "Paris of the East".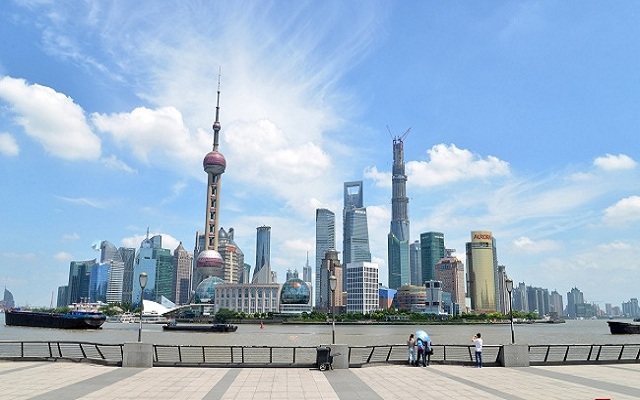 Move on to Yuyuan Garden and Shanghai Bazaar, Yuyuan Garden is an extensive Chinese garden located beside the City God Temple in the northeast of the Old City of Shangha. This garden which is a must for visitors from the foreign countries represents the past of Shanghai. The pavilions, halls, rockeries, ponds and cloisters in the garden all have unique characteristics. Yu Garden was first built in 1559 during the Ming Dynasty by Pan Yunduan as a comfort for his father. Yu Garden occupies an area of 2 hectares (5 acres), and is divided into six general areas laid out in the Suzhou style: Sansui Hall, Wanhua Chamber Dianchun Hall, Huijing Hall, Yuhua Hall, Inner Garden.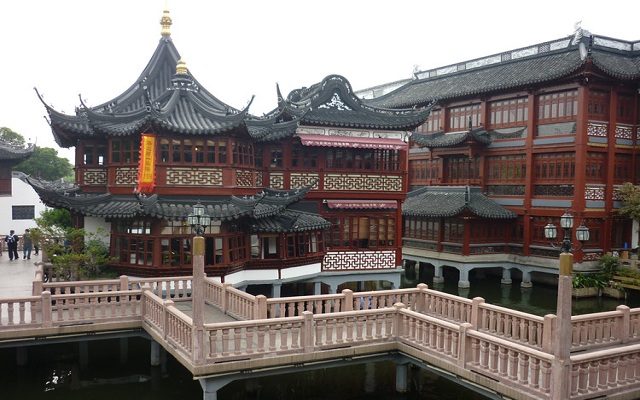 Next to visit the renowned Shanghai Museum, The Shanghai Museum is a museum of ancient Chinese art, situated on the People's Square in the Huangpu District of Shanghai, The museum has a collection of over 120,000 pieces, including bronze, ceramics, calligraphy, furniture, jades, ancient coins, paintings, seals, sculptures, minority art and foreign art. The Shanghai Museum houses several items of national importance, including one of three extant specimens of a "transparent" bronze mirror from the Han Dynasty.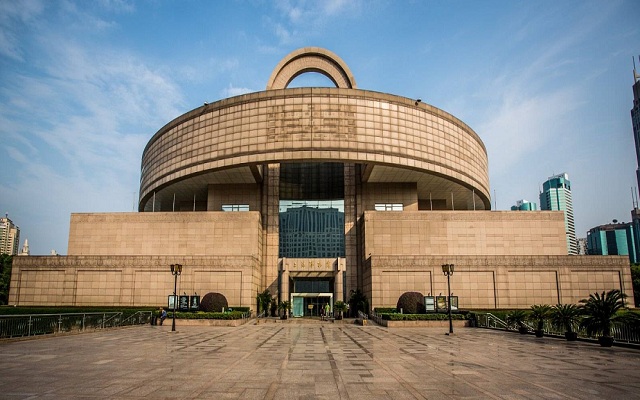 Continue your tour to Nanjing Road, No.1 shopping street in China. Thousands of shops there welcoming the visitors from afar. Over 50 famous old brand shops which have at least 100 years history can be seen in this street. And you can have a dinner to enjoy the characteristic local dishes in the restaurants along the road.
After the tour of Shanghai Nanjing Road, drive you to your hotel.
Day 2
Place&Transport: Shanghai to Suzhou by train
Today's Activities: Lingering Garden, Hanshan Temple, Panmen Gate, Pingjiang Historic Street, Suzhou No.1 Silk Mill
Accommondation: 4 Stars Hotel in Shanghai (Can be customized)
Meal: N/A
In the morning, our driver will drive you to Shanghai train station for your train to Suzhou. Upon arrival, our Suzhou local tour guide will meet you at the exit of Suzhou train station with a welcome signage "Suzhou Private Tour". One day tour in Suzhou includes the following attractions:

Our Suzhou Pick Up Sign "Suzhou Private Tour"
Your day tour starts at the Lingering Garden, a UNESCO World Heritage Site and one of the city's finest classical gardens. It has been listed as one of the four most famous national classic gardens together with the humble administrator's garden, the Summer Palace and Mountain Summer Resort in Chengde are called China's four largest gardens. Landscape architectural space processing is very exquisite, using a variety of artistic techniques, built a unique space system, becoming one of the world civilization examples of architectural space art processing. Wander through the trails and portals of this delicately-planned garden that carefully combines traditional Chinese architecture with natural beauty. A good place to let your mind and body rest.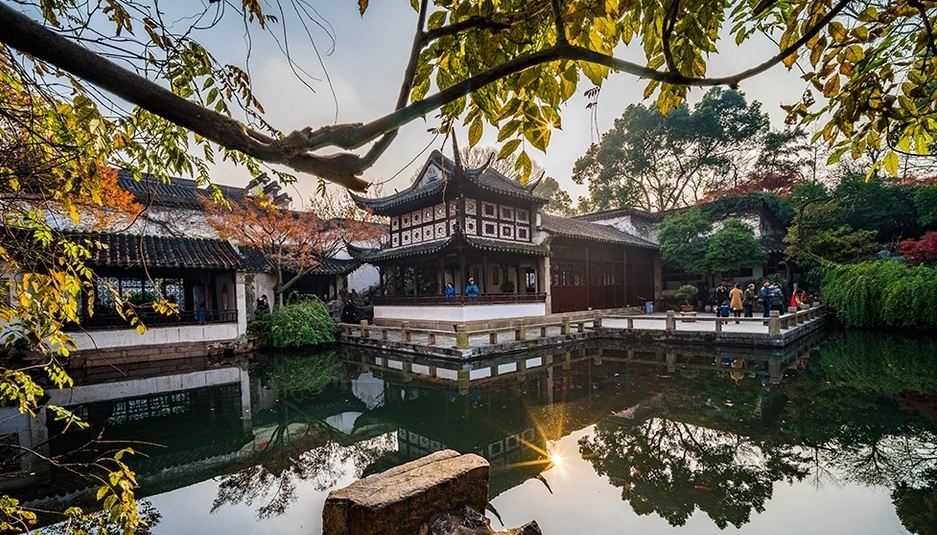 Next agenda is Panmen Gate. The history of the Panmen Gate dates back to 514 AD. Built by Wu State during the spring and autumn period, Panmen is the only ancient city wall still intact in Suzhou. Panmen Scenic Area was built on the base of some historic sites by using the architectural structure of classical gardens. It is famous for its numerous historic relics and abundant human landscapes. The scenery area centered on Panmen City Gate consists of many scenic spots. Amongst them, Ruiguang Pagoda, Panmen City Gate and Wumen Bridge are praised as 'three fine sceneries'.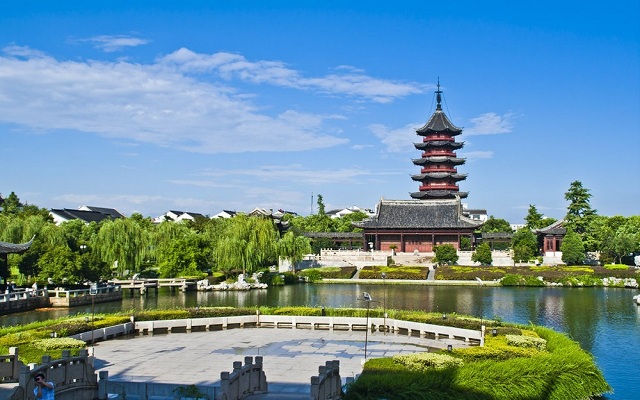 Enjoy lunch at a local Chinese restaurant, our tour guide will give you recommendations on spot.
After lunch, pay a visit to Hanshan Temple (Cold Mountain Temple) near the town of Fengqiao. Made famous in a poem by Tang Dynasty poet Zhang Ji, this Buddhist temple is known for its large bells, unique black roof and domed bridge. Take a wander around its halls, pavilions, corridors and well-maintained gardens. A good place to let your mind and body rest.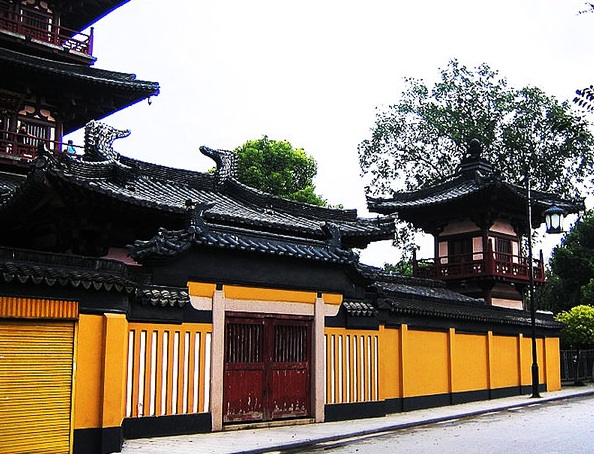 For an authentic taste of city life in old Suzhou, a stroll down Pingjiang Historic Street, which is a great way to get acquainted with the local vibe. Quiet, leafy and slow-paced, the street is lined with old Chinese houses as well as restaurants and teahouses serving traditional foods and drinks. What's more, there are a variety of upscale cafes catering to the chic crowd at each corner. You can taste a few traditional Chinese snacks while your guide tells you more about the history of the street.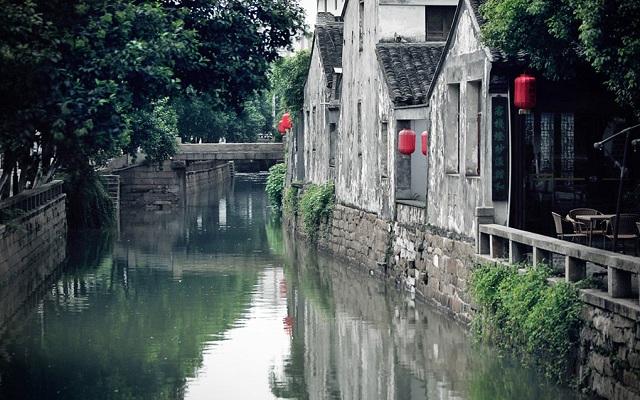 The last stop is Suzhou No. 1 Silk Mill has a long and rich history of silk culture, including mulberry tree and silk worm cultivation and turning raw silk into beautiful fabric. Suzhou's climate and soil are perfect for silk production, and the city has been a center of China's silk trade for many centuries. The Suzhou No. 1 Silk Mill has been a proud steward of this heritage for over 80 years. It's more like a museum which shows you how the silk is made from cocoons from the beginning and the whole silk process. Not to be missed.
After the tour ends, drive you back to Suzhou train station and you will go back to Shanghai by train. Our driver in Shanghai will wait you at the exit of the Shanghai train station and drive you back to your hotel in Shanghai downtown directly.
Day 3
Place&Transport: Shanghai to Hangzhou by train, stay in Hangzhou
Today's Activities: Boat Ride on West Lake, Fish Viewing at Flower Pond, Guo Garden, China National Tea Museum, Leifeng Pagoda
Accommondation: 4 Stars Hotel in Hangzhou (Can be customized)
Meal: N/A
After breakfast, our driver will drive you to Shanghai train station for your train to Hangzhou. Upon arrival, you will be greeted by our Hangzhou local tour guide at the exit of Hangzhou train station with a welcome signage "Hangzhou Private Tour". Then your tour in Hangzhou includes the following attractions: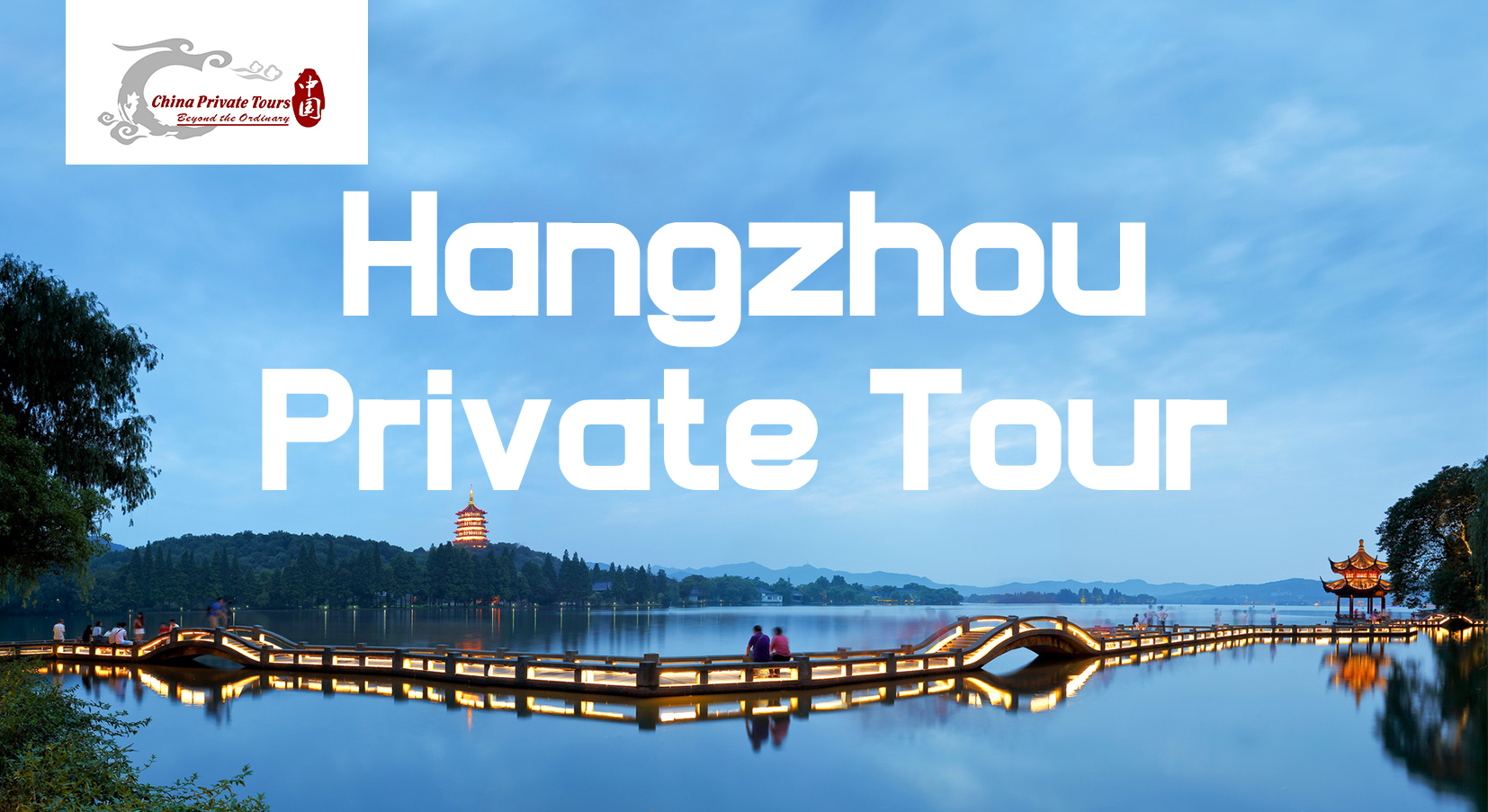 Our Hangzhou pick up sign "Hangzhou Private Tour"
First, take a boat cruise in the westlake, The Westlake Hangzhou (including boat cruise on westlake): West Lake has an area of 5.6 square kilometers (2.2 square miles) and is the symbol of Hangzhou which lies on its banks and is a place of tranquility. On the boat you can see one of theTen Best Views of West Lake--Three Pools Mirroring the Moon.The occasional pagoda and Chinese-style arched bridges add atmosphere to the tree-lined walkways, verdant islands and hills make West Lake a very special part of any China experience.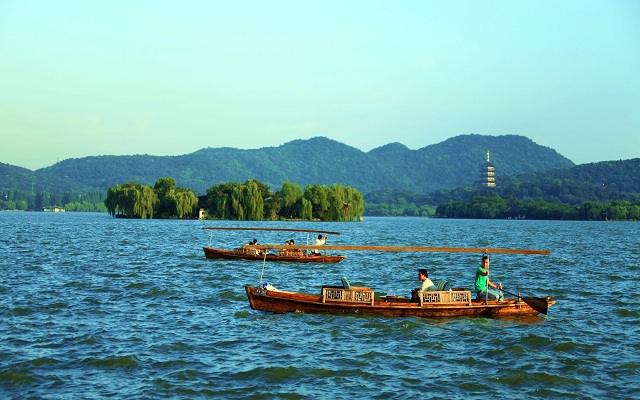 After that, visit the Fish Viewing at the Flower Pond (Huagang Park). This spot is located at the southern end of Su Causeway. A clean stream flows from Huajia Hill to join West Lake here, and many flowers grow where the fresh water flows in, so it called "Flowery Harbor". This area now has been made into a 22 hectare (54 acre) park with many varieties of trees and flowers, featuring a peony garden which blooms in April and a goldfish pond which is the famous site for viewing fish.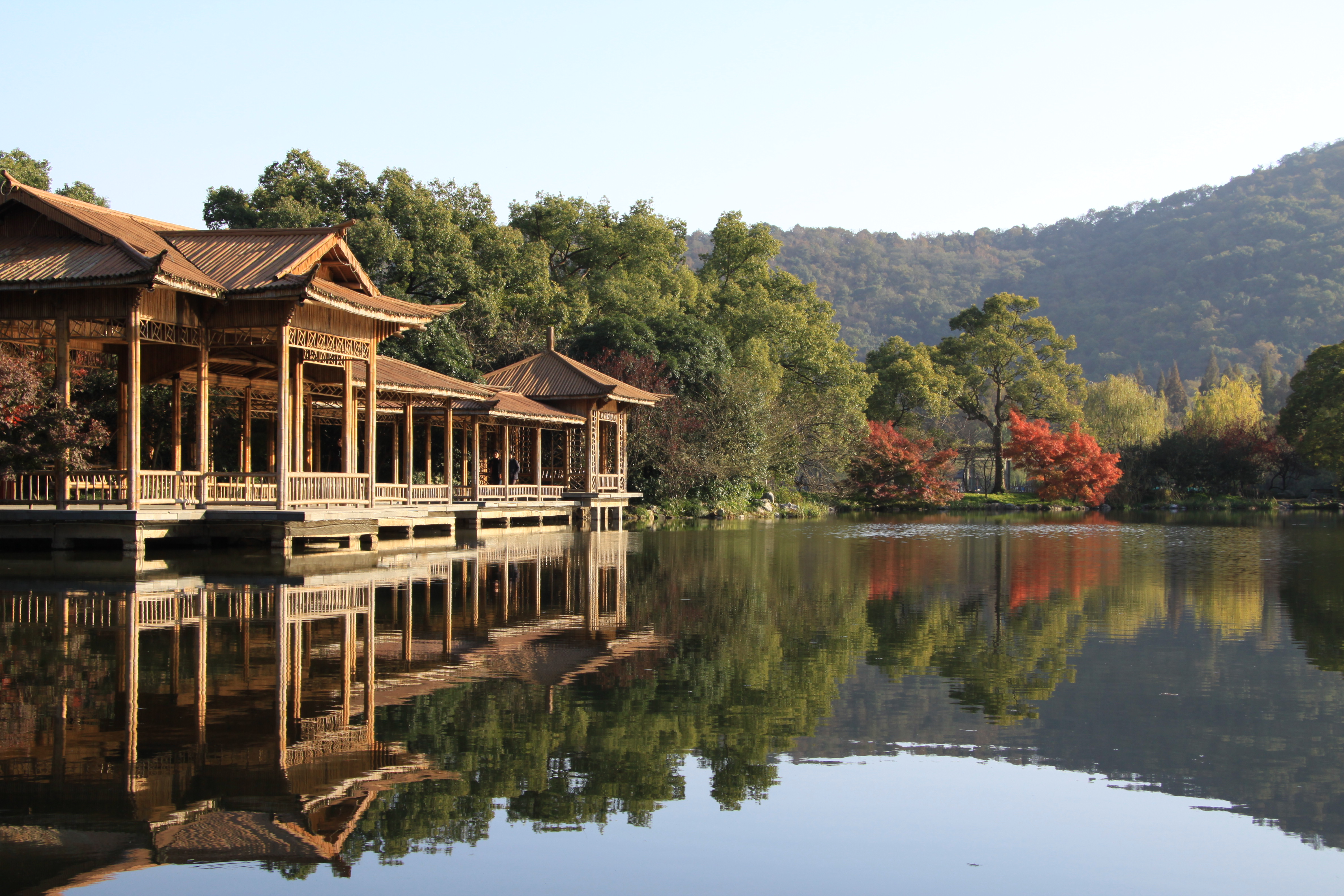 Later, drive to the Guo Garden: Completed in 1861, this elegant garden villa was built as a private retreat for a wealthy Qing Dynasty silk merchant. Guo's Villa is a fine example of Chinese aesthetics in which the manmade and natural blend in harmonious balance.The Villa opened to the public in 1991, after being restored. It faces Spring Dawn, by the Sudi Causeway which crosses the West Lake, and has a distant view of the serene Southern Screen Hill and the Baochu Pagoda. The villa has two sections (1) Living in Quietness, where the owner lived (2) the Sky in the Mirror garden, with a pond surrounded by roofed corridors (lang), bridges, rockwork, trees and flowers.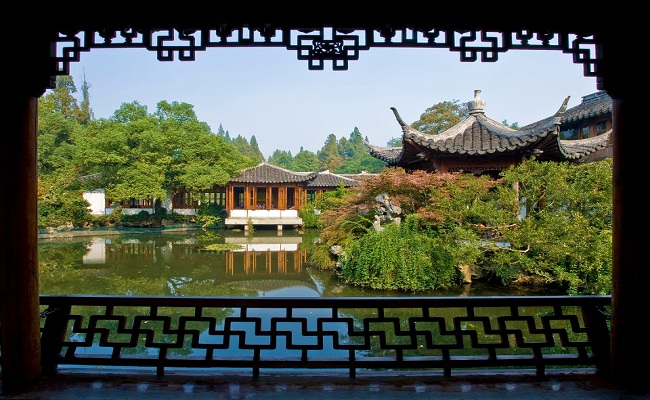 Lunch at local restaurant to try the local delicacies (Our local tour guide will give you the best recommendation)

After lunch, visit the China National Tea Museum. China is the birthplace of tea with the longest history of tea culture. Today tea culture is a bright pearl in traditional Oriental culture.China National Tea Museum is the only museum themed with tea and tea culture in China mainland, so you can know about the culture and history of tea in China, admire exhibits about tea, sample tea, learn tea art, and enjoy pleasing scenery of tea plantations.
Continue your visit to the Leifeng Pagoda, Leifeng Pagoda as an important cultural and historic attraction in the West Lake Scenic Area is quite familiar and well-known both in Chinese folk culture and Chinese literature history. Leifeng Pagoda is one of the ten sights of the West Lake because of the Legend of the White Snake. The legend was existed as oral traditions long before any written compilation. It has since become a major subject of several Chinese opera, films and TV series.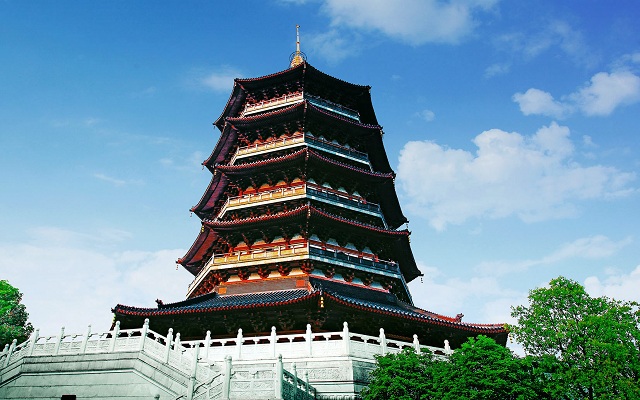 After the tour of Leifeng Pagoda, drive you to your hotel in Hangzhou downtown, our tour guide will help you check in.

Day 4
Place&Transport: Hangzhou
Today's Activities: Lingyin Temple, Bamboo Lined Path at Yunqi, Meijiawu Tea Plantation, Six Harmonies Pagoda, Song Dynasty Imperial Street
Accommondation: 4 Stars Hotel in Shanghai (Can be customized)
Meal: N/A
Today, you will start your tour with Lingyin Temple: Lingyin temple, commonly translated as "Temple of the Soul's Retreat" is one of the largest and wealthiest temples in China. It was originally founded in 326 AD, but has been rebuilt no less than sixteen times since then. Lingyin Temple is one of the ten most famous ancient Buddhist temples in China. It also houses various Buddhist literature and treasures situated in front of the Temple, and is famous for its more than 470 stone carvings of Buddhist figures, which dated from the 10th to 14th centuries.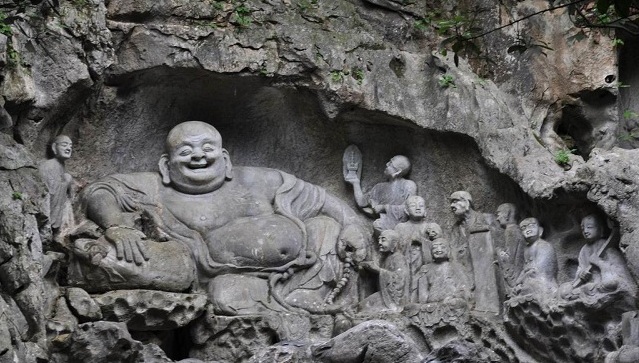 Later, move to Bamboo lined path at Yunqi: The forest is breathtaking. It really makes you realise how insignificant you are when you stand next to the bamboo trees towering way above you. You are surprised at how hard the bamboo actually was - no wonder Asian builders use it as scaffolding! The thing really liked about the bamboo forest is the light - even though the forest was dense, it still seemed really light and crisp, because of the fact the bamboo's all green (not like normal trees where the trunk is dark brown). It gives the forest a totally different vibe, hard to explain but it was just fascinating.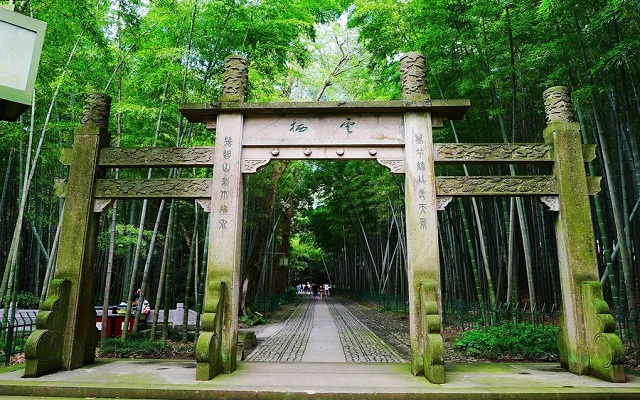 Have your Lunch at the restaurant popular with the local people to stay away from the tourists' meals. (In china, do not go to the tourist's restaurants when you are on a tour. You shold go to the right place to have the meals, then you are in real china.)
After lunch, move to the Meijiawu Tea Plantation: Drogon Well Tea (simplified Chinese: ???; traditional Chinese: ???), also known as Longjing tea, is a variety of roasted green tea from Hangzhou where it is produced mostly by hand and has been renowned for its high quality, earning the China Famous Tea title. Meijiawu Tea village is seated at the hinterland of West Lake Park and it boasts the most important Dragon tea production basis. Here you are in an original natural environment, just relax your feelings and enjoy the special tea culture, taste the fragrant tea while appreciating the beautiful village scenery. And our guide or Tea Farmer will show you how to pick the leaves, how to fry the leaves and how to drink the best tea in China.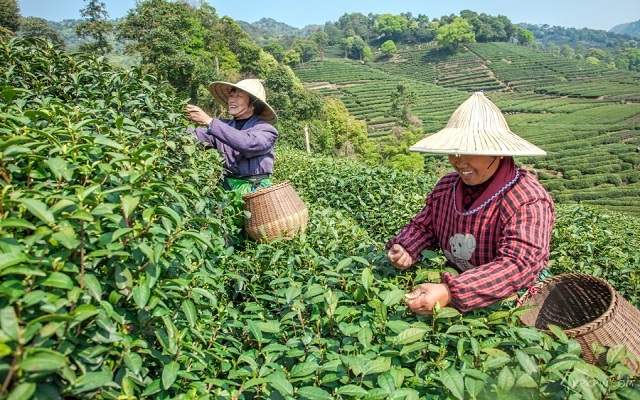 Next, visit the Six Harmonies Pagoda, a representative ancient pavilion-style tower in China, located on Yuelun Mountain to the south of the West Lake and facing Qiantang River. It is one of the three renowned pagodas in Hangzhou, together with another two around the West Lake, Baochu Pagoda and Leifeng Pagoda. Because of the height advantage and special location, Liuhe Pagoda is one of the best places to view the splendid Qiantang River Tide.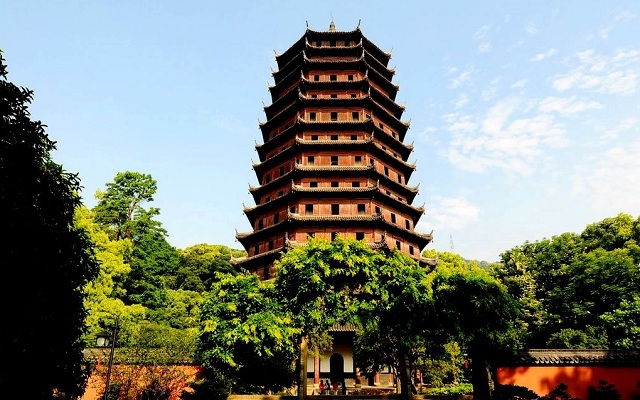 The last stop is The Song Dynasty Imperial Street: Has been renamed Zhongshanlu Beiduan, but still leads to the Palace of the Northern Song dynasty (960-1127AD). The road that stretches 400 meters (1,310ft) is lined with snack bars that offer local delicacies and shops that sell antiques, embroidered items and silks among others.
After the tour, our tour guide and driver will drive you back to the Hangzhou train station for your train to Shanghai. You will be taken back to your hotel in Shanghai downtown by our Shanghai local driver directly once arrived.
Day 5
Place&Transport: Leave Shanghai
Today's Activities: N/A
Accommondation: N/A
Meal: N/A
Today, free on your own until our Shanghai local driver transport you to Shanghai airport and you can fly back home. Your five Days Tour with Shanghai-Suzhou-Hangzhou ends. Hope you have a pleasant trip.
Price Per Person in US Dollars