Guangfu Ancient Town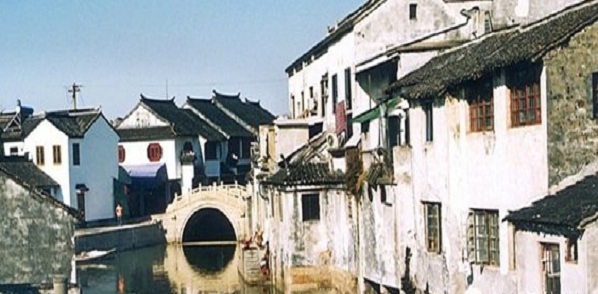 Guangfu Ancient Town (????)
A Brief Introduction of Guangfu Ancient Town
Guangfu Ancient Town is located around 20km west of Suzhou, on the bank of Taihu Lake, also at the foot of Dengwei Hill. It said that in Southern Liang Dynasty, there is local governor named Guo, he abandoned his residence and built the Guangfu Temple, then renamed the town "Guangfu" too. Guangfu Ancient Town has the history of over 2,500 years, boasts historical and cultural relics. The main attractions include Guangfu Temple, Situ Temple, Shengen Temple, Shilou Nuunery and Xiangxue Hai, also refer to The Sea of Fragrant Snow, etc. Guangfu Ancient Town is a traditional Chinese craft town ship with beautiful landscape, it's also one of the birthplaces of embroidery in Suzhou.
The Higglights in Guangfu Ancient Town
Guangfu Temple
Guangfu Temple, first built in 503, was originally a private residence. Later it was converted into Guangfu Temple, where eminent monks preached in Tang Dynasty. What we see today is built in Qing dynasty, the palaces in the temples are splendid, there are some halls are reconstructions of the Qing dyansty. Behind the temple, visitors can see Guangfu Pagoda, Chinese classic pavillions, towers and strangely rockeries, which make the temple look charming. The Guangfu Temple also named Bronze Kwai-yin Temple, as in 1040, a villager used to dig earth here and found a bronze sculpture of Kwan-yin, hence the name.
Hand Crafts
Guangfu ancient town is one of the origins of Suzhou silk in Suzhou, it features beautiful patterns, colors and Su embroidery. Olive-stone carving is another feature in Guangfu ancient town, it's beautiful, delicate and lifelike. It is mainly created out of ideas in four aspects: pursuit of good luck and fortune, fairy tales, folk stories, and natural sceneries and classical gardens.
Guangfu Pagoda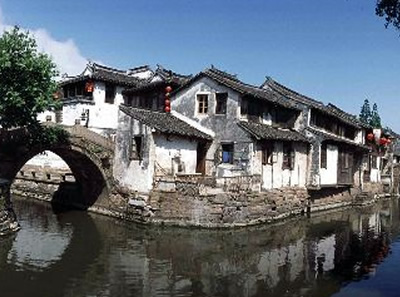 This pagoda is located on the top of Guishan Hill behind the Guangfu Temple. It's a Buddhist shrine, was originally built around 1,400 years ago for preserving the treasured Buddhism scripture and the relics of Monk Wuchen, who was the founder of Guangfu Temple, the pagoda now we can see is restored by local government of Suzhou. Guangfu Pagoda was made of bricks and wood with four sides and seven floors, visitors can get into the pagoda, it will offer splendid views across to the town, and the lake. The rest of the view in the horizon is somewhat obscured by the hills.
Xiangxuehai (Dengwei Mountain)
Xiangxuehai, also refer to the Sea of Fragrant Snow, is located on Dengwei Mountain, it is one of the China's four most famous places where visitor can appreciate the plum flowers. Since Western Han Dynasty, Dengwei Mountain has been covered with plum trees and during Qing Dynasty, Xiangxuehai was his must-see. There is the famous plum blossom pavilion on the half way up top Dengwei Mountain, it was built by Yao Chengzu, a famous craftsman in China, here visitors can sip a cup of tea while viewing the plum blossoms. The best time to visit Xiangxiehai is late winter and early spring.
Shilou Nunnery
Shilou Nunnery is on Tanshan Hill. In its yard, there are several Japanese bananas and a purple wisteria, like in a literary family's dwelling. Its main hall is not large, being the size of an ordinary folk residence. In the left of the nunnery, there is a Wanfeng Platform boasting stone inscriptions. Standing on it, one can overlook the green hills and blue waters of Guangfu Ancient Town.
Transportation
Bus Routes:
1.Visit the Guangfu Temple, take No. 63, 64, 65, 651, or 652, and get off at Tongguanyinsi Station.
2.Visit Situ Temple or the Sea of Fragrant Snow, take No. 65, or 651 and get off at Xiangxuehai Station.
Information
Admission Fee: CNY56 (Xiangxuehai, Situ Temple, Guangfu Temple)
CNY20—Xiangxuehai (Sea of Fragrant Snow)
CNY25—Situ Temple
CNY15—Guangfu Temple
Opening Time: 8:00-16:30
Time for Visit: 2-3 hours