Reading into Suzhou's history, attractions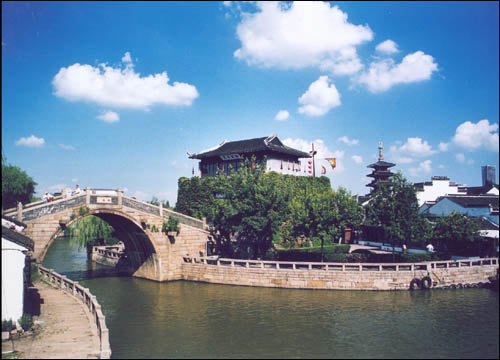 Suzhou Maple Bridge (Chinese: Maple Bridge)
ONE night around 1,200 years ago, Tang Dynasty (AD 618-907) poet Zhang Ji found himself stranded in a small temple in Suzhou. He was escaping the An Shi Disturbance (AD 755-763), a rebellion against the Tang instigated by general An Lushan. As Zhang was also a Tang official, he thought it best to lay low and flee the embattled court.

Surrounded by violence and faced with an uncertain future, Zhang was understandably restless in his temporary home. With so many emotions running through his mind, he got up and wrote "A Night Mooring by Maple Bridge," a poem filled with sorrow and longing.
The poem goes: "While I watch the moon go down/ A row caws through the frost/ Under the shadows of maple trees a fisherman moves with his torch/ And I hear, from beyond Suzhou, from the temple on Cold Mountain/ Ringing for me, here in my boat, the midnight bell."
The temple mentioned in Zhang's verse is Hanshan Temple, located today in the Fengqiao Old Town of Suzhou. Despite its somewhat diminutive size and humble appearance, the temple has withstood some of the most turbulent periods in Chinese history, including the eventual downfall of the Tang Dynasty.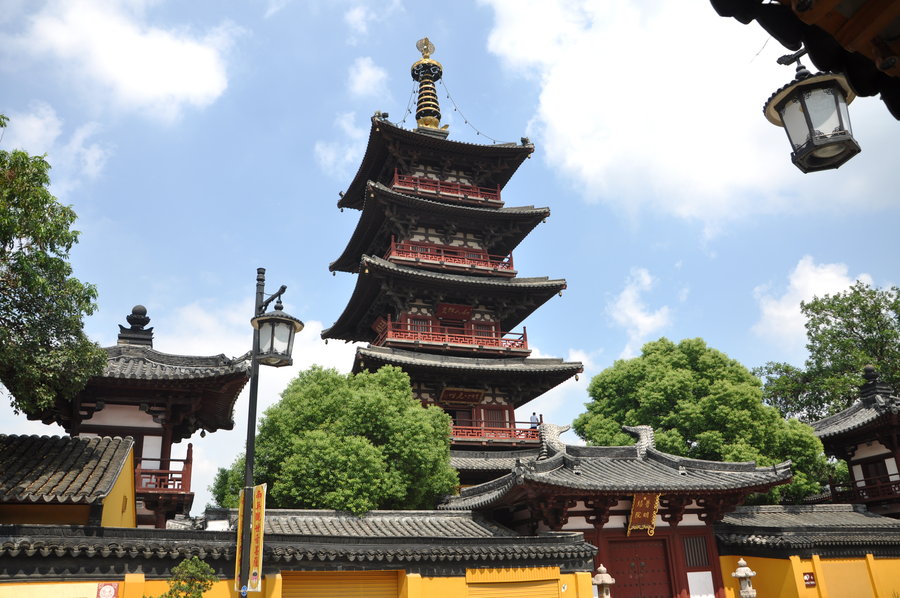 Hanshan Temple (Chinese: 苏州寒山寺)
In modern times, Zhang's lines have made Hanshan Temple a household name in China (as well as Japan, where his poem is taught in local primary schools). The loneliness and grief conveyed in the poem still resonates with readers more than a millennium later.
Hanshan Temple is also known for being favored by eminent monks. During the Tang Dynasty, Japanese monk Kukai visited it several times to study Chinese literature and Buddhism. He brought many important texts back to Japan which contributed to the development and expansion of Buddhism in his home country.
Storied street
About 50 years after Zhang's fateful stay at Hanshan Temple, poet Bai Juyi (AD 772-846) became minister of Suzhou. One of his first orders was to dig a canal, next to which emerged Shantang Street, one of the country's oldest and most well-known thoroughfares.
Before the Grand canal, transportation between the Tiger Hill and the Old Town was inconvenient and often hampered by flooding.
The Grand canal along Shantang Street brought a new liveliness to the area. It soon became a major route for trade, while the abutting street has long been known for its lively commercial scene.
Bai became known as the "father of Shantang," and is still revered today by the people of Suzhou for his contribution to trade and transport. This, however, isn't the only thing Bai is famous for. As one of the most acclaimed verse writers in Chinese history, Bai was the first to receive the title of "Immortal Poet" by Tang Emperor Xuanzong (an honor also bestowed on the great poet Li Bai).
Bai's concern for the ordinary people of Suzhou is evident throughout his works. His poems and writings often reflect the realities of Tang Dynasty.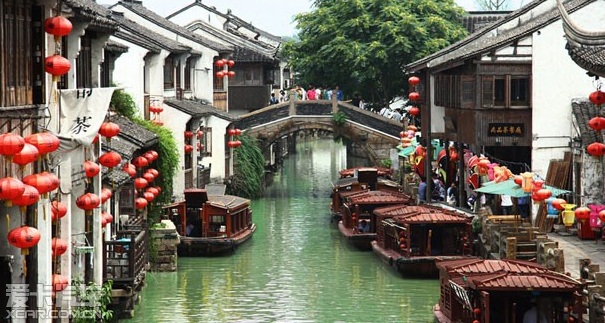 Shantang Street (Chinese: 苏州山塘街)
Today's Shantang Street still retains its antique water-town style, complete with the black-tiled roofs and white-washed walls common in Suzhou-style architecture. The riversides are filled with teahouses and vendors selling traditional Chinese crafts and snacks. Here, visitors can also see the local style of storytelling and ballad singing known aspingtan.
By virtue of its favorable geographical position, Shantang Street became one of the busiest streets in China during the Ming (1368-1644) and Qing (1644-1911) dynasties.
Shantang Street has also been referred to as Seven-mile Shantang since its length is about seven li (3.5 kilometers). From the arch bridge at the starting point, one can enjoy a panoramic view of the street and the abutting canal, which is often filled with sightseeing boats.
Although Suzhou has changed considerably since it was immortalized by the poets Zhang and Bai, it still retains many charming relics from its ancient past. For those seeking a better understanding of local culture, look no further than the locations which inspired two of its most famous writers.
Travel Guide
Hanshan Temple (Could Temple)
Admission fee: CNY 20
Address: No.24 Hanshansi Lane, Gusu Distric, Suzhou
Opening Time: 7:30--17:00
Tel: 0512-67236213
How to get Hanshan Temple
1. Bus routes: Take No. 9, 10, 933, 406 and get off Laifengqiao(来凤桥)
2. Metro Routes: Take line 1 and get off West Ganjiang Road, 1 Exit
Suzhou Maple Bridge: Neaby Hanshan Temple
Shantang Street: Free of Admission
Below are most popular Suzhou tours help you to explore the history and culture of Suzhou
1. One Day Classic Suzhou Tour
2. Full Day Suzhou Tour of History and Culture Exploration with Grand Canal
3. Suzhou Tour: Explore the Hidden Door of Suzhou Old Time
4. Suzhou Day Tour: One Day Suzhou Profound Culture Tour
5. Half Day Suzhou Silk Culture Tour