Tour Itinerary
Place&Transport: Suzhou
Today's Activities: Shantang Street, Tiger Hill Wedding Street, Suzhou No.1 Silk Factory, Pingjiang Street, Harmony Times Square, Guanqian Street
Accommondation: N/A
Meal: N/A
In the morning, you will go to Shanghai train station for your train to Suzhou (30 minutes). Upon arrival, our local Suzhou tour guide will pick you up at the exit of Suzhou train station with a welcome signage "Suzhou Private Tour". And your Suzhou tour from shanghai of Shopping in a day start as below: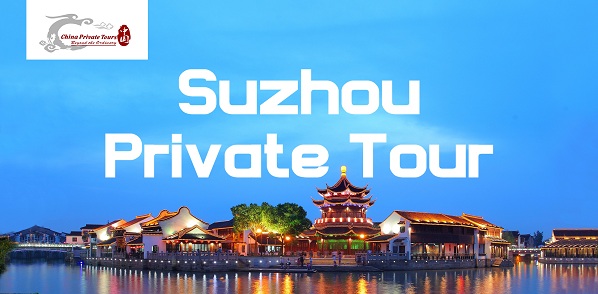 Our Suzhou Pick Up Sign "Suzhou Private Tour"
Below are the most popular shopping sites in Suzhou, you can choose four attractions as you want. This tour is customized for your interests.
Shantang Street: Shantang Street, also named "Seven-Li Shantang", reaches Tiger Hill in the west, has a history of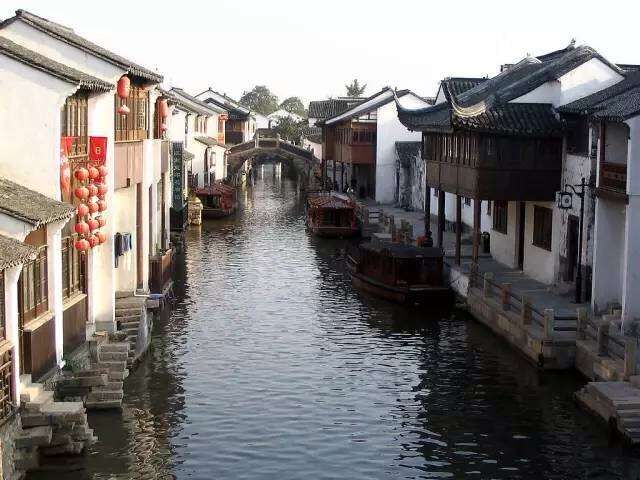 more than 1,100 years. This street is regarded as the "No.1 Ancient Street in China", is the largest commercial street of Suzhou. "Suzhou Street", built by Empress Dowager Cixi of the Qing Dynasty (1861-1908) in Beijing's Summer Palace, was modeled on Shantang Street. The layout of Shantang Street in Suzhou best represents the characteristics of Suzhou's old alleys. The street gathers a large number of time-honored shops, various types of civilian residences, old temples, ancestral halls, ancient bridges, memorial arches, and guildhalls, representing the exquisite scenery of Shantang. Now it has become an ideal leisure and shopping center for both locals and visitors.
Tiger Hill Wedding Street: Suzhou is a romantic city, for not only does it have a lot of love stories, but also it has a prosperous wedding industry. Suzhou has a significant wedding dress market where the wedding dress, with its low prices. This is attracting couples from all over the country, even from abroad. The market actually is based predominately along a street near Tiger Hill, with more than 700 wedding related outlets. It is known as the Southeast Asia's largest wedding marketplace. Moreover, Tiger Hill Wedding Street in Suzhou is the centre of wedding dress designing, manufacturing and merchandising. There are thousands of wedding dresses, evening dresses, and bridal dress, all at competitive prices. In fact, the dresses are half of what you would pay in Shanghai.
Suzhou No.1 Silk Factory: Suzhou is one of ancient silk capitals in China. The silk is always a famed representative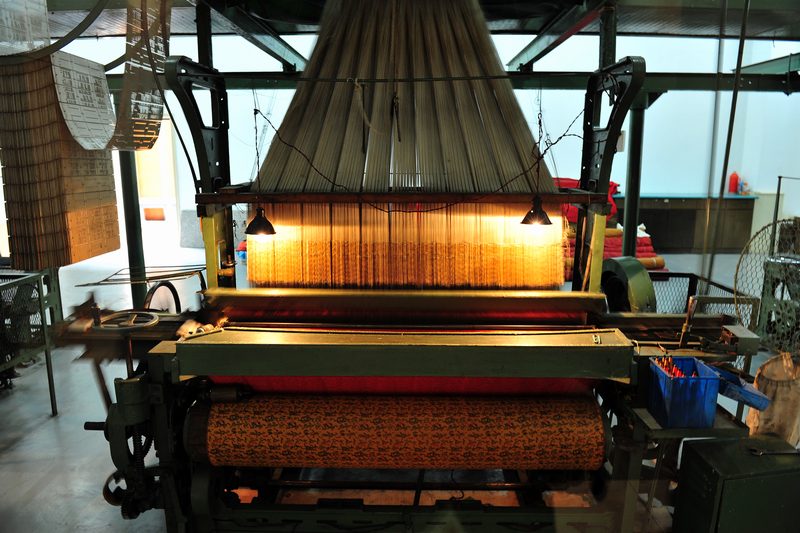 of the ancient city of Suzhou, while the Suzhou No.1 Silk Factory is just shinning card of the Suzhou silk. Built in 1926, the present No.1 Silk Factory of Suzhou is not only a workshop for silk reeling, weaving and products manufacture, but also a site for factory tour of silk knowledge and silk shopping. In the Suzhou No.1 Silk Factory, you will see how the people produce silk with the old style machine, and the making process of handmade silk quilt. You can testify that these quilts are light as a feather and very warm and buy one if you like it.
Pingjiang Street: Located in downtown Suzhou, Pingjiang Street is a historical road along the river, where the city's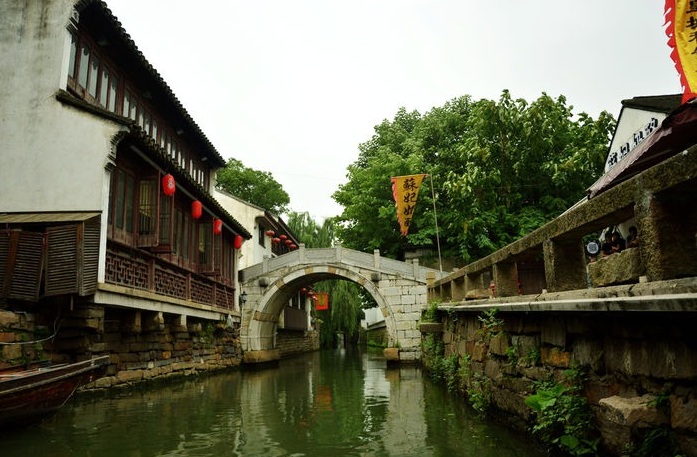 history and unique feature have been well-preserved. As early as in Song Dynasty, the street had already existed, which was shown on Suzhou's earliest map "Pingjiang Map" as one of the main streets of the town during that time. With the total length of 1,606 meters, the street parallels with Pingjiang River. The typical houses of ancient Suzhou with white walls and black tiles are standing by the street and river, simple and unsophisticated. For many centuries, the street has become a center of much of Suzhou's cultural life. Pingjiang Road is also famous for its delicious food. Not only are the buildings on the street the legacy of ancient times, so are the tasty food and restaurants which are significantly influenced by the food culture of Suzhou. Visitors can feast themselves on delicious food provided by the following three types of restaurants.
Harmony Times Square: Harmony Times Square is a business complex located in Suzhou Industrial Park, Suzhou,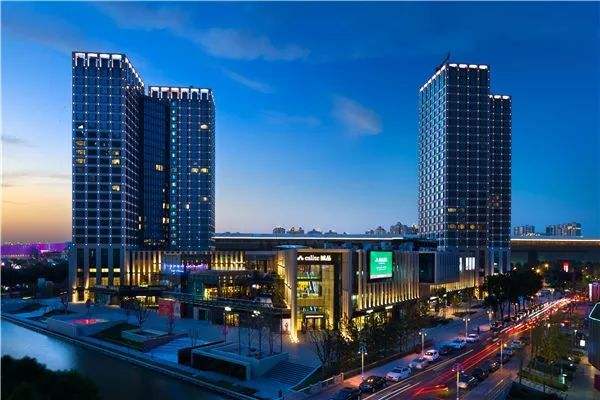 close to the east bank of Jinji Lake. It occupies an area of 210,000 square meters. Harmony Times Square, the most prosperous commercial center of Suzhou's new CBD, enjoys five functional areas, which are Harmony Sky Screen Street, leisure life area, waterfront dining area, business office area, and Jiuguang Department Store. The square provides "one-stop" services, covering the themes of shopping, catering, leisure, entertainment, business, culture and tourism, etc, and accommodates anchor stores and flagship stores, concept stores and specialty stores of national and international famous brands, enough to satisfy all your consumption demands. In addition, there is Overhead Corridor, Water Mist Square and other theme landscapes.
Guanqian Street: Guanqian Street has been honored as the one of the Four Most Famous Walking Streets in China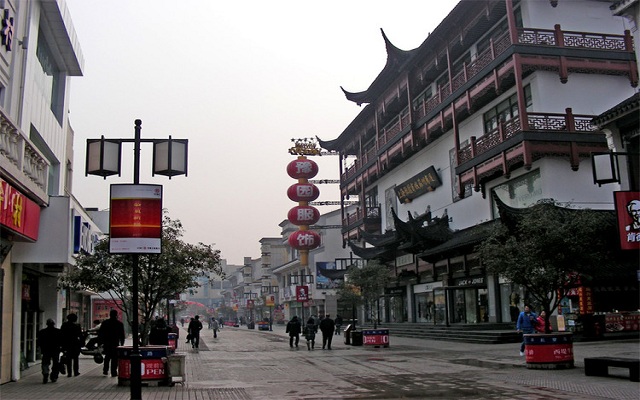 (other three: Nanjing's Fuzimiao, Shanghai's Cheng Huang Miao and Beijing's Tianqiao). Located in the downtown core of Suzhou, the main theme of the street involves eating, shopping and entertaining. There are hundreds of shops, restaurants, bars, stores and clubs in old fashioned structures surrounded by colorful signs and neon lights along the street.
After finished your Suzhou shopping tour, our Suzhou tour guide will take you back to Suzhou train station or your hotel in Suzhou downtown.

Useful Tips for you shopping and eating in Suzhou:
What to buy in Suzhou
What and Where to eat in Suzhou
There are some useful Tips for you to Puchase Train Ticket between Suzhou and Shanghai:
From Shanghai to Suzhou:
Option 1: G7104 Shanghai Hongqiao Station to Suzhou Station: Depart at 08:54AM and arrive at 09:30AM
Option 2: G7006 Shanghai Station to Suzhou Station: Depart at 09:00AM and arrive at 09:25AM
Please choose one of the above options according to your hotel location
From Suzhou to Shanghai
Option 1: G7119 Depart at 17:56 from Suzhou Station and arrive at Shanghai Hongqiao Station at 18:32
Option 2: G7243 Depart at 18:02 from Suzhou Station and arrive at Shanghai Station at 18:27
You can ask your hotel help you book it or you can book it online by yourself. (Ctrip is ok)
Note: Plz book the train ticket in advance in case sold out, especially on weekend or public holiday
Price Per Person in US Dollars