What to eat in Wuxi

Wuxi Cuisine does not refer to a single dish, but a style of cooking. This style emphasizes the harmony of saltiness and sweetness. If savouring careful, you will find the sweetness is the finishing touch of the dish and cannot be spared. The sweetness integrates the tastes of dozens of spices in the dish. Without the control of sweetness, the others such as saltiness, sour and hotness could taste harshly. The traditional Wuxi Cuisine is also very strict with the cutting technique and the arrangement and decoration of the dish as well. Accordingly it is time consuming to cook Wuxi dishes. But it is worth to take time to enjoy the dishes.
In Wuxi, the common cooking method is characterised by the addition of sugar and soy sauce to many savoury dish often in the form of hongshao. This often results in a fragrant, caramelised flavour. In addition, Wuxi cuisine often has sweeter versions of dishes found in its neighbouring regions.
Wuxi Sweet and Salty Spare Ribs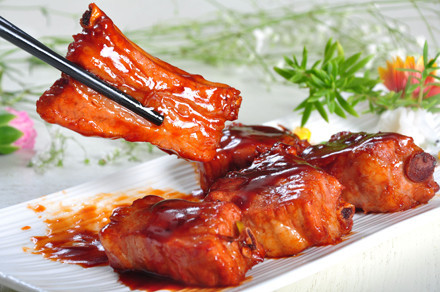 Wuxi Spare Ribs is the most popular local dish and is the specialty to look out for people come to Wuxi. It features the common eastern technique of "Red cooking" in a stock of rice wine and soy sauce and spiced with ginger, anise, cloves and black peppercorns and has unique red-sweet sauce on the top in order to give rich taste.
Bean Curd in Casserole
This is a home-style dish but cooked with special cooking utensil-Casserole. Put bean curd and other vegetables into the Casserole together with chicken soup and sesame oil, then bring to the boil, simmer. When it's done, the bean curd is white and soft, the dish taste fresh and has rich nutrition.
Magnolia Cake
Magnolia cake was first made by Sunji Cake Shop in 1850 when the magnolias were blooming. Although the cake was named after magnolia, it is in fact a fried tangyuan stuffed with pork. It is golden in appearance with a crisp outer skin and a soft inside. It is fried and detached from the model tastes after shaping and taste quite delicious.

Wonton with three fresh delicacies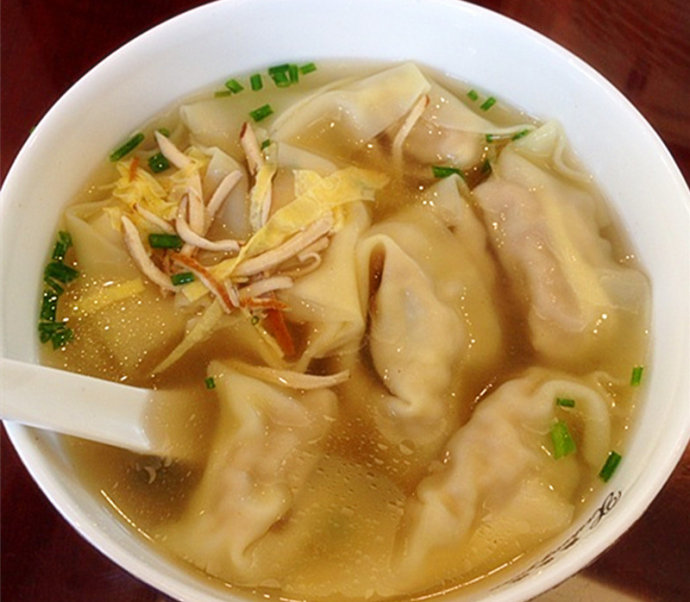 Three Fresh Ingredients refer to the fresh meat, dried and shelled shrimps, preserved Szechuan pickle which are the main fillings of this food. It is originate from Xishan city east pavilion among the people, developed into traditional famous snack in Wuxi. The soup was made by meat bone, bean cured strips, silk of egg as the condiments. The wonton of three kinds of delicacies, which the cover is thin, fillings are many, the soup is delicious, is the most popular pastry liked by citizens in Wuxi.
Lake Tai White Shrimp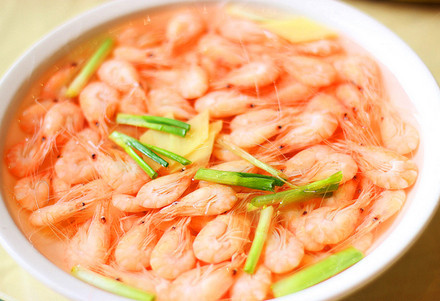 Lake Tai white shrimp (also known as crystal shrimp) is a famous product of Lake Tai. The shell of the white shrimp is thin and crystal-like, and the meat is delicious, fresh and nutritious. Lake Tai white shrimp can be cooked into more than a hundred different dishes, the most famous of which is drunken shrimp.
Wuxi Snacks
Wonton with three fresh delicacies
The wonton with three fresh delicacies has now grown into a well-known traditional snack of Wuxi.
Wonton takes fresh meat, dried shrimp meat and pickled vegetables as its fillings, thus the name "three fresh delicacies". It is served with soups of pork bone, beancurd strips and shredded egg crepe. Featured with thin wrappers, rich fillings and appetizing soup, wonton with three fresh delicacies is one of Wuxi's most popular snacks.
Plum Tribute Cake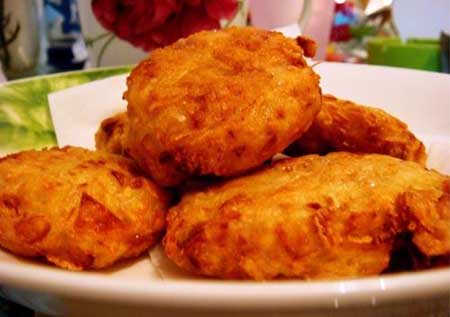 It is traditional famous snack in Wuxi. It selects precise white flour for use, pig oil, water make shout flour into, make good fresh meat, sweetened bean paste, jujube paste, mixture of salt and roast prickly ash, sesame, rose, spring onions oil, south leg, Kaiyang various filling heart, put into shout inside, have fire spend large size several charcoal and on fire that make use of white coal, bake cake twice, each instead from head to foot, pan of inside and outside exchange and bake. Plum tribute cake golden is yellow, skin crisp and layer thin, make hot eat to wipe out, and flavor is fragrant and delicious.
Taihu boat snack (Taihu Chuandian)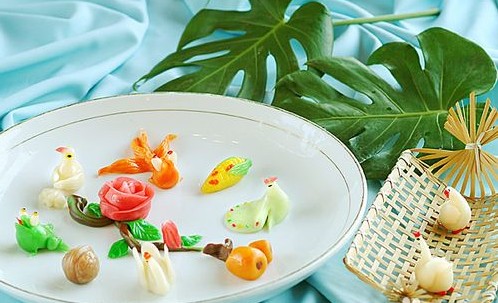 Originated from Ming Dynasty, Taihu lake cruise snacks are the chefs' improvised works, mostly with rice flour and flour, in the images of animals and plants, steamed, which can be tasted as well as appreciated. "Mu Guiying"Taihu lake cruise snacks have declared for the first batch intangible cultural heritages of Wuxi. You must make an appointment a few days earlier to taste the snacks.It's highly advised to row a boat on a sunny afternoon, and enjoy the retro and modern "Wuxi style afternoon tea".
Niurou Xianfen
Niurou Xianfen is one of the characteristic local foods of Wuxi. The making methods: firstly the beef should be sliced into pieces, and then add the amylum, yellow wine, refined salt and monosodium glutamate. After the water in boiler is boiling, put in the beef slices firstly and then cover the lid for a minute, and then add the Silk noodles, which was initially marinated by boiling water. All these are done; the lid should be covered for around 5 minutes, and sprinkle the refined salt and monosodium glutamate into the food. You just need to waiting for several seconds, and then put the food into the bowl and sprinkle sesame oil. This is a tasty food that deserved to savor.
Scented Porridge (Guihua Tangzho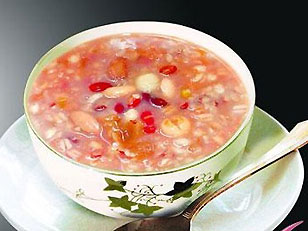 Scented Porridge is one of popular snack in Wuxi as well. To take a bowl of delicious sweet osmanthus taro, enjoy the sweet flavor, try the sticky and soft taro with purple romance slides into the mouth. Just a small bowl will make it so hard for you to stop. The porridge is made from glutinous rice, sweetened with sugar and dates, and given its unique aroma with the inclusion of osmanthus flowers. It's had better to choose the local high-quality taro, braise it soft and then add brown sugar and sweet-scented osmanthus.
Steamed juicy meat buns (蟹黄汤包)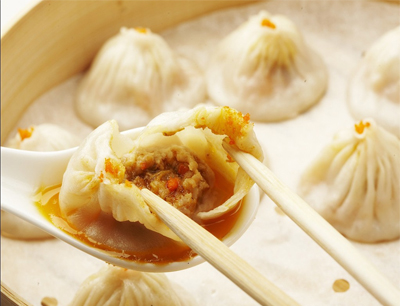 Wuxi locals also call it steamed bun. This traditional Wuxi snack has a history of more than 100years.Wuxi people as well as locals in Shanghai, Ningbo and Hangzhou are obsessed with its thin skin and full stuffing.
Taking skin jelly, pork, plain flour and other superior raw materials as the major ingredients, it can preserve the perfect appearance when picked up or rolled over. A mouthful gives the taste of its delicious gravy, and fresh and non-greasy features. Without flour fermentation, the skin of Wuxi steamed juicy meat bun is thin, complete and chewy.
In crab season, the boiled crab roe oil is filled in the stuffing, then "steamed crab meat bun" makes the grand debut. Take a bite, and enjoy the fantastic tastethat is fresh and palatable.
The silver silk noodles (Yinsi Mian) 银丝面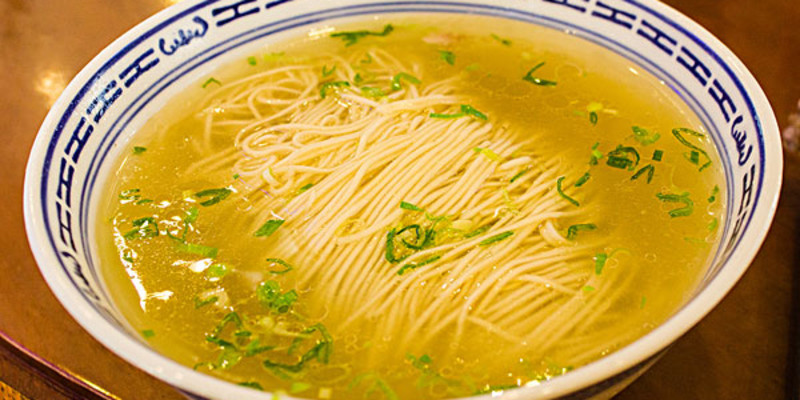 The silk noodle with beef is one of Wuxi's special flavor snacks, is totally different from the northern ones—white as snow, and string-like strips. Wuxi locals call these noodles "silver filaments". For a bowl of noodle, the soup is the cook's crucial secret. The recipe lies in the ingredient types, proportion, order, and time. The silk noodle with beef is one of Wuxi's special flavor snacks. Make silver noodles with beef is very easy. First, slice the beef and mix it well with starch, yellow wine, refined salt and gourmet powder. Second, bring water to a boil, and put the beef into the pot and cover it. Shortly after that, put the silk noodles that have been soaked in boiled water, cover and simmer for 5 minutes. Third, add some refined salt and gourmet powder; keep cooking until the water comes to a boil. Last, put ladle beef and silk noodles into a soup bowl and serve with sesame oil.