Guilin
Introdution of Guilin
Located at the northeast of Guangxi Province, Guilin is one of the oldest cities there; therefore,there are sites of the Neolithic Age dating back to about 10,000 years ago. Guilin City was set up in 1940. It is not only a famous tourist destination but also a renowned historical and cultural city in China, eulogized as "the most beautiful landscape on earth".
Moreover, its unique karst landform and the beautiful Lijiang River make it the world-famous tourist resort. The hills stand up to the sky with different shapes; the water on Lijiang River winds and twists like a bright mirror; there are many hills in which there are many splendid caves; the fantastic rocks in caves are extraordinary as if done by the spirits. In short, its beautiful scenery can be summarized as "strange mountains, limpid waters, beautiful rocks, and odd caves". Naturally, countless tourists both at home and abroad are deeply drawn by its scenes, local customs, and history and culture.
History of Guilin
Guilin is a beautiful natural scenery city that has an astonishing karst landscape, so people always say that the scene in Guilin is the best in the world. In fact, with the exception of its scenery, Guilin City also boasts a long history that can be traced back for 10,000 years. In the ancient times, Guilin belonged to Yue. But in the Warrior States Period, it belonged to Chu. Since Ling Canal that was the famous water conservancy project was built in214BC, Guilin has been an important county on transportation between Zhongyuan and Lingnan. In 111, it got a name Guilin city which belonged to Shi'an county and Lingling canton. And till now, it has 2000 years' history. In Ming and Qin dynasty, it became an official residence.
In the Song Dynasty (960-1127), Guilin area covered the territory of present Hainan Island.As for the Ming (1368-1644) and Qing (1644-1911) dynasties, the important position of the Guilin region both in economy and politics was unshakable. Benefiting from the solid political situation, the local culture also received further development during this period. From 1911, Guilin became the capital of Guangxi Province. By experiencing the liberation in 1949, Guilin was administratively divided as a part of Guangxi Zhuang Minority Autonomous Province. In 1981, this ancient city was listed by the State Council as one of the four cities (the other three being Beijing, Hangzhou and Suzhou) where the protection of historical and cultural heritage, as well as natural scenery, should be treated as a priority project. And since 1998, Guilin was re-divided by including more districts and formed as the present one.

Guilin Attractions

Li River
Li River, the most popular at scenic area in China, is located in Guilin. It originates in Cat Mountain and flowing 427km to Xijiang River at Wuzhou. The Li River has been eulogized as a fascinating scroll of the traditional Chinese painting by celebrities of ancient and modern, domestic and overseas.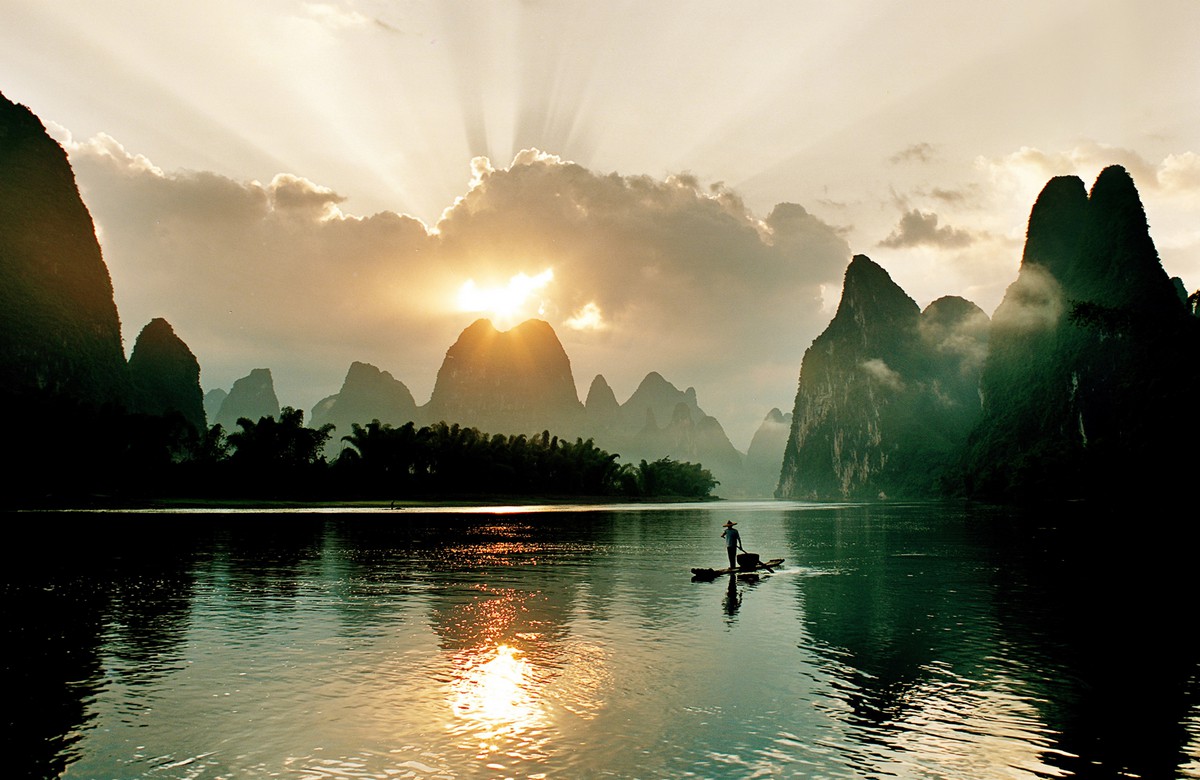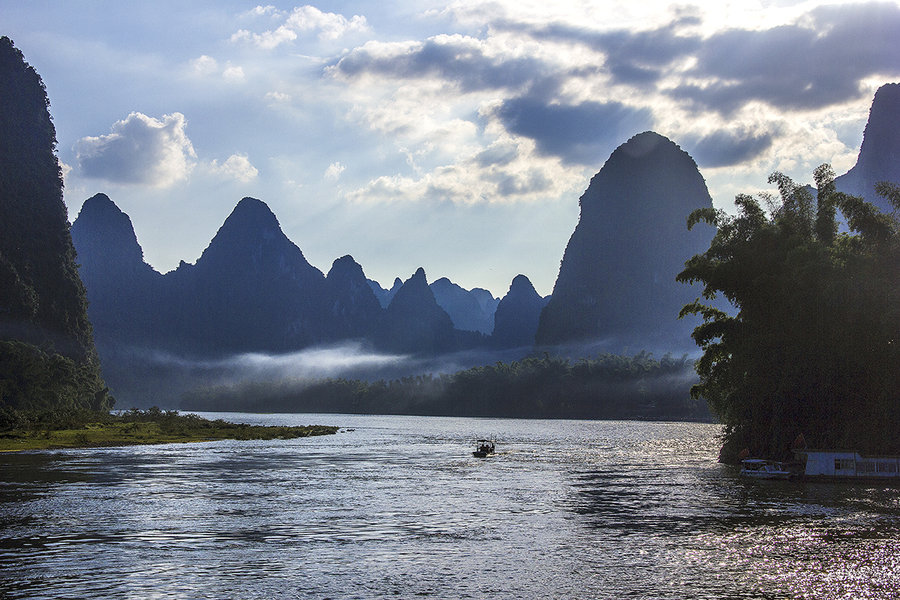 Yulong River
Yu Long River originates from Guli River in Lingui County, running through three township and more than 30 villages to south. It ranks second only to Li River in Yangshuo County.
The river is about 43km long, 38m to 61m wide and 0.5m to 2m deep. The scenic area along the Yu Long River is from the Yu Long Bridge in Baisha Town to the Gongnong Bridge nearing the Big Banyan Tree. The crystal river reflects green bamboos and various green hills of both sides, forming a picturesque scroll.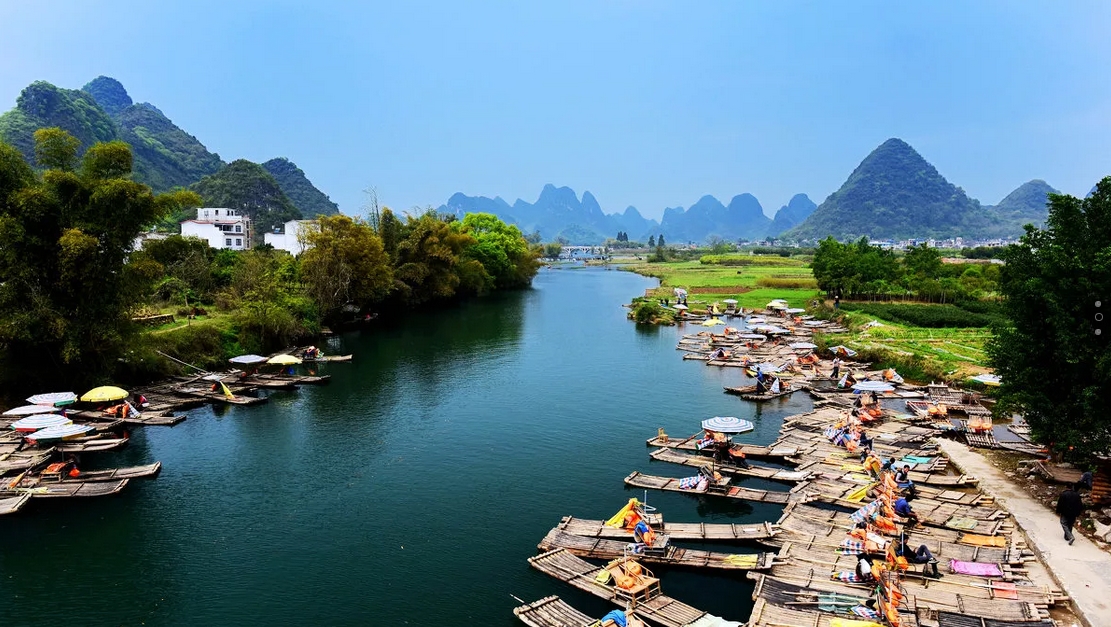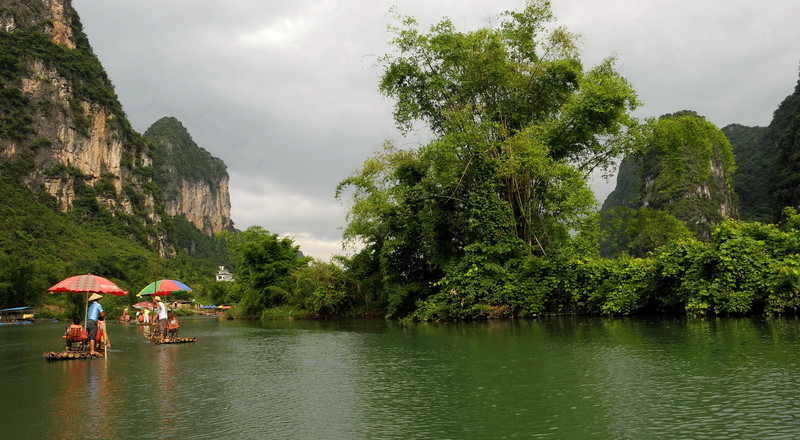 Seven Star Park
Seven Star Park is the largest park covering an area of 134 hectares situated on the east bank of the Li River. Major spots in the park include Camel Hill, Seven Star Cave, Flower Bridge, Crescent Hill, Putuo Hill, Guihai Stele Forest and others.
On the main gateway to the park lies the elegant Flower Bridge. It was originally constructed in the Song Dynasty and later was renovated in Ming Dynasty. The bridge was surrounded by flaming wide flowers when spring coming in ancient times, hence the name. But unfortunately, now visitors can not find any, since the flowers reduced greatly in Qing Dynast.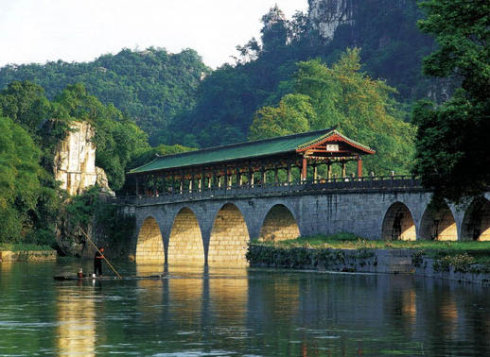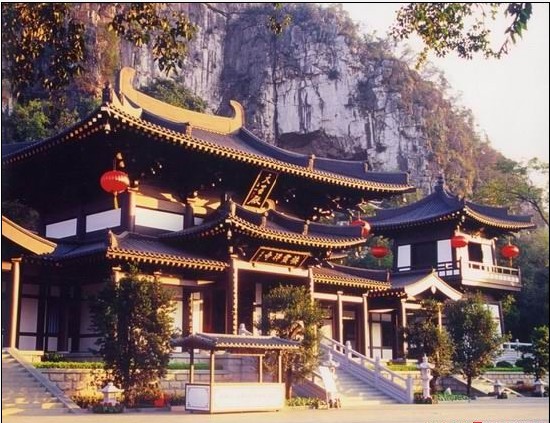 Folded Brocade Hill
Folded Brocade Hill (Diecai Shan) is one of Guilin's most climbable peaks situated very close to the city center in the northeast of Guilin, near the Lijiang River. The name was inspired by the colorful limestone formations covering the hill, which resemble skeins if silken thread. The Brocade Hill, the Duxiu Peak and the FuBo Hill Stand like the three legs of a tripod. All these three hills are the famous tourist attractions of Guilin. Folded Brocade Hill covers an area of approximately 2 square kilometers. It consists of Yueshan Hill, Look-on-All-Direction Hill, Crane Peak and Bright Moon Peak.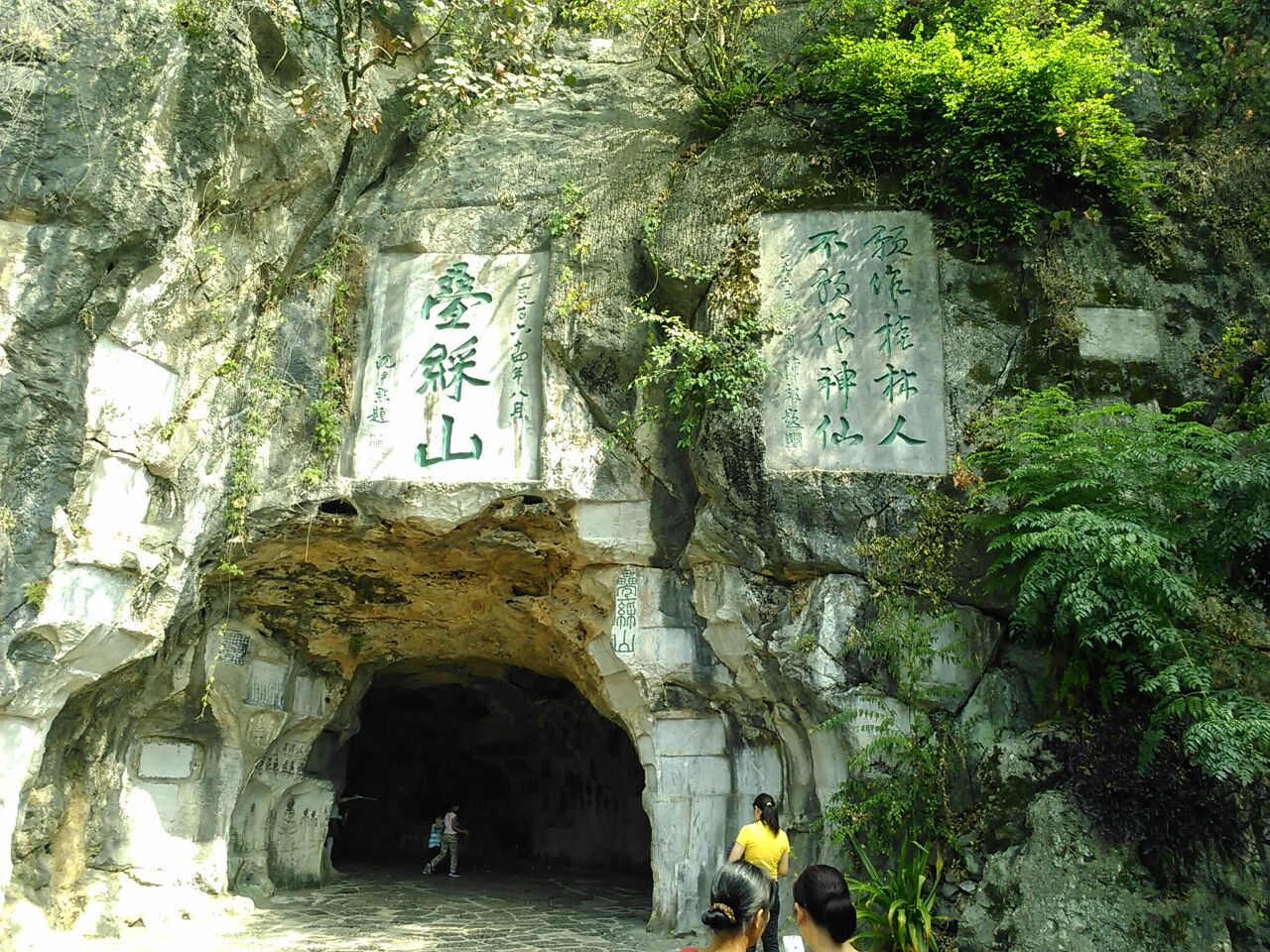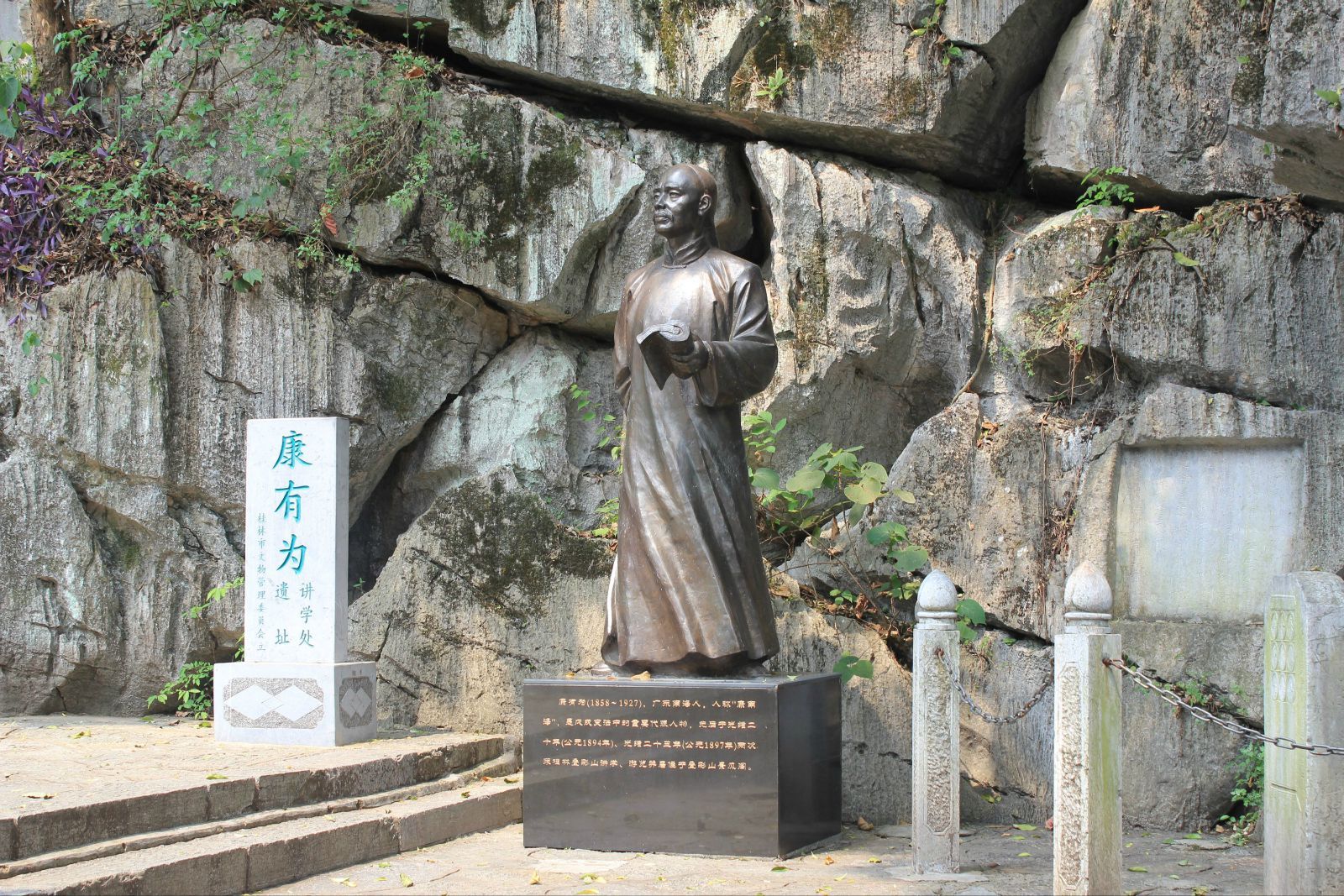 Elephant-trunk Hill
Elephant Trunk Hill is one of the Lijiang River's most famous sights. The hill is situated on the western bank of the Lijiang River, to the southeast of Guilin. It looks like an elephant, dipping its snout into the Lijiang River, hence the name "Elephant Trunk Hill". This sight isvery representative of the landscape around Guilin and is a symbol of Guilin itself. A park and a Ming Dynasty pagoda are found on and around the Elephant Trunk Hill. Originally named "Li Hill", "Yi Hill" and "Chenshui Hill", the hill has a history of 3.6 hundred million years. Resembling elephant leisurely sucking water from the river with its long trunk, this hill is famous as Elephant Trunk Hill for hundreds of years.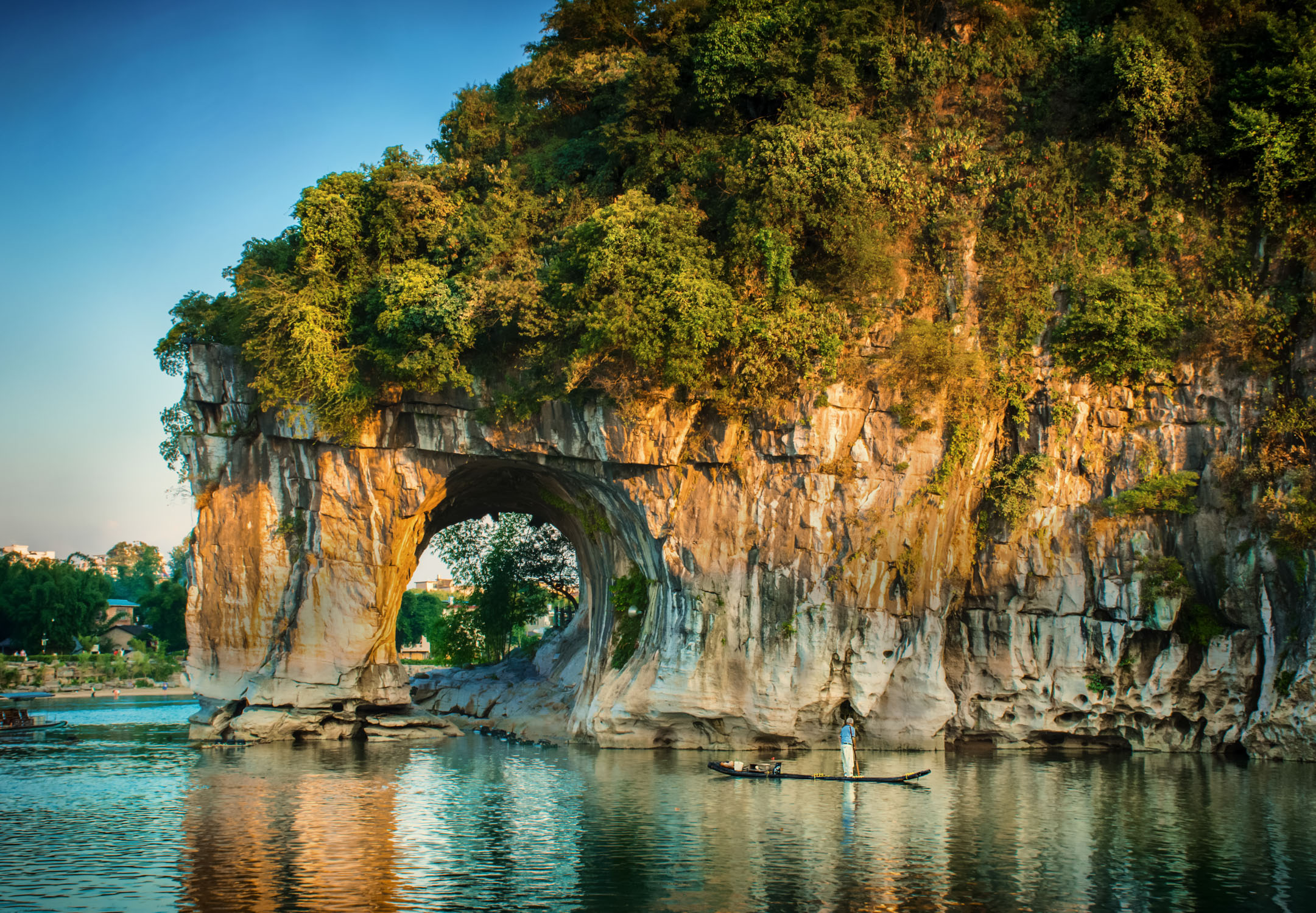 Daxu Old Town
Daxu Old Town is situated on the east bank of the Li River, 23 km (14.3 miles) southeast of Guilin City. Daxu is a time-honored town with well preserved traditional Chinese architecture and stone-paved streets. It has a history of more than a thousand years, drawing people from all over for a glimpse of ancient China. ect...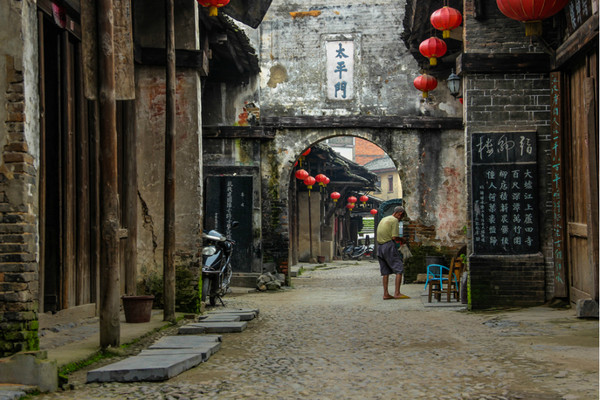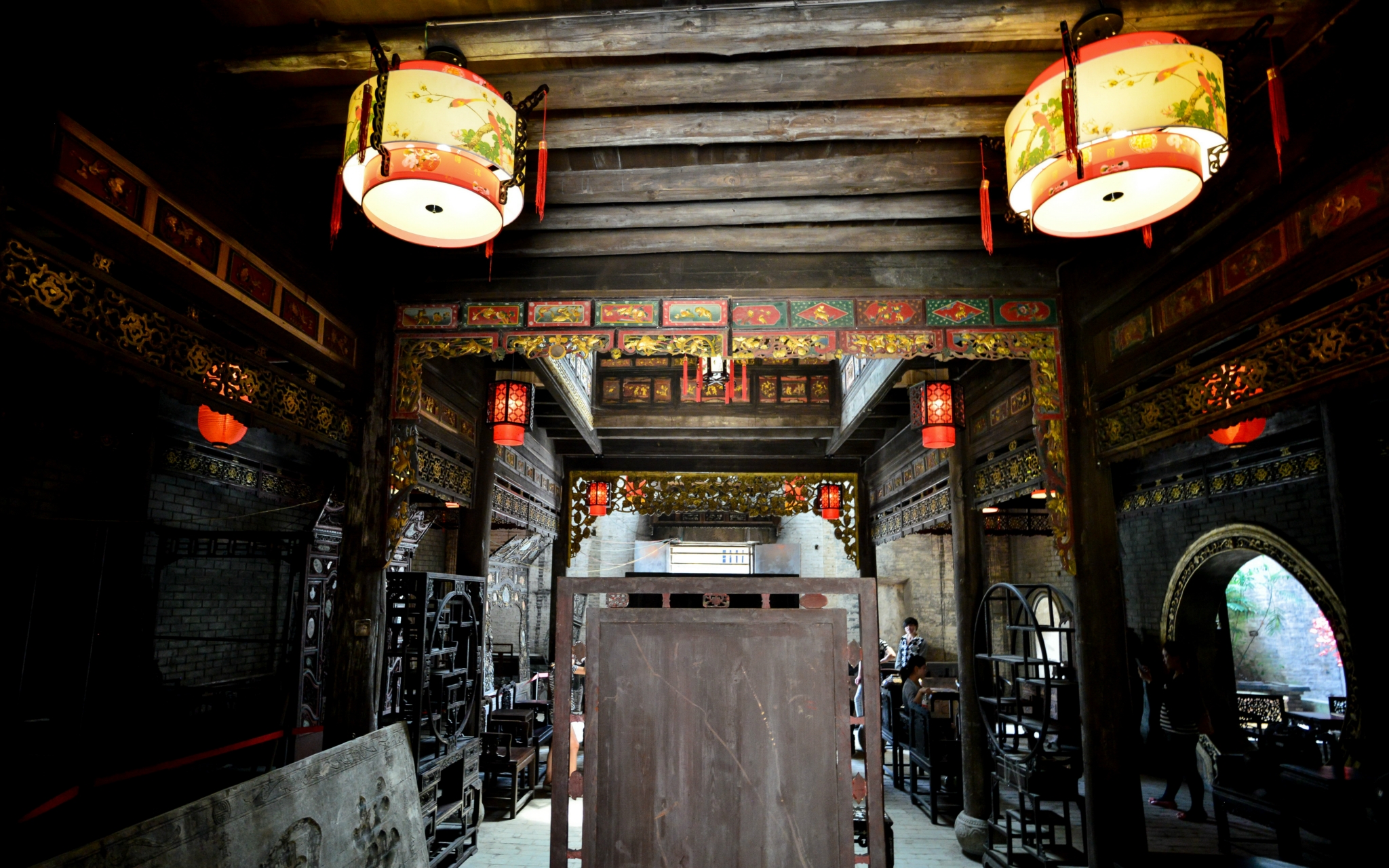 Guilin Cuisine
Guilin Rice Noodles:
The noodles of Guilin are famous throughout China and can be found in places such as Shanghai and Hong Kong. Of course for the most authentic Guilin Rice Noodles, visitors must eat them in their hometown, Guilin.
The rice noodles are made from oil and rice flower. The noodles are cooked in broth and served in a bowl of soup made from pork, beef, garlic, peanuts, peppers, and radishes. The peppers are added by the diner, so visitors who do not like spicy food can simply not add it.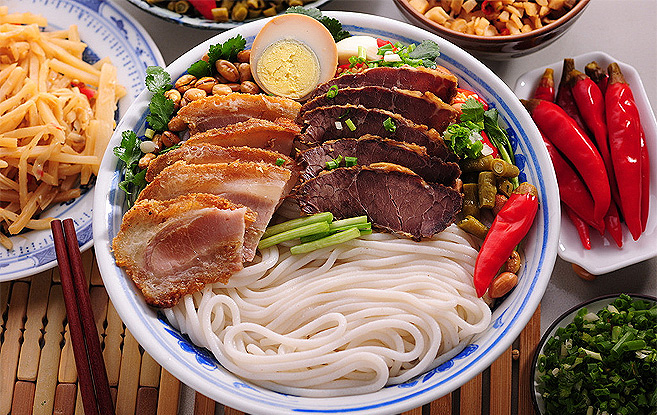 Chicken with filed Snails:
In Chinese, these snails with their distinctive spiral shells are known as "Field Snails" as they are often found in the rice paddies or fields. They are also found in the River Li and its tributary, the River Yulong?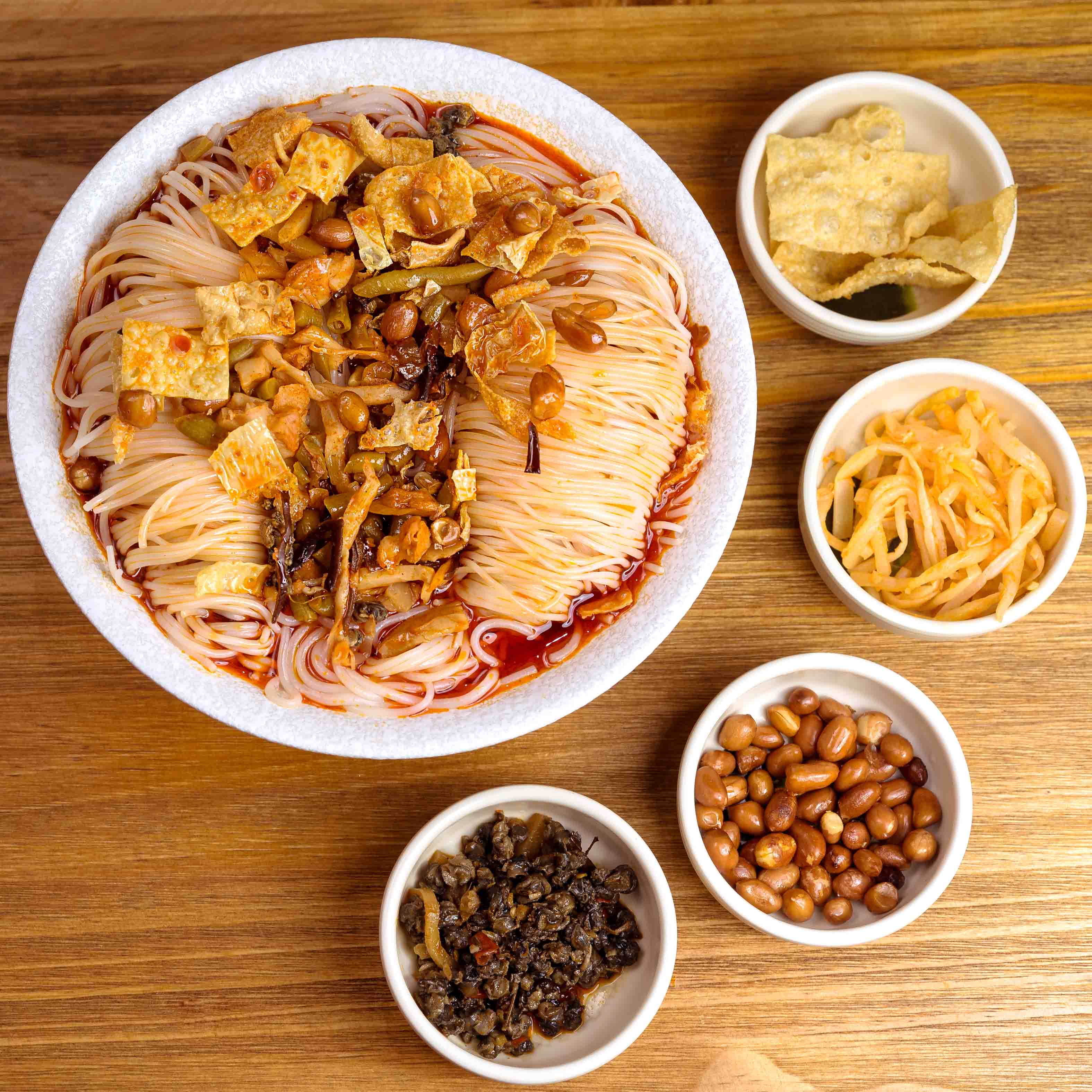 Yangshuo Beer Fish
Yangshuo Beer Fish is Yangshuo's most famous dish. It is made from fresh caught Li River carp. The fresh fish is fried in a wok along with beer, hot and green peppers, garlic, onions, celery, tomatoes, soy, and sugar. Visitors are amazed at how delicious the fish's skin is and how fresh and tender the meat is. Eating Yangshuo's beer fish will be an unforgettable culinary experience.
Yangshuo's famous West Street has many restaurants serving this delicious dish. The Tao's Authentic Beer Fish, and The Older Sister of Peng's Beer Fish come highly recommended.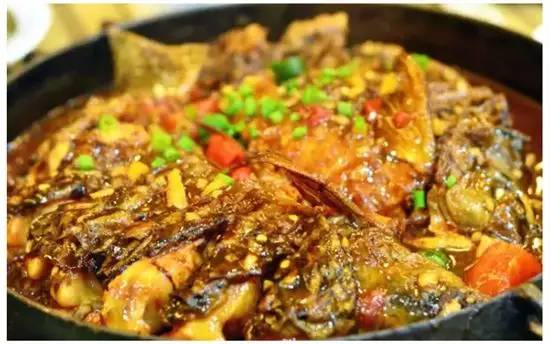 Zongzi - Guilin Snack
A dumpling made of glutinous rice wrapped in bamboo leaves, Zongzi has a history of over 2,000 years. It is most famous for its connection to China's Dragon Boat Festival. This festival honors the great poet Qu Yuan who lived in the Warring States Period (403-221 BC), who being unhappy with the political situation committed suicide by drowning himself. The local people fearing that Qu Yuan's body would be consumed by fish threw Zongzi into the river to feed the fish.
Zongzi, can be filled with a variety of fillings. There are bean Zongzi, chestnut Zongzi, pork Zongzi, and lotus seed paste Zongzi, just to name a few. In China different areas have different styled fillings. Guilin, for example, has traditionally made Zongzi stuffed with taro, pork, preserved pork, and chestnuts. The best part about this traditional Chinese food is that it can be refrigerated and when wanted, just heated in a microwave.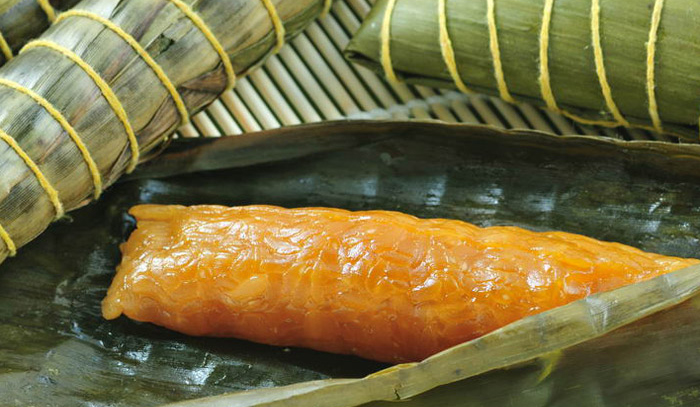 Culture
The seven major characteristic cultures of historical and cultural Guilin: prehistoric culture represented by Zengpiyan site; the ancient military water conservancy culture represented by the Ling canal; Moya carved stone and landscape poetry culture represented by Guihai Steles Forest; seignior culture of the Ming dynasty represented by Jingjiang King's Tomb; Anti-Japanese War culture represented by southwestern opera and play; Chinese revolution culture represented by the Eighth Route Army Guilin offices former site and the Monument Park to Martyrs of the Red Army who broke through the Xiangjiang River during long march; and culture of former residence of celebrities represented by Li Zongren Mansion and former residence, and Xu Beihong former residence.
Guilin has developed tourism performing arts, cultural entertainment, cultural tourism and cultural exchanges with other countries, such as 8 categories of culture industry, with "Impression Liu Sanjie", Yuzi Paradise, Wutong Farmer's Painting three national cultural industry demonstration base. In 2011, Guilin won the honor of "The Most Chinese Cultural City".

Best Time to Visit
Spring (March to May): When the north of China still is covered with a thick layer of snow in the early spring, Guilin has already become green. And it is flower season and is the perfect time for outdoor activities. In March, the average temperature is 13 degree, and sometime there are rains at night.
Summer (June to August): Summer is the rainy season in Guilin, precipitation in this time accounts for more than one half of the total precipitation of the year. Therefore, traveling during this time, tourists should pay attention to bring umbrella. Though rain brings some inconvenience to tourists, it creates a hazy poetic imagery. Through the misty rain to see landscape of Guilin, tourists will have a feeling of fairyland.
Autumn (September to October) is perfect time to travel to Guilin. At that time, the air is fresh and the wave is smooth as glass when is the best time to see the reflection of mountains and peaks.
Winter (November to next February): the lowest temperature of Guilin is around 8 degree which makes people cold but it is not as braving freezing temperature as northern China. October of early winter, the average temperature is around 20 degree, and it is the season of sweet-scented osmanthus, different kinds of osmanthus decorated Guilin as a flower city and its fragrance spread all over the city. Owing to the climate, it is hard to see snow in Guilin.