Precious Belt Bridge (Baodai Bridge)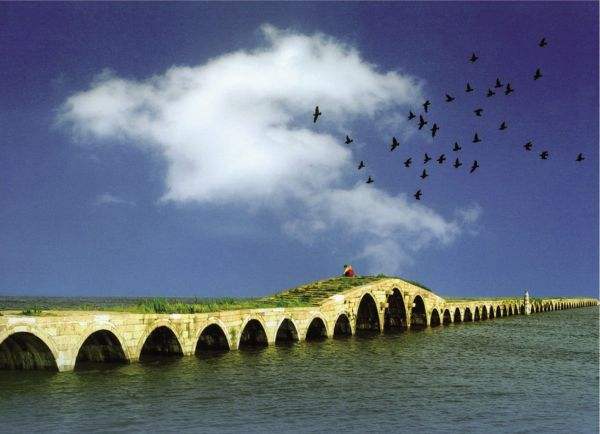 Precious Belt Bridge, Suzhou (Baodai Bridge)
Brief Introduction of Baodai Bridge
The Precious Belt Bridge also named Baodai Bridge, which is a stone arch bridge near Suzhou. The Precious Belt Bridge is located at the intersection of the Grand Canal and Tantai Lake, about 2.5 kilometer south east of Suzhou. The Precious Belt Bridge spans 317 meters and has a width of 4.1 meters. The bridge's three central arches, among 53 in total, are constructed of fine Jingshan granite and are large enough to allow river vessels to pass underneath.

History of Belt Bridge
The grandest among all of Suzhou's bridges, however, is Baodai (Precious Belt) Bridge, which is located in the south of Suzhou, near the Grand Canal. It is a bridge with 53 underneath arches, measuring 316.8 meters long. The bridge has been listed as one of the most famous multi-arched bridges in the worldwide.
The first construction of the bridge dates back to 816, during the mid Tang dynasty, though the present structure was rebuilt in 1446, after the original had been destroyed. The bridge's name comes from the local prefect Wang Zhongshu, during its original construction in the Tang Dynasty (618-907), sold his own precious belt to help finance the building of the bridge. Seen from afar, the bridge itself looks like an exquisite jade belt floating in the water. The bridge underwent several destructions and reconstructions in the dynasties of Song, Yuan, Ming and Qing. The present one was rebuilt in 1446 during the reign of Zhengtong of the Ming Dynasty. In the history of bridge building, few stone structures like this, with large-scale manifold arches, great length and ingenuity structure, have been found. Among all the preserved ancient bridges in present China, this is the longest multi-arched one.
John Barrow, while attached to the British Macartney Embassy in 1793, visited the Precious Belt Bridge during the diplomatic mission to China. He accurately described the bridge's length and the central arches being of greater height than the rest. In 2001, The Precious Bridge was included on the list of national monuments (resolution 5-285).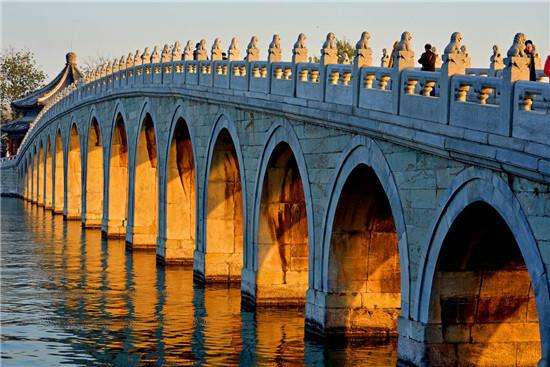 Design of Precious Belt Bridge
The construction of Baodai Bridge is particularly. Precious Belt Bridge was built with strong and elegant Jinshan granite. The length between first and last arches measures 249.5 meters. The approaching embankment at the northern end measures 23.2 meters and the southern one, 43.6 meters. It is 4.1 meters wide and the average arch span is 4.6 meters.
The bridge heaves from the 13rd arch until its utmost in the 15th, which measures as high as 7.5 meters, resembling a huge turtle backing the clouds. Originally there was a pair of stone lions on each end, but now there is only one left at the northern end.
How to get to Precious Belt Bridge
Take bus No. 103 from the railway station to the final stop, then walk 10 minutes to reach Precious Belt Bridge.