Geyuan Garden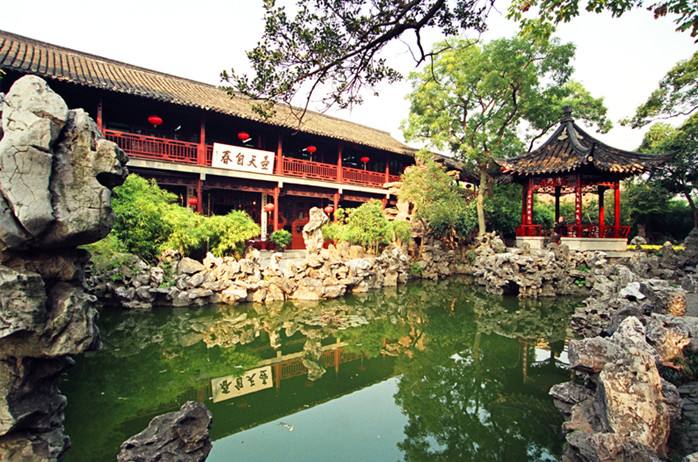 Geyuan Garden
Brief Introduction
Geyuan Garden, located in Yangzhou, Jiangsu province. Yangzhou is a city renowed for Chinese traditional private gardens and its monopoly of the salt trade. Geyuan garden was built for a rich salt merchat in the Qing dynasty, its famous for its rockeries, which take on different aspects as the seasons change. Spring is demonstrated with a picture of bamboo and rock. Summer is represented by the steel-grey Taihu stone, a popular tourist attraction. Autumn is depicted by Huangshan stone, and winter by Xuan stone.
History of Geyuan Garden
The Geyuan Garden was during the Han Dynasty (206BC-220AD) that garden construction on a large scale emerged in Yangzhou City. It was known as "the garden of the long-lived Ganoderma" during the Ming Dynasty. Especially after the southern itineration of the famous Qing Dynasty emperor Qianlong. It was also during this period that Yangzhou got famous for its beautiful gardens. Unfortunately, over the years most of the gardens were damaged in the confusion and disorder brought about by various wars. But Ge Garden survived along with several other gardens in Yangzhou City. In 1818 (the 22nd year of the reign of the Jiaqing Emperor), salt distribution commissioner Huang Zhiyun bought the land and rebuilt the garden as a private retreat. Huang Zhiyun loved bamboo, believing that they were as persistent, modest, straightforward and loyal as a good man. A cluster of three bamboo leaves resemble the Chinese character 个 (pronounced "ge"). This was also noted by Yuan Mei, a writer during the Qing Dynasty: "the moonlight made the bamboo shadows hundreds of the character ge". The owner chose the name "Ge Yuan" for his garden to correspond to his name, Zhi Yun, which means Bamboo.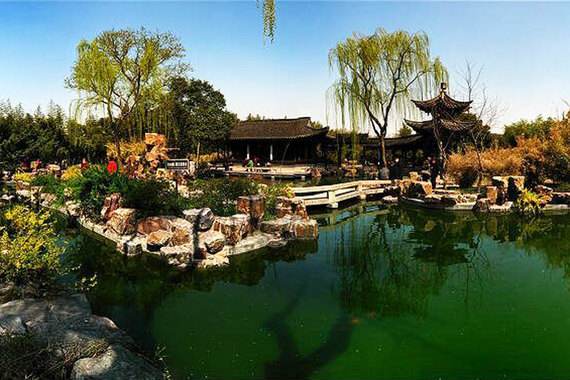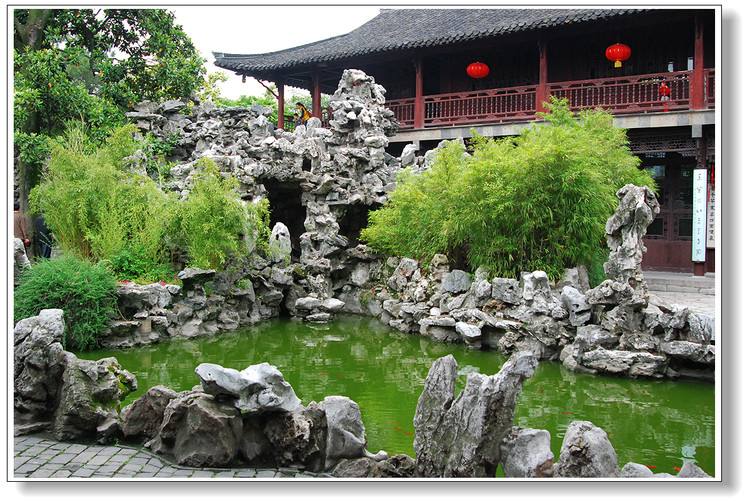 Architecture
Geyuan Garden is known for its seasonal rock gardens, which paint a colourful landscape: "the rockery in spring is flamboyant like a bright smile, in summer is verdant like sparkling dewdrops, in autumn is clean like a light makeup, and in winter, it is pale like a sleeping beauty". The "spring hill is for visit, summer hill is for sight, autumn hill is for climbing, and winter hill is for residence".
The garden covers an area of 2.5 hectares (6.2 acres). It is a small, elegant urban wooded mountain garden, primarily made up of bamboo and rocks. Rocks of different hues and shapes are used to represent scenes from the four seasons; hence, the rock garden was named the "Artificial Mountain of Four Seasons".
Transportation
Bus Routes:
Take bus No. 26, 25, 58, 52, 50, 40, 29 and get off Geyuan Garden.
Travel Guide
Opening time: 8:00--16:30
Time for visiting: 2 hours
Admission Fee: CNY 45 Peak seaon
CNY 30 Low season