Tour Itinerary
Place&Transport: Suzhou
Today's Activities: Dushu Lake Higher Education Town, Xi'an Jiaotong-Liverpool University Campus, Soochow University, Moon Bay, Hanlin Neighborhood Center
Accommondation: N/A
Meal: N/A
In the morning, you will take train from Shanghai to Suzhou (around 30 minutes), our local Suzhou tour guide will pick you up at the exit of Suzhou train station once you arrived, you will find a welcome signage "Suzhou Private Tour". And you will start your Suzhou day tour directly.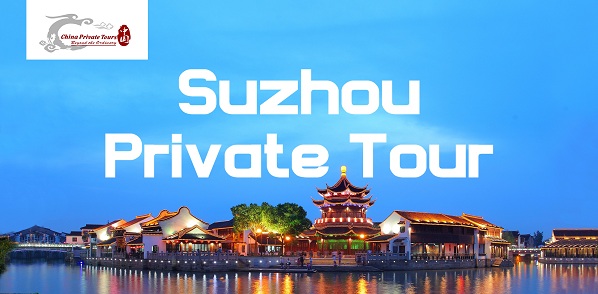 Our Suzhou Pick Up Sign "Suzhou Private Tour"
Firstly, you will be taken to Dushu Lake Higher Education Town where houses 23 colleges and universities, established in 2002 that's located within the greater Suzhou. Dushu Lake Science and Education Innovation District. Within the heart of HET are ever-expanding campuses such as Xi'an Jiaotong-Liverpool University (XJTLU), Nanjing University, Southeast University (aka Monash University), and Soochow University, while along the southern edge of HET are the high-tech bio and nanotechnology companies. These large grey nondescript buildings, branded only with a number and letter and guarded at every possible entrance, house companies with names like BrightGene, and GingkoPharma.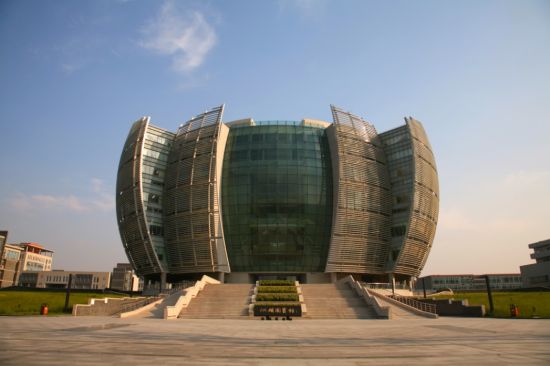 You will have a chance visit Xi'an Jiaotong-Liverpool University Campus. This university is an international joint university in Suzhou, it was founded in 2006 and resulting from a partnership between the University of Liverpool and Xi'an Jiaotong University, it is the first Sino-British joint venture between research led universities. The University primarily focuses on science, technology, engineering, architecture and business with a secondary focus in English, recognized by the Chinese Ministry of Education as a "non-profit" educational institution. Students are rewarded with a University of Liverpool degree as well as a degree from XJTLU. The teaching language is English.
The entire area has been developed with the future in mind; the roads are as expansive as the university grounds and there is the possibility that in the future Suzhou's metro may pass through the center of the town. For now, thousands of students make their way from their cramped dormitories, plastic bag of sweating fried bread in hand, to the borderless, architecturally designed, box-like universities (or lotus shaped as in Soochow University).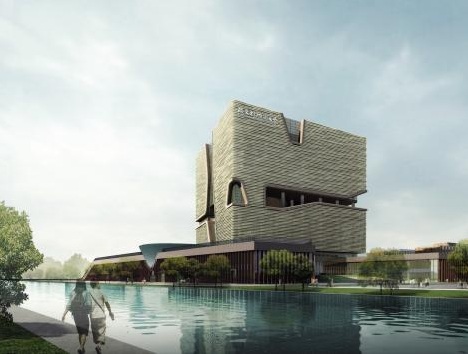 Next to Soochow University. Soochow University is a key comprehensive provincial university in Suzhou, an ancient city popularly called "the Paradise on Earth", Jiangsu Province. It is one of China's top 100 universities under the "Project 211" directed by the Ministry of Education. Now, with better equipped and more robust, Soochow University has grown into a first-rate university in China, covering a wide range of academic disciplines including philosophy, economics, science of law, pedagogy, literature, history, natural science, engineering, agriculture, medical science and management science and enjoying a fairly high reputation both at home and abroad.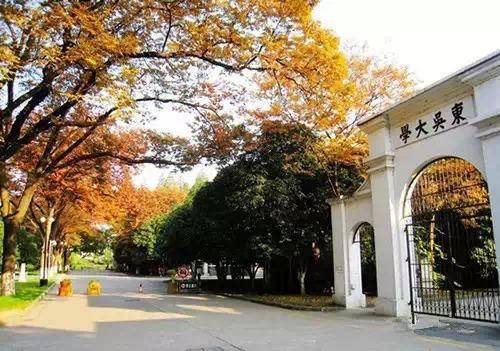 Continue your tour to Moon Bay nearby Dushu Lake. This new development has that familiar emptiness common to many new sites around Suzhou, but within a few years it could be a thriving little area. It is located very close to the southern end of Dushu Lake on Qiyue Jie and although construction is not yet completely finished, there is already a coffee shop, Papa John's Pizza, Thinkers Bar (serving international beer on tap), and a range of other restaurants where you can taste authentic Suzhou dishes.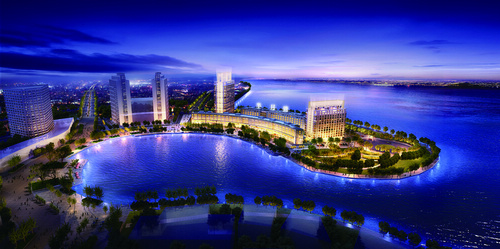 The final stop is Hanlin Neighborhood Center. Carry on down Ren'ai Lu towards the Scholars Garden Apartments on Linquan Jie if you are looking for a more diverse shopping experience. Here you can find a range of well-priced, non-branded clothing shops. If you are an early riser it might pay to visit Hanlin after lunch, as most of these shops opt to open at midday and stay open until late. Like Wenxing Plaza, there are Western dining options such as McDonalds as well as a local bakery that sells hot baguettes. Alternatively, head upstairs and try one of the Chinese or Korean restaurants (English menus provided). There is a small supermarket and just down the corridor there is an indoor wet market selling everything from live fish and poultry, to meat, eggs, fruit, vegetables, grain and spices. If you are feeling under the weather there is a pharmacy here as well, but you might need to brush up on your Mandarin to get the right medication. For international supplies head to Victor's, a small shop selling a range of international food and beverage brands. Other conveniences at Hanlin include an optometrist, laundromat, Kodak photo store, mobile phone companies, baking store, leather goods shop, hairdressers, yoga, Italian café, a drinking water supply shop and, of course, a karaoke bar.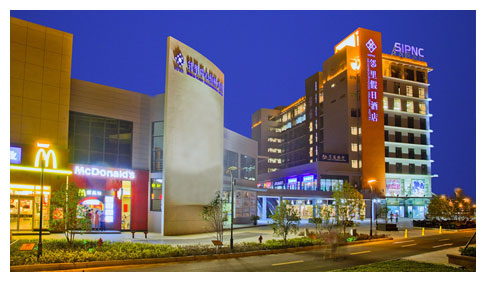 After the tour of Hanlin Neighborhood Center, you will be taken back to Suzhou train station or your hotel in Suzhou downtown and your Suzhou educational day tour come to the end.

There are some useful tips for you to purchase train ticket between Suzhou and Shanghai:
From Shanghai to Suzhou:
Option 1: G7104 Shanghai Hongqiao Station to Suzhou Station: Depart at 08:54AM and arrive at 09:30AM
Option 2: G7006 Shanghai Station to Suzhou Station: Depart at 09:00AM and arrive at 09:25AM
Please choose one of the above options according to your hotel location
From Suzhou to Shanghai
Option 1: G7119 Depart at 17:56 from Suzhou Station and arrive at Shanghai Hongqiao Station at 18:32
Option 2: G7243 Depart at 18:02 from Suzhou Station and arrive at Shanghai Station at 18:27
You can ask your hotel help you book it or you can book it online by yourself. (Ctrip is ok)
Note: Plz book the train ticket in advance in case sold out, especially on weekend or public holiday
Price Per Person in US Dollars