Wuxi Culture

Huishan Clay Figures
Huishan clay figurines are a folk art of Wuxi City, Jiangsu Province. They are made from soil dug from a meter below ground in the Huishan region, which provides excellent plasticity with a history of 400 years. Wuxi Huishan Mountain is a scenic area since Tang Dynasty. There are the "No.2 Spring in the Country", Huishan Temple, Jichang Garden and ancestral temples of noble families in this area. Visiting Huishan Mountain and Huishan Temple Fair there is a folk custom in and around Wuxi.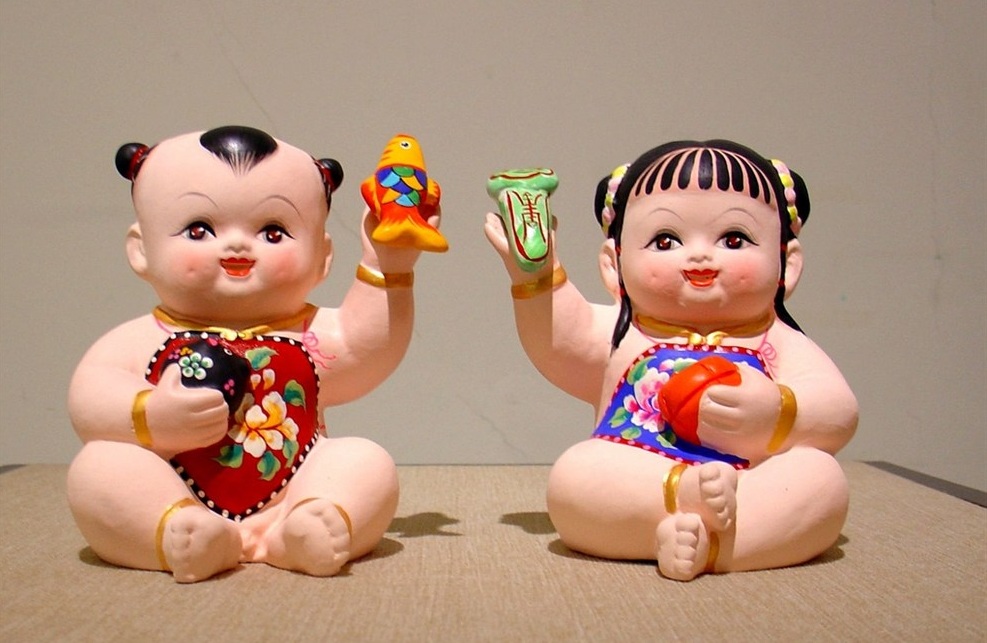 The invention of Huishan clay figurines is inseparable from its geographical conditions. About one meter from the ground at the foot of the northeastern slope of HuishanMountain, there is black clay that is delicate and soft thus quite suitable for kneading. The clay is excellent for the craftsmen that create the smooth, colorful and vivid figurines as well as the lovable and well-known "Da A Fu", which represents hard-working spirit, kindness, happiness and helpful personality.
Huishan Clay Figures are made of black mud dug from one meter below the ground on the northeast slope at the foot of the Huishanmountain. The mud is known to be soft, fine, and smooth with high malleability, making it ideal for making clay figurines. The progress and kneading techniques are very complex. Peach Banquet, Fengyi Pavilion and Farewell My Concubine are the typical products of hand-made figurines.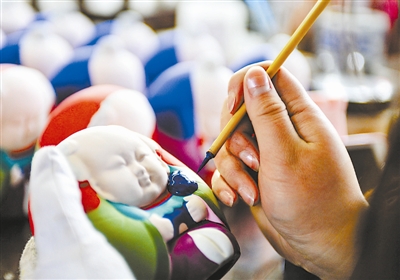 The Huishan clay figurines can be divided into two categories, CUHUO and XIHUO. CUHUO ("playing goods") are mass-produced in molds, yielding a simple and rough style, bright colors and many more auspicious themes. Common products are large-Fu, silkworm cats and birthdays. XIHUO ("pinching opera") are generally higher quality and mainly based on traditional opera characters, myths, legends and folk customs.
Yixing Purple Clay Teapot
The city of Yixing in Wuxi has a pottery-making history of more than 2,400 years, with the Yixing purple clay teapot being the most famous one. Archaeological excavations reveal that as early as the Song dynasty (10th century) potters near Yixing were using local "zisha" (Purple Clay) to make utensils that may have functioned as teapots. According to the Ming dynasty author Zhou Gaoqi, during the reign of the Zhengde Emperor, a monk from Jinsha Temple (Golden Sand Temple) in Yixing handcrafted a fine quality teapot from local clay. Such teapots soon became popular with the scholarly class, and the fame of Yixing teapots began to spread. This traditional style commonly used to brew tea originated in China, dating back to the 15th century, and are made from clay produced near Yixing in the eastern Chinese province of Jiangsu.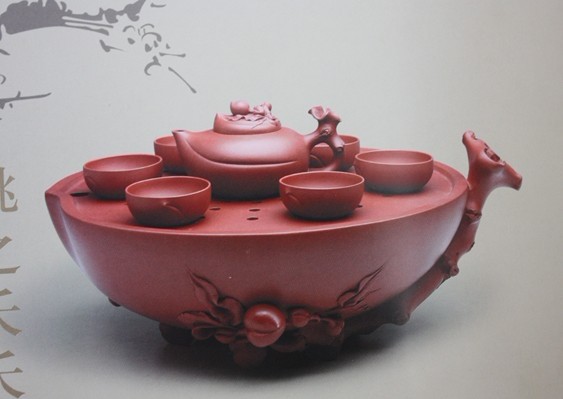 Purple clay is a kind of pottery without being glazed. It combines poetry, painting, carving and handicraft into one. Meanwhile, it is durable and not likely to crack even in high temperatures. Surprisingly, when people use the purple clay teapot to make tea, the teapot will not only maintain tea aroma but also keep its color, smell and taste for a long time. As the purple clay teapot can absorb the smell and taste of tea , the longer it is used, the mellower the tea tastes. Therefore, the purple clay teapot becomes a favorite tea set for tea tasters.
Purple-clay products reflect a kind of elegant cultural connotation. Many famous scholars, poets and artists in various dynasties had taken part in the design and creation of purple-clay products in various means.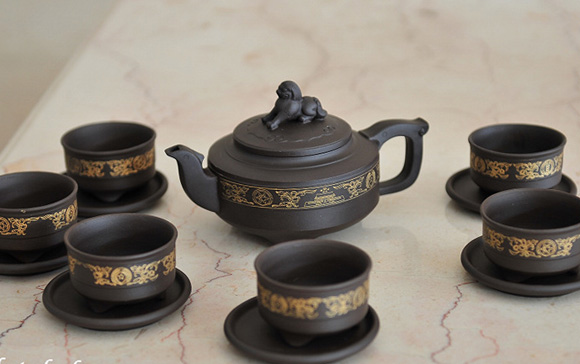 Yixing teapots are meant for use with black and oolong teas, as well as aged pu'er tea. They can also be used for green or white tea, but the water must be allowed to cool to around 85 °C (185 °F) before pouring the water into the pot. Yixing teapots absorb a tiny amount of tea into the pot during brewing. After prolonged use, the pot will develop a coating that retains the flavour and colour of the tea. It is for this reason that soap should not be used to clean Yixing teapots.
Bamboo strip craft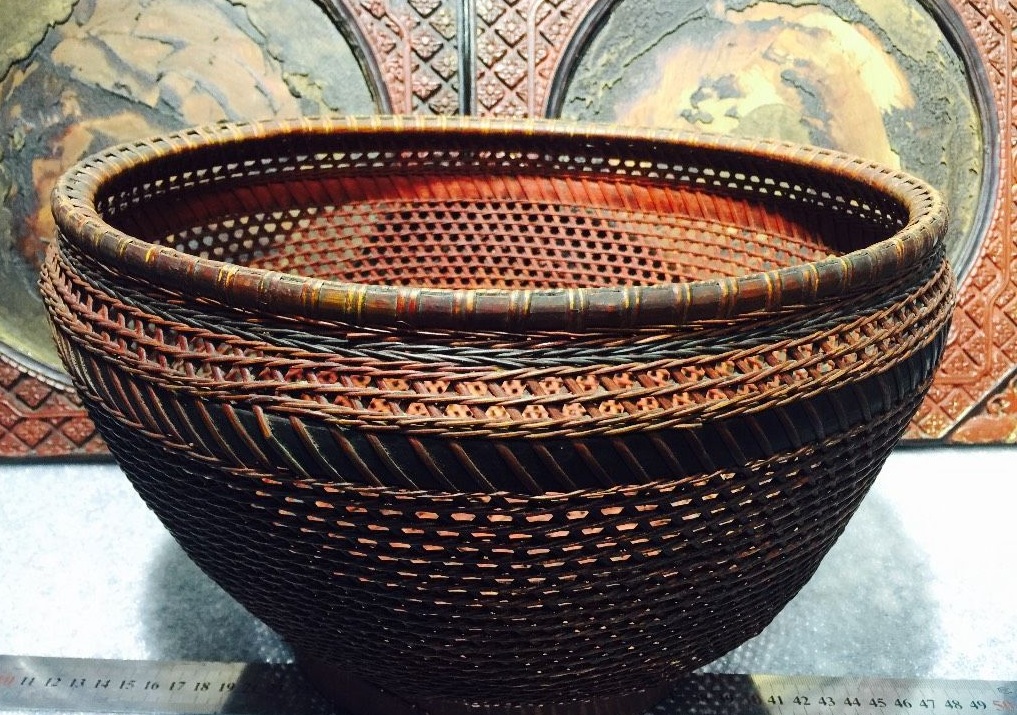 The skill of making bamboo strips is originated from rural areas in region south of Yangtze River. It spread into urban areas during late Qing dynasty, changing from to family sideline production to workshop production. There are round bamboo products and flat bamboo productions. The round one are bamboo furniture including bamboo chair, bamboo ladder, bamboo stool and so on while the flat one has a wide varieties, including products for daily use, fishing, farming and the like.
Jiangnan area is abound with bamboo. Bamboo strips are weaved according to the function. Skilled craftsmen can weave fancy structures in the shape of round, diamond, and hexagon. Lanterns, dustpans, bamboo steamer are the common handcrafts we see in daily life.
Sugar Figure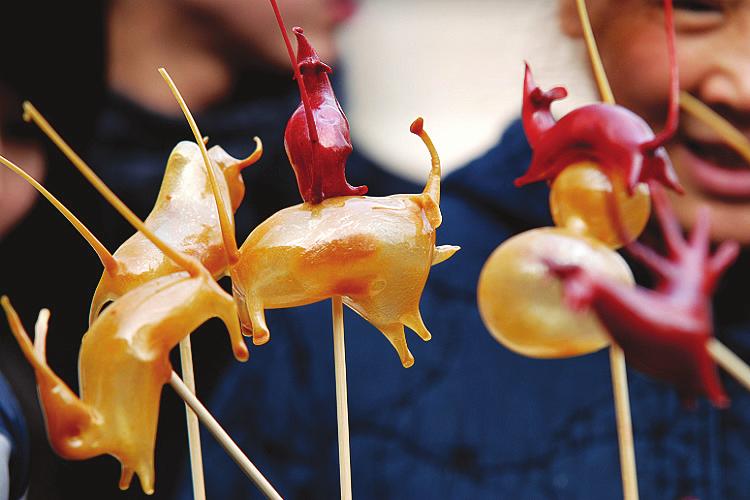 Sugar figurine in Wuxi, also named sugar-figure blowing, is learned from craftsmen in Northern Jiangsu, has a lond history while it is gradually disappearing. Sugar figurine is a traditional fold art of China, It uses maltose as its raw material and mix with blue, red, black and yellow pigment. The art of sugar-figure blowing involves shaping malt sugar with scissors, small combs, knives, bamboo strips, springs and other auxiliary materials to create different figures. Folk sugar-figure blowers first heat up the sugar and then pull and knead it into a ball. With their index finger, they press a deep hole in the ball and remove it immediately, creating thin strands of sugar. The sugar strands are then collected and are blown into shapes. From there they use different techniques to further shape and paint their creations.
With proper care, a blown-sugar sculpture can last for weeks. However, it degrades quickly when exposed to water or humidity. The themes of Wuxi sugar figurine are mainly centered around figure, animals, flowers, birds, fishes, and worms, etc.
In ancient times, the craftsmen usually carried shoulder poles to sell sugar figurines in Spring, Autumn and Winter.
Wuxi Taoist Music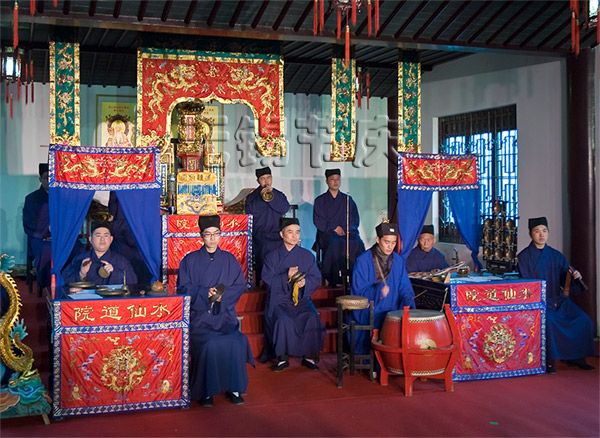 Wuxi Taoist music consists of vocal sounds and instrumental music and has distinctive secular and regional artistic features. The vocal music consists of scripture chanting in Wuxi dialect and the instrumental music consists of Sanskrit music and percussion music. The Sanskrit music is played with clappers and traditional stringed woodwind instruments. Percussion music is played with gongs, drums, flutes, and sheng, a traditional instrument.
Many scores of traditional folk music are developed on the basis of Wuxi Taoist music, such as famous erhu – a two-stringed traditional Chinese instrument – solo in "Moon over a Fountain", which was written by Abing (HuaYanjun).
Wuxi Opera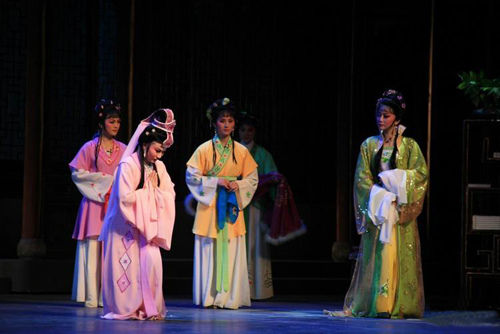 Wuxi opera originated from the northeast of Wuxi, Jiangsu province, and was previously named "Tanhuang" before receiving its current name in 1954.
After the War of Liberation, it gradually spread to the Yangtze River Delta and reached "golden age" in the 1950s and 60s, with more than 40 Wuxi opera troupes in Shanghai' s Jiading, Jinshan, Qingpu, and Fengxian, Zhejiang province's Jiaxing and Anhui province' s Langxi. Binbin tune, created by Wang Binbin; and Mei' s free tune, created by Mei Lanzhen; are two genres of Xi opera.
The pearl tower starred by Wang and Mei, is word renowned. It was made into a stage performance in 1962 and won the first Gold Record Award in China in 1989. Other works like the Legend of the Snake, the Moon over a fountain are also widely known. The operas mainly tell everyday life stories of rural areas, most of which are against feudal marriage, old ethics and greedy landlords.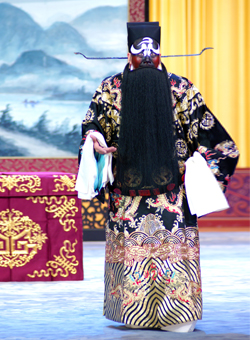 The operas are simple, sincere, humorous and vivid in language. In addition, male actors play both men and women, which is another characteristic of Wuxi opera.
Yixing Yangxian Tea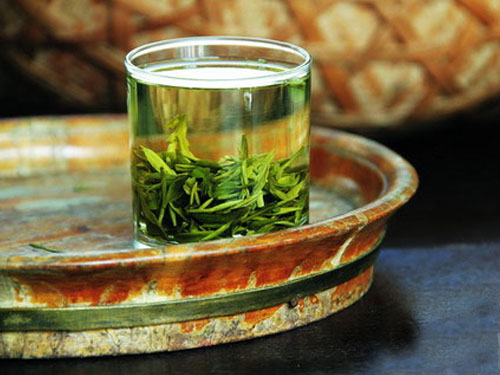 Originating in Yixing China, Yangxian tea is famous for mildness, aroma, richness across the whole country. Since the ancient time, it has been full of reputation, and preferred by both of the royalty and the scholars. Yixing Yangxian purple bamboo shoots tea has always been listed as a tribute together with Hangzhou Longjing Tea and Suzhou Spring Snail.