Top Dishes for the Suzhou Spring
Suzhounese are rather particular when it comes to eating. Even simple homemade meals usually consist of a plethora of dishes cooked with good quality ingredients and seasonal food. Suzhounese follow the advise of Confucius :"Bu shi, bu shi" (??,??) which means that people should eat food that is in season and diet should change according to the weather and change of season. Each season the "land of fish and rice" offers many local dishes and snacks to savor (and there's more than just fish and rice).
As the old Chinese saying goes: "Spring is the starter for a year as dawn is for a day". As such, our introduction to seasonal food in Suzhou begins with spring.
Jiangzhirou
Jiangzhirou (???), braised pork in red yeast rice sauce, is one of the most indispensable meat dishes for Suzhounese. It's nicely cut and prepared in small cubes roughly in 4 square centimeters (half a square inch) with skin, lean meat and fat in perfect proportion. The red sauce glazed meat appears fatty but not greasy, it tastes tender but isn't too soft. Essential ingredients for this dish are streaky pork, salt, crystal sugar, Shaoxing yellow wine, spring onion, ginger, red yeast rice, cinnamon and anise.
Tip: Jiangzhirou goes well with white rice. The sweet and reddish colored sauce takes the flavors of plain rice up to the next level.
Recommended place to get: Lugaojian (???) Delicatessen at Guanqian Street; Xiehe Restaurant (????) at NO.15 Fenghuang Street.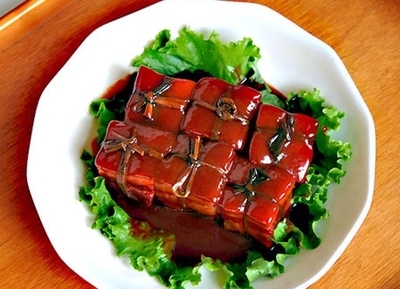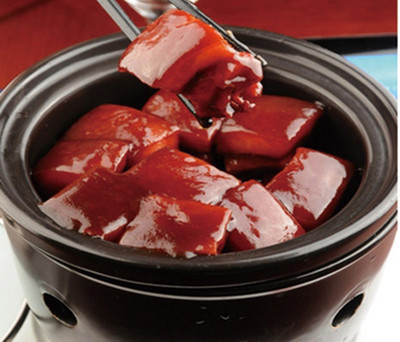 Water Snail
The best time to enjoy river snails is in spring before Qingming (Tomb Sweeping Day ??). The snails have grown to their fullest during the previous winter, and it's too early for the baby snails to have been bred in the spiral shell.
You don't need too much seasoning when you cook water snails. Stir fry them in their shells with soy sauce, ginger and vinegar. You can also add a little chili pepper if you are a spicy food lover. And voila, you'll have prepared an affordable and delicious dish.
Suzhounese are professionals when it comes to eating this small and hard shelled delicacy. They pick one up with chopsticks, then suck out and bite off the edible and meaty part while leaving the bowels in the shell before it is thrown away.
Tip: Use a fork or a toothpick to help you while you get the hang of eating water snails.
Recommended at: Luosi Restaurant (????) at Moon Bay, Dushu Lake (near Four Points).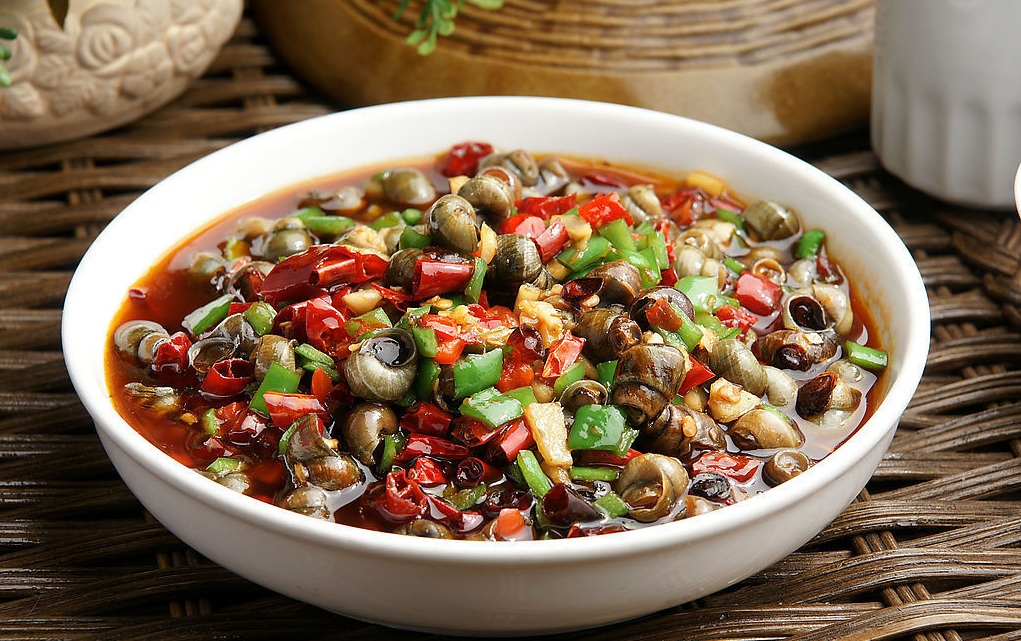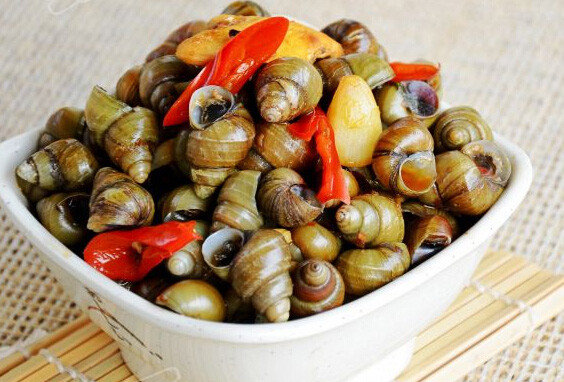 Yanduxian
Literally, Yanduxian (???) means salted, stewed and fresh. Spring bamboo shoots, streaky pork and salted pork are the main ingredients of this stew dish. The bamboo shoots bring out the best of the pork and add flavor to the broth. The thick creamy white soup, crispy and fresh bamboo shoots and tender pork keep Suzhounese coming back to this spring dish.
Recommended at:
1. Xiehe Restaurant (????) at NO.15 Fenghuang Street
2. Songhelou (???) at NO. 72 Taijian Lane, Guanqian Street.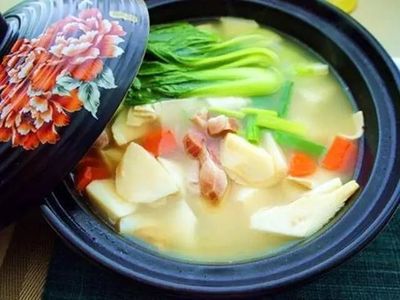 Mandarin Fish
Due to its succulent meat and expensive price, mandarin fish used to be a luxury in Suzhou. It is delicious both steamed and fried.
Squirrel-shaped mandarin fish (sweet and sour mandarin fish) is one of Suzhou's signature dishes. Before preparing, the main bones need to be removed and the fish must be sliced into small pieces not too deep so they are still attached to the skin. Next, deep fry the fish and pour the sweet and sour sauce onto the fish before serving.
Recommended at:
1. Hua Chi 88 at NO.88 Huachi street
2. Songhelou (???) at NO. 72 Taijian Lane, Guanqian Street
3. Xiehe Restaurant (????) at NO.15 Fenghuang Street.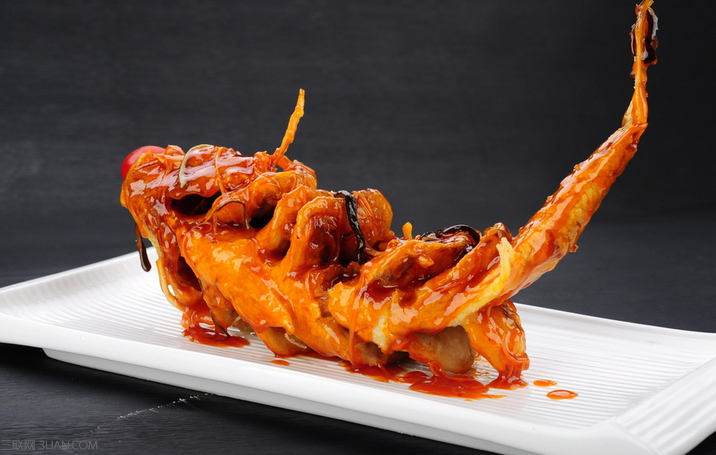 Malantou
Malantou (???) is an edible wild herb which grows on roadsides, country fields and on hills throughout the Suzhou region. This herb has been used for centuries for medical purposes; it is used to stem bleeding and to detoxify the body. Malantou is rich in vitamins, amino acids and mineral elements and has a very refreshing taste. It is commonly enjoyed diced and mixed with dry beancurd and seasonings.
Recommended at:
1. Hua Chi 88 at NO.88 Huachi street
2. Songhelou (???) at NO. 72 Taijian Lane, Guanqian Street.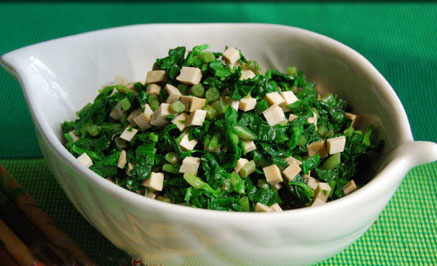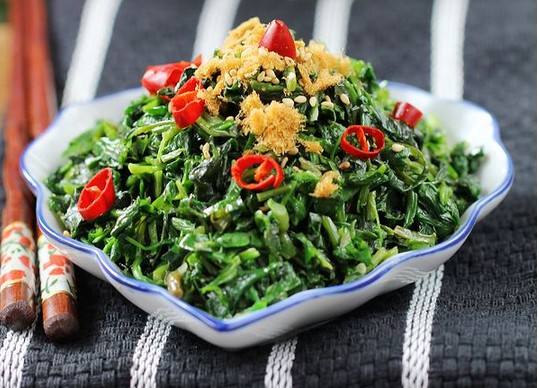 Water Chestnut
Water chestnut is one of the eight water plants that grows in Suzhou along with lotus root, gorgon fruit, water caltrop, water chestnut, arrowhead, cane shoot, cress and water shield. Underneath the dark purple and brownish skin of the water chestnut is the juicy and crispy fruit. Raw water chestnut tastes similar to a pear, while cooked water chestnut is sweet and tender. It can also be stir fried with water caltrop and lotus root to make a vegetable dish.
Recommended at: Grocery stores and wet markets.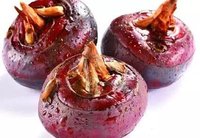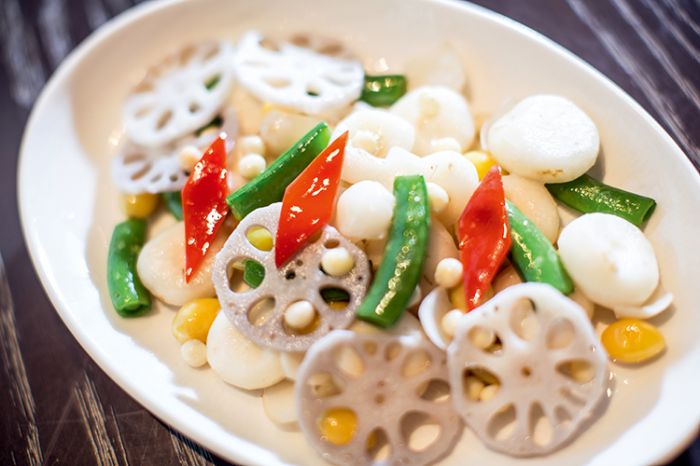 Qingtuanzi
The green color of qingtuanzi (green rice balls ???) is from the wheat straw juice mixed into the glutinous rice dough. The juice gives it a fresh flavor and emerald color. Qingtuanzi is traditionally associated with Qingming (Tomb Sweeping Day ??), when it is regarded as an offering. Traditionally it is consumed in the period between Lantern Festival and Qingming, which means you have around one month to enjoy these snacks.
Qingtuanzi taste best when right after they come out of the steam pot. The soft but slightly chewy texture, the refreshing herb-like aroma and the melting red bean paste filling…mmmmmmm
Tip: The special flavor is not for everyone. Be careful not to let the piping hot filling burn your mouth.
Recommended at:
1. Wanfuxing (???) at NO. 12 Dongzhongshi (???)
2. Huangtianyuan (???) at NO.68 Guanqian street.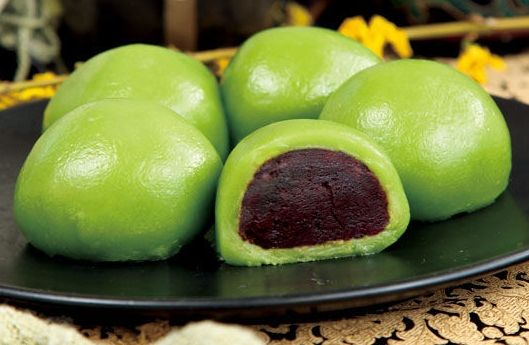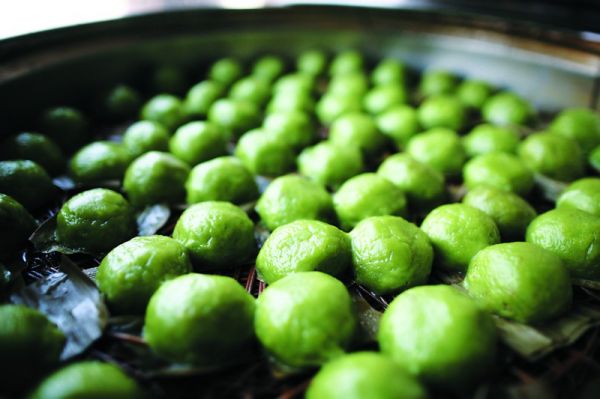 Jiuniangbing
Jiuniangbing (???) is a small pastry made with fermented glutinous rice. In the old days Suzhounese used to make fermented glutinous rice at home, but these days many grocery stores and supermarket sell it ready-prepared.
Fermented glutinous rice is not only tasty but also helps blood circulation and strengthens the immune system. The pastry dough is mixed nicely with fermented glutinous rice before it is cut into small pieces and wrapped in red bean paste. Jiuniangbing is panfried and tastes especially good when warm.
Tip: Adding a little lard to the filling moistens the red bean paste.
Recommended at:
1. Caizhizhai (???) at NO. 91 Guanqian Street
2. Huangtianyuan (???) at NO.68 Guanqian street.