Nanjing Culture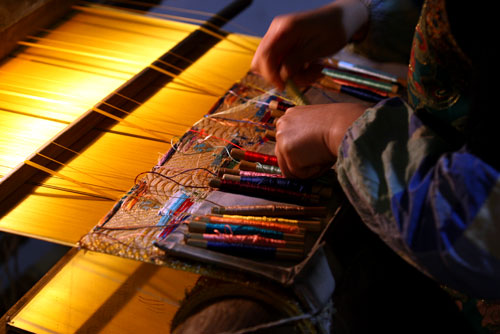 As one of seven ancient capitals in China, Nanjing is regarded as old-fashion city. Many people agree with the saying that Nanjing is a city with a nostalgia complex. Nanjing has always been a cultural center attracting intellecturals from all over the country. Today, with a long cultural tradition and from local educational institutions, Nanjing is commonly viewed as a "city of culture" and one of the more pleasant cities to live in China. We list some of Nanjing features as below:
Nanjing Yunjin Brocade
Nanjing yunjin brocade, also named Nanjing cloud brocade, is a kind of brocade made in Nanjing, Jiangsu. "Yunjin" is a general term for the traditional jacquard silk fabric. It can be traced back to the officially-run weaving factory "Jin Bureau", which produced the brocade only for the royal family. It was not until the late Qing dynasty that the development of Nanjing cloud-pattern brocade entered its period of full bloom; then the products were sold to the common citizens. Among all ancient fabrics, silk cloth known as jin represents the top of the industry's arts and crafts. Furthermore, Nanjing yunjin brocade incorporates all the best weaving techniques of past dynasties and is known to be the best out of the Chengdu brocade in southwestern Sichuan Province, Suzhou brocade in Jiangsu Province or even Zhuang brocade in southwestern Guangxi Province. Because of its rich cultural history, Nanjing yunjin brocade is hailed by experts as the 'last milestone in the technological history of Chinese silk fabrics.'
Nanjing yunjin brocade is regarded as one of the best forms of silk. It boasts a history of more than 1500 years and was originally formed by a merging of Northern and Southern Chinese technologies. It is famous for its cloud-like colours and intricate patterns. Nanjing yunjin brocades are famous for their exquisite technology, elegant patterns and smooth texture. The patterns is various and as beautiful as the cloud in the sky; therefore its name "Yunjin" comes.
In 2009, Nanjing yunjin brocade was selected into candidate programmes of the oral and intangible heritage of humans at UNESCO.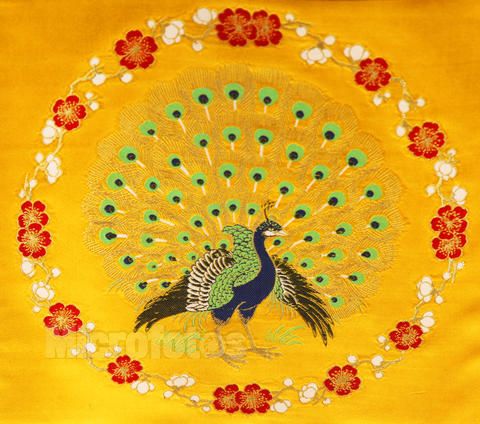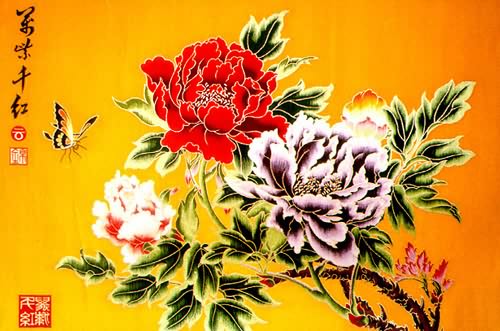 Nanjing Papper-cutting
Nanjing Papper-cutting is the art form of cutting paper with sharp scissors or a knife. It can be as simple or intricate as the paper artist chooses. It has definitely stood the test of time and will continue to be popular art form amongst many cultures. Many famous paper artists of the past still inspire current paper cutting practices. Paper-cutting is an intangible cultural heritage of Nanjing and is on display at "Nanjing Boxes" – an installation consisting of 15 reconstructed containers for the purpose of holding cultural exhibitions.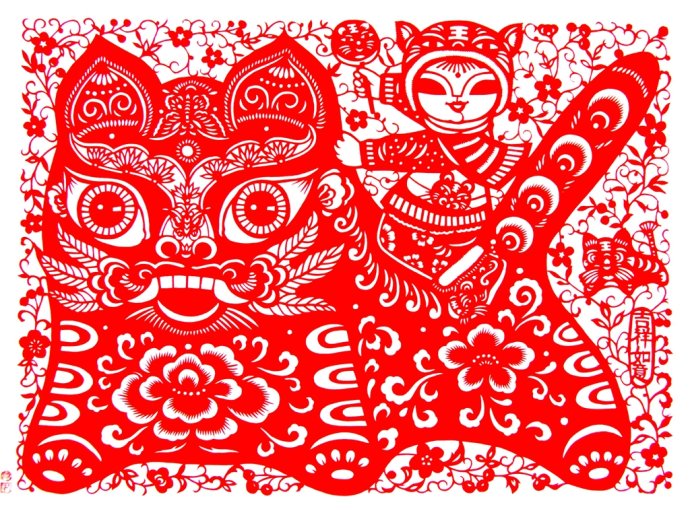 Paper-cutting is an art with a long history, which can be dated back to the 4th century after the invention of the paper by the Chinese. Some of their earliest uses for papercutting were for religious decorations or stencils used for patterns in embroidery. For a long time, this art form was popular among high-society women, but it soon spread to other classes. Paper cutting practices ranged from the skilled craftsman to its evolution into the folk art world. People displayed paper cut designs in windows, as paper lanterns, and on furniture, just to name a few.
Nanjing-style paper cutting is an important part of Chinese paper cutting. It is known for its different designs, simplistic but graceful shapes, finely cut lines and unique skills. The making of Nanjing's paper-cuts is quite unique. Commonly eight sheets of different colored rice papers, sometimes glazed papers too, are stacked one above the other and cut into a design at once. The stack is then cut apart according to the composition and restored by piecing the sections from other colored sheet together on a white rice paper support, resulting in eight multicolord patterns of different combinations.
The most frequent use of this kind of paper-cuts is to decorate pyramid-shaped incense towers that are meant to be burned on Moon Festival for celebration. The pyramid consists of three, six, nine, or twelve layers of, each of these numbers is believed to be auspicious, incense bunches. Each layer is made by tying the incense bunches together into blocks, gradually smaller to the top. It is a good sign if it burns smoothly to the ground.
Nanjing Wood Carving
Nanjing wood carvings include the imitation wood carving and boxwood carvings. The former is plain in color, with the horse and Buddha's carving the most popular. The latter mainly depicts animals and figures.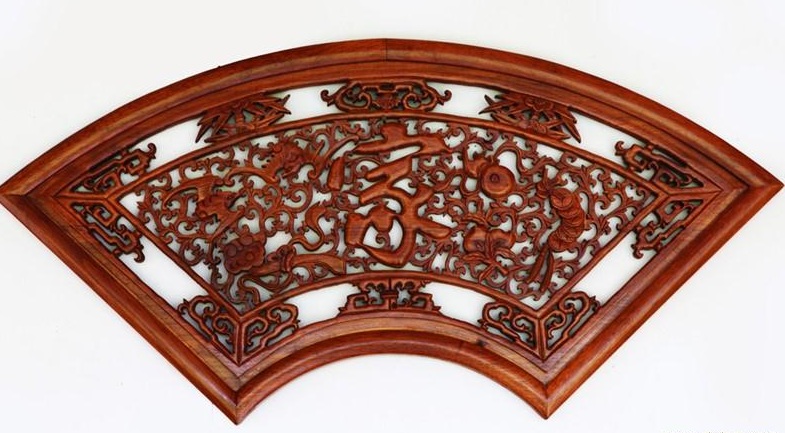 Nanjing Bamboo Carving
Bamboo Carving is another feature in Nanjing. Bamboo, which is always erect and has a strong resilience with a plain appearance, is the symbol of junzi, a Chinese term for an ideal man who is both self-disciplined and modest. Ancient Chinese loved to have bamboo wares such as pen containers, signets and writing brushes to go with their studies. The bamboo roots are more suitable for carving as they are 2 or 3 centimeters thicker than the bamboo above the ground.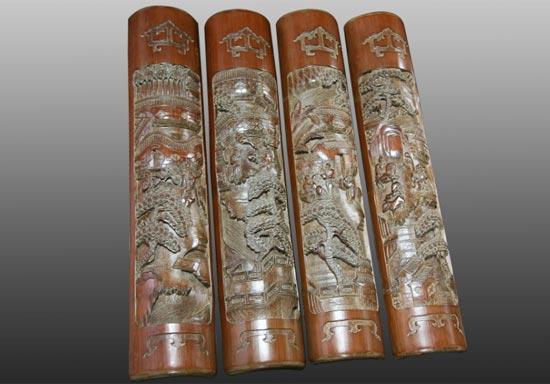 The craft of Chinese bamboo root carving has a long history that can be traced back to the Ming Dynasty (1368-1644) when it was especially popular in Jiading District in Shanghai and Nanjing in Jiangsu Province. Traditionally, there are two schools of carving, namely Jiading School featuring subtlety and delicacy, and Jinling (Nanjing's old name) School that is wild and natural.