'Kite city' flies higher with cultural heritage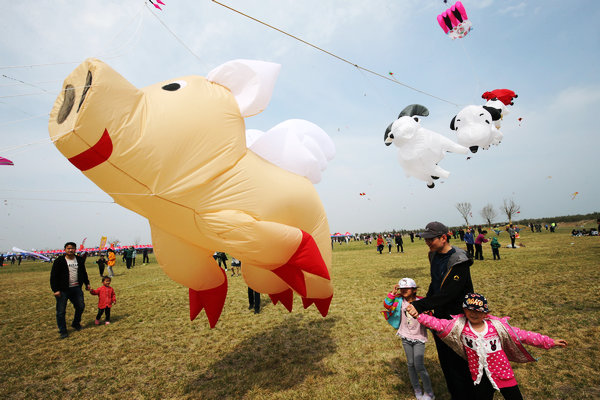 When Mo Di, a philosopher, invented the wood kite about 2,000 years ago, he would have never thought his invention would be passed down and eventually grace Weifang in Shandong province.
Known as the cradle of kites, Weifang is also home to many household names, from scholars to poets to artists.
Called the "city of handicraft", Weifang earned fame for its highly developed craft work during the Qing Dynasty (1644-1911). Zheng Banqiao, the official calligrapher and painter for the Qianlong Emperor, once worked in Weifang as the county magistrate. He praised Weifang as "another Suzhou" in his poem, as Suzhou was one of the most developed places in his time.
With a rich cultural heritage and natural beauty, the city received more protection in modern China. In 2010, an eco-cultural protection area was established in Weifang, the ninth such national area administered by the Ministry of Culture and Tourism.
In the past decade, the city has been dedicated to becoming a culture-rich city, as it is developing specifically based on cultural creativity. Taking kites as a trademark, Weifang has also established a public cultural service system, bringing more benefits to its people. As one example for the eco-cultural protection area, intangible cultural heritages are being protected in new, creative ways.
The achievements of Weifang in the field of culture protection will go on show in Prince Kung's Mansion in Beijing from July 23 to Aug 23.
"The exhibition, divided in four sections, will be a window into letting people know more about cultural heritage and development in Weifang," said Sun Dongning, director of the mansion's traditional Chinese crafts research center, at a news conference for the exhibition at the mansion on July 7.
Sun said he was born in Shandong, yet the coming event will display many cultural heritages from Weifang he even didn't know before.
Jointly organized by Prince Kung's Mansion and the People's Government of Weifang city, the exhibit will feature a series of local delicacies, intangible cultural heritage and traditional handicrafts from Weifang in the form of videos, photos and performances.
If you go:
Weifang's food and delicacies exhibition
Time: 6 pm, July 23, 2018
Location: West court, Prince Kung's Mansion
Weifang products fair
Time: July 23-Aug 23
Location: The long corridor of Prince Kung's Mansion
Peformances of intangible cultural heritages from Weifang
Time: July 23-Aug 23 Location: Prince Kung's Mansion
---- From China Daily