Railway extension to connect Jiangsu with city's suburbs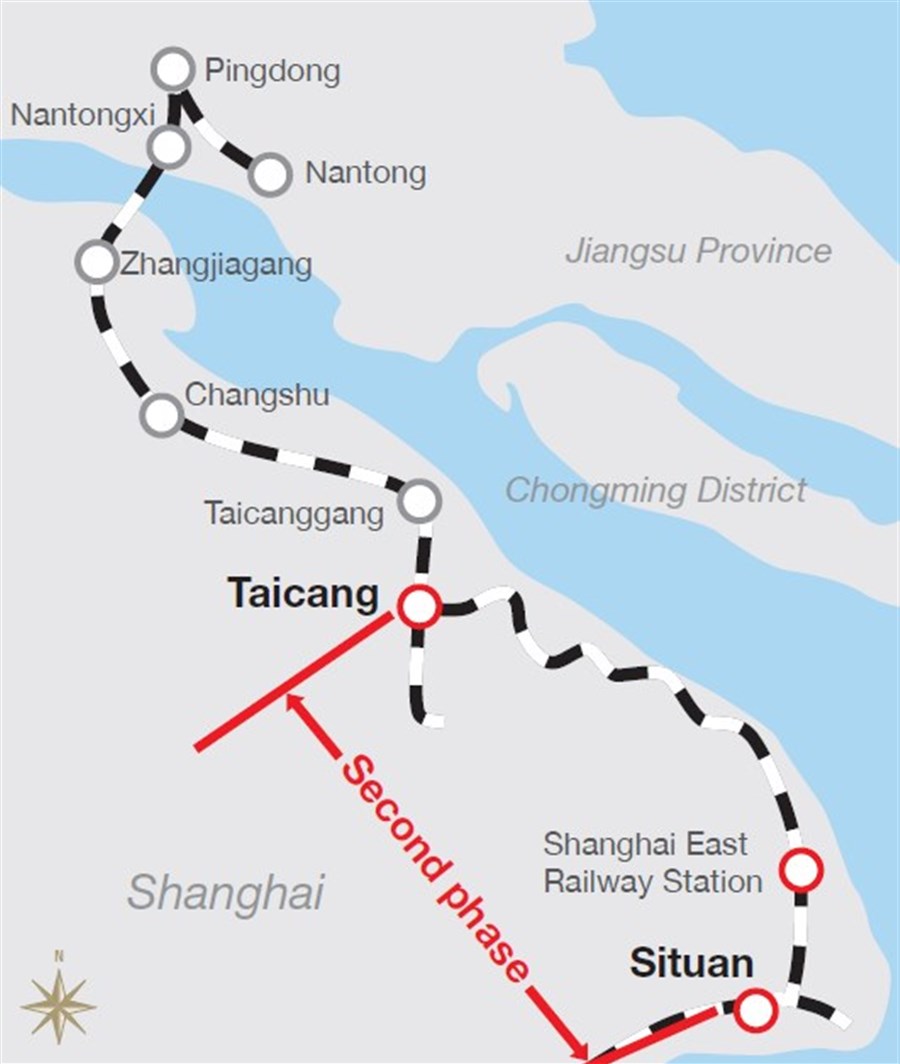 SHANGHAI will build an extension of the Shanghai-Nantong Railway to connect the city's Jiading, and the Pudong New Area and Fengxian districts with neighboring Jiangsu Province.

The extension, or the second phase of the Hutong Railway, will shorten travel time and become a key link between Shanghai and other coastal cities, the Pudong government said.
The National Development and Reform Commission, China's top economic planner, has approved the construction plan on the extension, which will have six stations.
These will be placed in Taicang City, Jiangsu Province; Xuhang Town, Jiading District; Caolu and Huinan towns in Pudong; Situan Town in Fengxian; as well as Shanghai East Railway Station that is to be built for the project.
With total investment of 36.8 billion yuan (US$5.5 billion), the new railway section will run for 111.8 kilometers and is due to be completed within five years.
About 120 pairs of trains will operate daily along the new line along with 20 million tons of cargo, the commission said.
An additional station for cargo transportation at Shanghai's Waigaoqiao port has been planned along the route, the Pudong government said.
Construction has begun on a branch section between Taicang City and Anting Town in Jiading.
"The extension will create a major northward channel between the city and other east coastal regions for both passenger and cargo transport," the Pudong government said.
The new railway project will also connect with the planned Huzhahang Railway between Shanghai and Hangzhou as well as Jinshan Railway in the south to create a circular railway line around Shanghai that will make the city a regional railway transport hub, the government added.
Construction will begin by the end of the year on Shanghai East Railway Station as a key stop along the extension. Shuttle buses will connect the station with the city's two airports and Shanghai Disneyland Resort.
The 60,000-square-meter site will be located at the north of the free trade zone in Pudong, and about 4 kilometers from Pudong International Airport. The station will have 10 platforms and 22 tracks.
Expected to open by 2022, the station will become the city's fourth major railway station — along with Shanghai Railway Station, Shanghai South Railway Station and Hongqiao Railway Station.
The first phase of the Shanghai-Nantong Railway which is under construction stretches some 137 kilometers, and includes 18km in Shanghai and 119km in Jiangsu. It will mark the completion of a railway system running north and south connecting the coastal Jilin, Liaoning, Shandong, Zhejiang and Fujian provinces.
-----The News from Shanghaidaily