Dangkou Ancient Town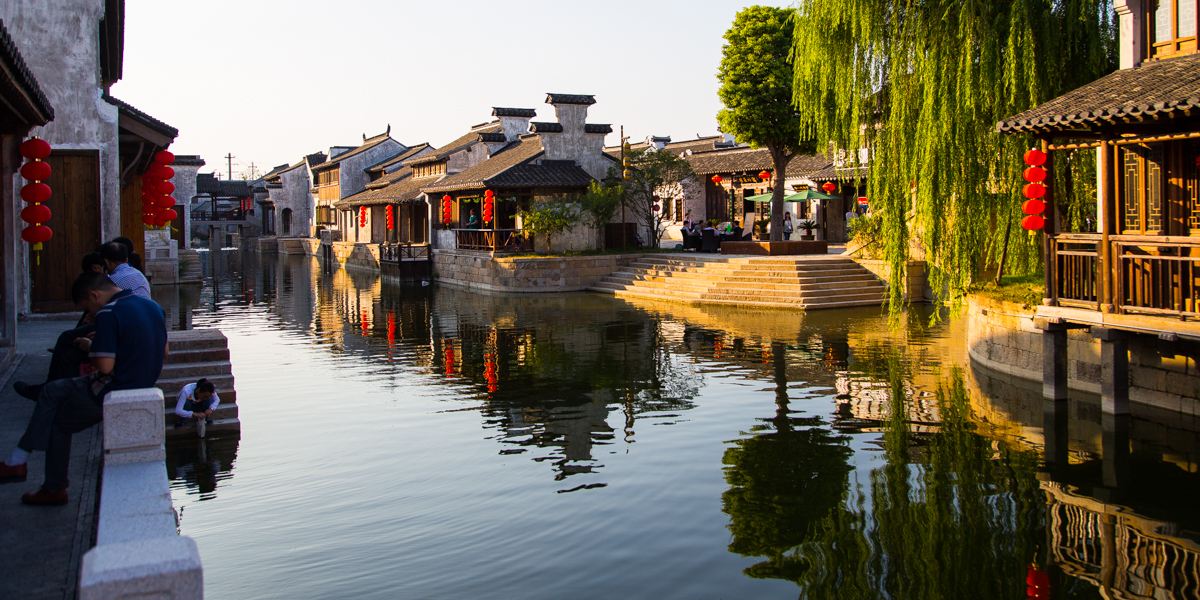 Dangkou Ancient Town, Wuxi Attraction
Brief Introduction
The Dangkou Ancient Town lies in the Erhu Town, southeast of Wuxi, neighboring aristocratic tombs of the Yue State at Hongshan and Taibo tomb in the west and bordering on Suzhou and Changshu in the east. Dongkou Ancient Town, known as Dingshe in ancient time, is said to be the hometown of a filial son named Ding Lan living in Eastern Han dynasty. Its name comes from its location at the mouth (kou in Chinese) of Er'zhen Shallow Lake (Er'in C zhen Dang hinese). It boasts of numerous historic relics including four (13 places) heritage sites under provinciao protection, one heritage sites under municipal protection, one controlled and protected and fifty historic buildings. In 2004, Dangkou was announced as a historic and cultural town in Jiangsu Province. In 2008, Dangkou Ancient Town was approved as one of the five important historic and cultural streets (famous towns) under the protection of Wuxi city.
What to See
The beautiful Erhu Lake nurtures the famous historic town. Most of the town residents are sharing the same family name of Hua. Their ancestor, Hua Zhengu comprehensively studied various schools of thoughts and exponents in China and wrote Lvde Ji (Collection of Thoughts) to hand down from generation to generation. Therefore, this region, which is endowed with rich natural resources and cultural heritage, not only brought forward men of talents, but also grew fast into the No.1 town in terms of grain tax payment in Jiangnan. Besides, with crisscrossing rivers and lakes, foot bridges and running streams, the town environment is quiet and tasteful. After several years of careful protective development according to the standards for national 4A level scenic spots, the historical and cultural district of Dangkou town is unveiled as a water town of Jiangnan for tourism and recreation.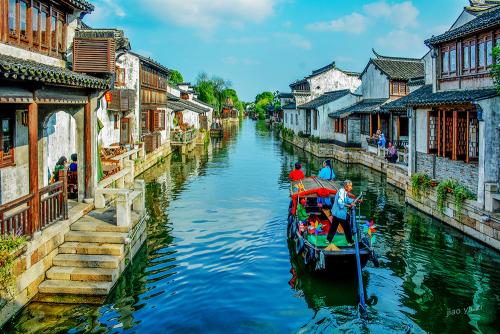 Legends and Stories
The Story of Mao Ci's Wall Gate
Long long ago there lived a rich couple in Dangkou. Their only regret was that the wife couldn't get pregnant after the marriage. They heard that Maoshan Taoist in Gourong would efficaciously grant whatever one requests so they decided to go to Maoshan Mountain for the birth of a son.
In less than a day, the couple arrived at Maoshan Mountain then religiously burned joss sticks and made kowtows to the Maoshan Taoist to ask for an heir of son. The Taoist said to them after counting on his fingers, "You are destined to have only a son who is not so good and will squander the family fortune. Do you want him or not?" The couple didn't mind it as they believed their family property is more than enough for lavish spending. Therefore, they said, "Yes, we want this son." Then they burned joss sticks again and donated money to the Taoist before returning home happily.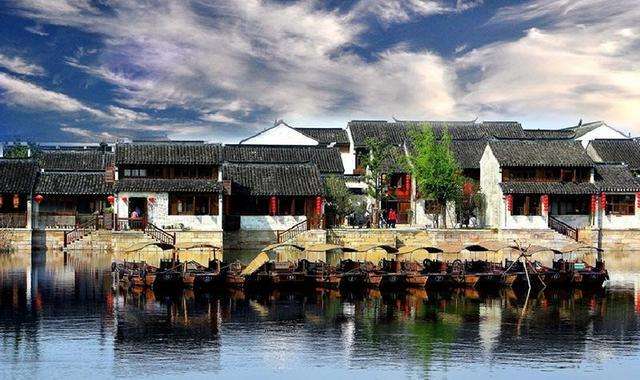 As a result, the wife was pregnant soon and gave birth to a plump boy after ten months. The boy was named Mao Ci since he was granted by Maoshan Taoist. Little Mao Ci was a cute, lovely and cheerful boy. As his parents grew old, he gradually began to take over family affairs. Born with a generous personality, Mao Ci did his best to help neighbors in case of emergencies and never hesitated a bit before offering material assistance to the poor countrymen. Therefore, he was popular with people in Dangkou.
The Story of Xiaozi Fish
Ezhen Shallow Lake has a vast area of water with rich aquatic products and various fishes. There is a strange fish with only half a body yet it swims freely in the water. More interesting, it was called Xiaozi Fish (Filial Son Fish). Legend has it that during the Warring States Period, a winter was so cold that the Ezhen Shallow Lake was frozen hard and many fishing boats were trapped in the lake by ice.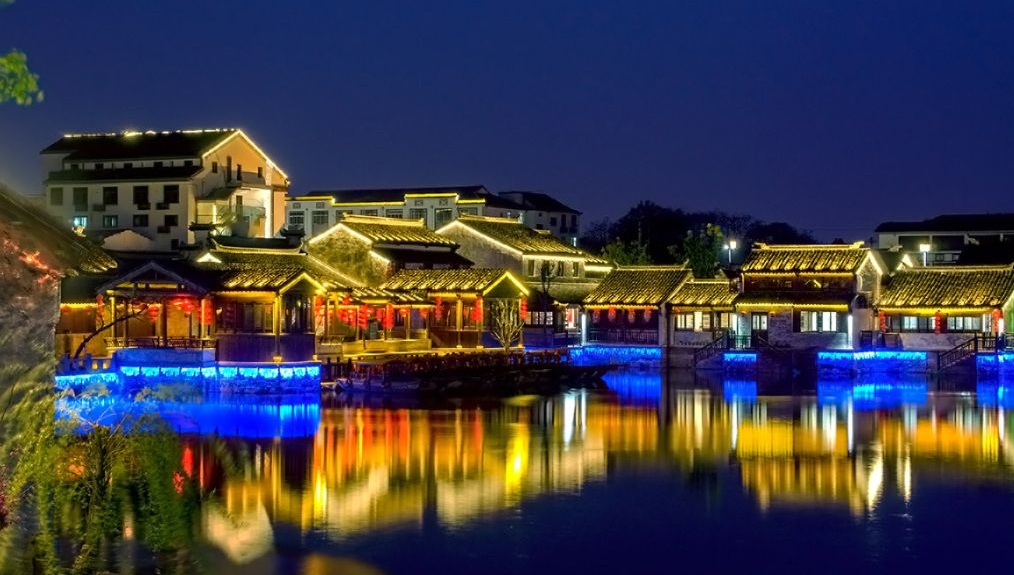 There lived a mother and a son on one boat. Due to continuous freezing days, the boat could not move a bit and the mother fell ill as she had nothing to eat in the cold weather. Besides, there was not a grain of rice on the boat. Seeing his mother grow weaker and weaker, the son was very worried and wanted to jump into the lake to catch a fish for his mother. But what could he do with such a bitter-cold weather and thick ice covering the lake? The son had no idea yet could not wait for his mother was so seriously ill. He gritted his teeth, took off clothes, broke open the ice and threw himself into the ice-cold Ehu Lake. Searching here and there, he finally caught a fish. Although frozen to shake all over, the son felt very glad. He climbed onto the boat and put on clothes, ready to make a bowl of delicious fish soup for his mother.
When he was about to kill the fish, tears welled off the fish's eyes as if it was begging for release of its life. What should he do? The son looked to his sick mother then to the tearful fish and felt as if put on the thorns of a dilemma. If he released the fish back to the lake, it would be hard to face the needy mother, not to mention his suffering from the cold water; yet as for the choice of killing the poor fish, he simply couldn't do so with a soft heart. He thought it over and over again and found a way out. "Yes", he said to himself, taking up the kitchen knife to half the fish, one piece with viscera and the other all flesh and bones. He put the half with viscera into the lake and said, "Good fish, you still have your viscera, go back to live in the water! I have borrowed half of your body to save my mother's life, please forgive me." Strangely, the half fish nodded its head as if it had a human mind and did not leave the boat for a long time. The young man was very happy and hurried to make soup for his mother with the other half of fish. His mother didn't feel hungry and gradually became better after having the fish soup. Both the son and the mother felt happy.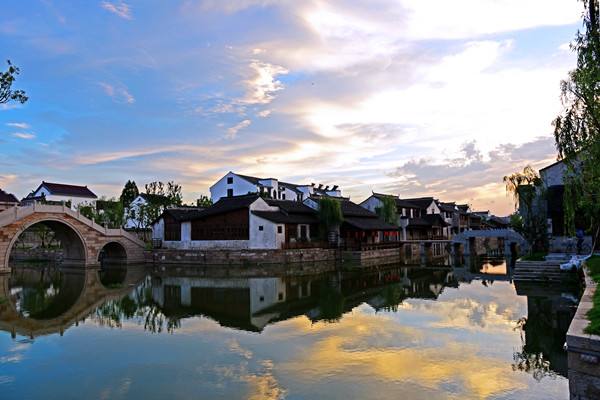 Culture of Dangkou
Managing the Family with Comity and Poems
Dangkou culture has a profound cultural foundation with a long history. In the third year of Hongwu Period in Ming Dynasty, Hua Zhengu, the ancestor of Hua family, first settled in Dangkou promoting the fast development of local economy. Hua Zhengu was appointed as Xiaolian Tongjing Rushi. He loved learning from childhood, read through all schools of thoughts, mastered the Buddhism, Taoism and Confucianism then developed unique family education theory and wrote Lvde Ji (Collection of Thoughts). Lvde was taken from a sentence in the Great Learning saying "that deliberation will be followed by the attainment of the desired end." Lvde Ji was regarded as a classic for managing the family by later generations and passed on among the offspring of Hua family to pave a foundation for the long term development of the Hua family.
Dangkou, situated in Ehu, a blessed land, nurtured by the culture of poem and comity, becomes "a land of filial piety and charity" and "a cradle for celebrities".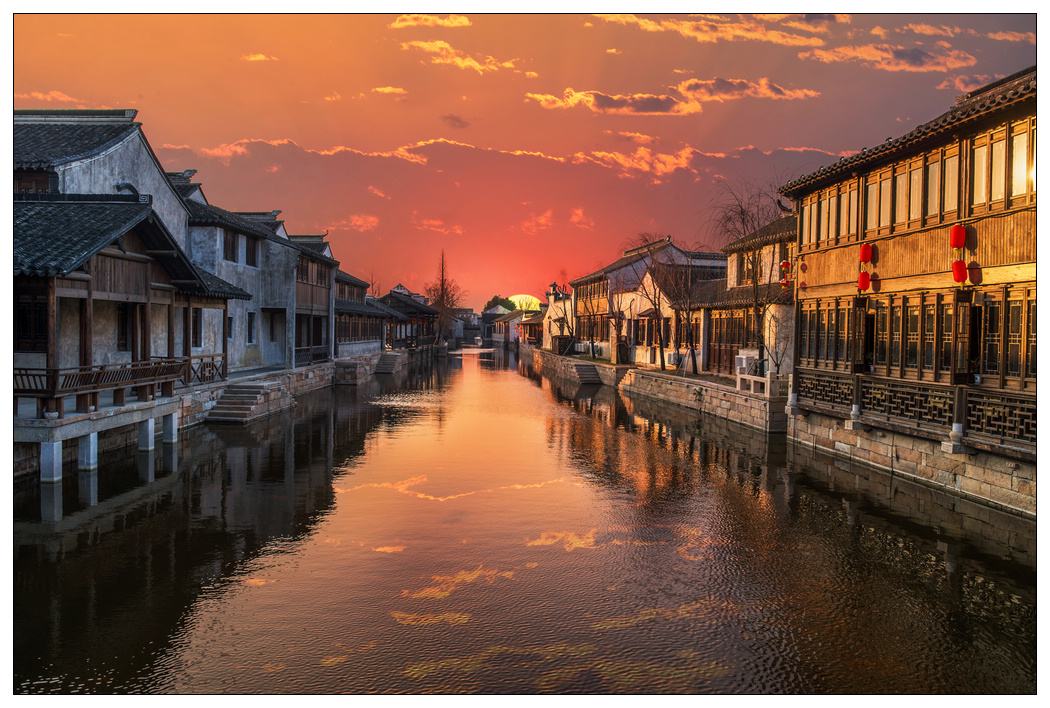 Travel Guide
Admission Fee: CNY 80
Opening Hours: 24 Hours
Recommended time for visit: 5-7 hours
Best season for travel: All year around
How to get to Dangkou Ancient Town
From Wuxi train station: take Bus No. 708 (7:08-19:08)
From Wuxi long-distance bus station: take Bus No. 711 (5:40-18:30)