Summary
DAY 1 Shanghai--Suzhou by bullet train: Lingering Garden, Panmen Gate, Hanshan Temple, Pingjiang Historical Street, Suzhou No.1 Silk Mill
DAY 2 Suzhou--Wuxi by private vehicle: Lingshan Buddha Scenic Area
DAY 3 Suzhou--Nanjing by bullet train: Dr. Sun Yat-sen mausoleum, Linggu Temple, Presidential Palace, Confucius Temple, return to Shanghai by train.
DAY 1
Place&Transport: From Shanghai to Suzhou by train
Today's Activities: Lingering Garden, Panmen Gate, Hanshan Temple, Pingjiang Historic Road, Suzhou No.1 Silk Mill
Accommondation: N/A
Meal: N/A
In the morning, you will take bullet train from Shanghai to Suzhou, it takes around 30 minutes for one way. After you arrived in Suzhou, our Suzhou local tour guide will pick you up at the exit of the train station, you will find a welcome signage "Suzhou Private Tour". And your tour start directly. (We provide transfer service from your Shanghai hotel to Shanghai station as well. Please feel free to let us know your requirement, this tour can be customized fit to your needs.)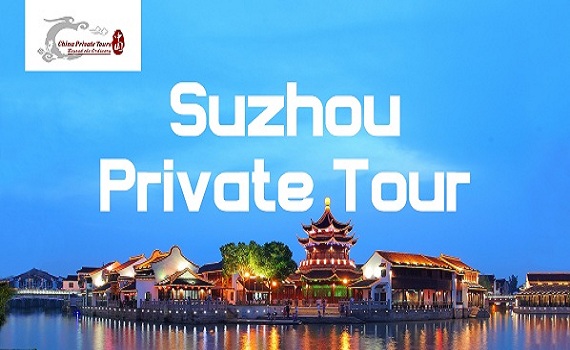 Our Suzhou Pick Up Sign "Suzhou Private Tour"
Your first stop is Lingering Garden, a UNESCO World Heritage Site and one of the city's finest classical gardens. It has been listed as one of the four most famous national classic gardens together with the humble administrator's garden, the Summer Palace and Mountain Summer Resort in Chengde are called China's four largest gardens. Landscape architectural space processing is very exquisite, using a variety of artistic techniques, built a unique space system, becoming one of the world civilization examples of architectural space art processing. Wander through the trails and portals of this delicately-planned garden that carefully combines traditional Chinese architecture with natural beauty. A good place to let your mind and body rest.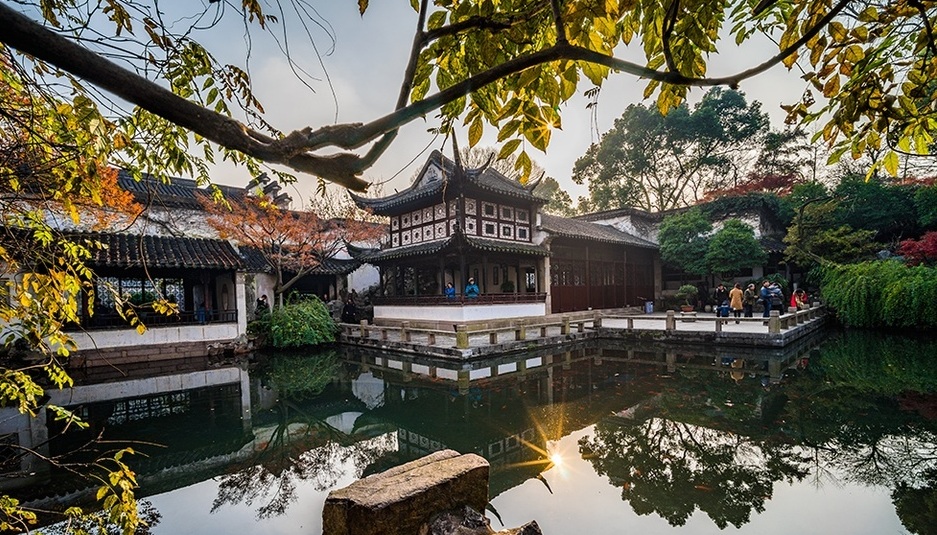 Next agenda is Panmen Gate. The history of the Panmen Gate dates back to 514 AD. Built by Wu State during the spring and autumn period, Panmen is the only ancient city wall still intact in Suzhou. Panmen Gate is China's existing only water and land parallel gate, is one of the signs of the ancient city of Suzhou. It is now part of the Panmen Gate Scenic Area. It is known for the "three landmarks of Pan Gate". They are the Ruiguang Pagoda, the earliest pagoda in Suzhou built in 247, the Wu Gate Bridge, the entrance to the gate at that time over the water passage and the highest bridge in Suzhou at the time, and Panmen Gate. The Ruigang Pagoda is constructed of brick with wooden platforms and has simple Buddhist carvings at its base. On the top of the gate, you can see the three landmarks.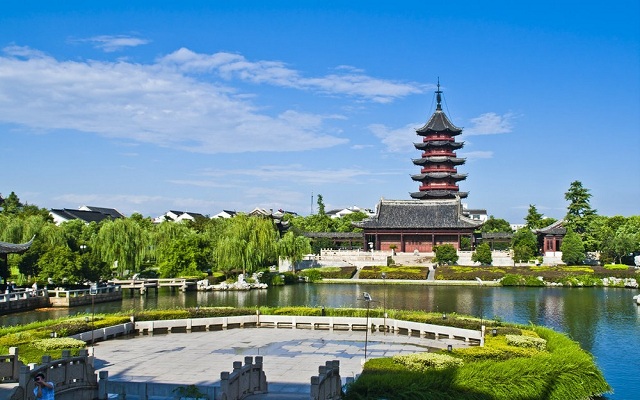 After lunch, pay a visit to Hanshan Temple (Cold Mountain Temple) near the town of Fengqiao. Made famous in a poem by Tang Dynasty poet Zhang Ji, this Buddhist temple is known for its large bells, unique black roof and domed bridge. Take a wander around its halls, pavilions, corridors and well-maintained gardens. A good place to let your mind and body rest.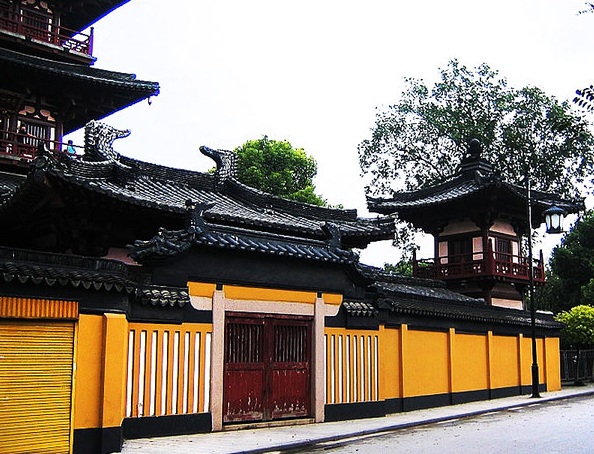 For an authentic taste of city life in old Suzhou, a stroll down Pingjiang Historic Street, which is a great way to get acquainted with the local vibe. Quiet, leafy and slow-paced, the street is lined with old Chinese houses as well as restaurants and teahouses serving traditional foods and drinks. What's more, there are a variety of upscale cafes catering to the chic crowd at each corner. You can taste a few traditional Chinese snacks while your guide tells you more about the history of the street.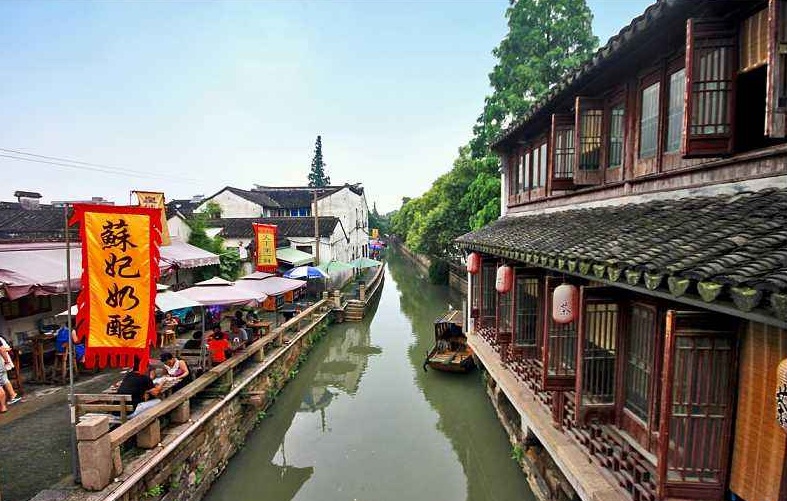 The last stop for today is Suzhou No. 1 Silk Mill. It has a long and rich history of silk culture, including mulberry tree and silk worm cultivation and turning raw silk into beautiful fabric. Suzhou's climate and soil are perfect for silk production, and the city has been a center of China's silk trade for many centuries. The Suzhou No. 1 Silk Mill has been a proud steward of this heritage for over 80 years. It's more like a museum which shows you how the silk is made from cocoons from the begining and the whole silk process. Not to be missed.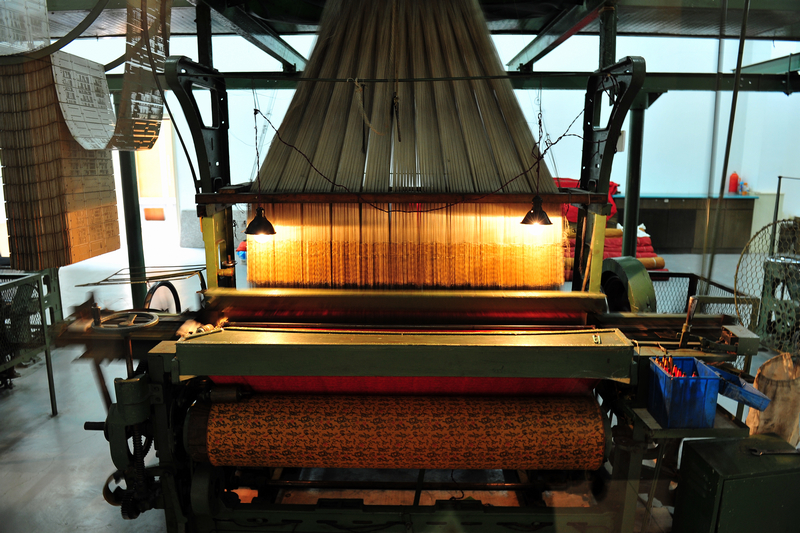 After the tour ends, drive you to your hotel, our tour guide will help you check in.
DAY 2
Place&Transport: Suzhou--Wuxi
Today's Activities: Lingshan Buddha Scenic Area
Accommondation: N/A
Meal: N/A
After breakfast, you will be picked up from your hotel and transfer you to Wuxi, around 1 hour for one way.
Upon arrival, you will visit Lingshan Buddha Scenic Area. The Lingshan Grand Buddha is one of the largest, tallest and most representative collections of Buddhism architecture and art in China, which is an 71-meter-high bronze statue of Sakyamuni in the open air, 17 meters higher than the Grand Buddha at Leshan. Lingshan Buddha was built between 713 and 803 (during the Tang Dynasty), depicting Maitreya.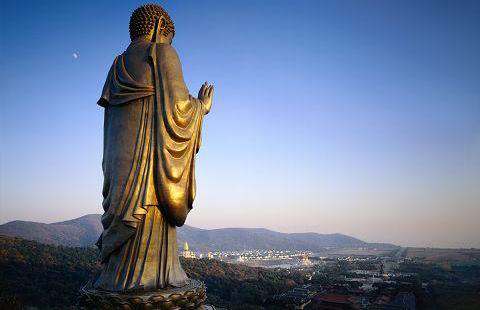 Then move on to Wuyou Temple, located at the South of the Giant Buddha, which visitors pass on the way from the ferry to the Buddha. A pink-walled monastery founded in 742 AD, it has impressive decorations including splendid gate guardians, painted scenes from the Journey to the West (on the second hall) and amusing sculptures of arhats (inside the Louhan Hall). On the other side of the gully on Lingyun Shan, there are signs for Han-dynasty tomb chambers, which suggest this site was sacred before the Buddha was carved.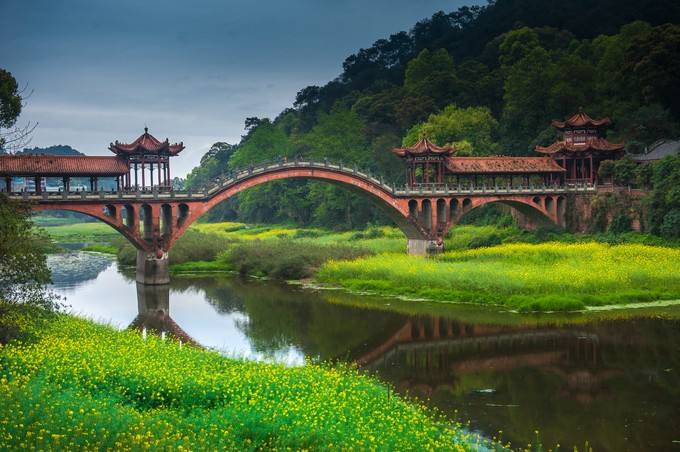 Continue your tour to Nine-Dragon Fountain, it sit in front of the giant Buddha will startto play the music of trombones and the song of The Birth of Buddha at 10:00 am everyday. Huge lotus' slowly bloom with six petals, and a 7.2-meter gold-gilt prince statue of Buddha rise from the lotus, with one hand pointing to the sky and one hand pointing at the earth, symbolizing Buddha appearing from the blooming flower and Buddha's light shining on all things.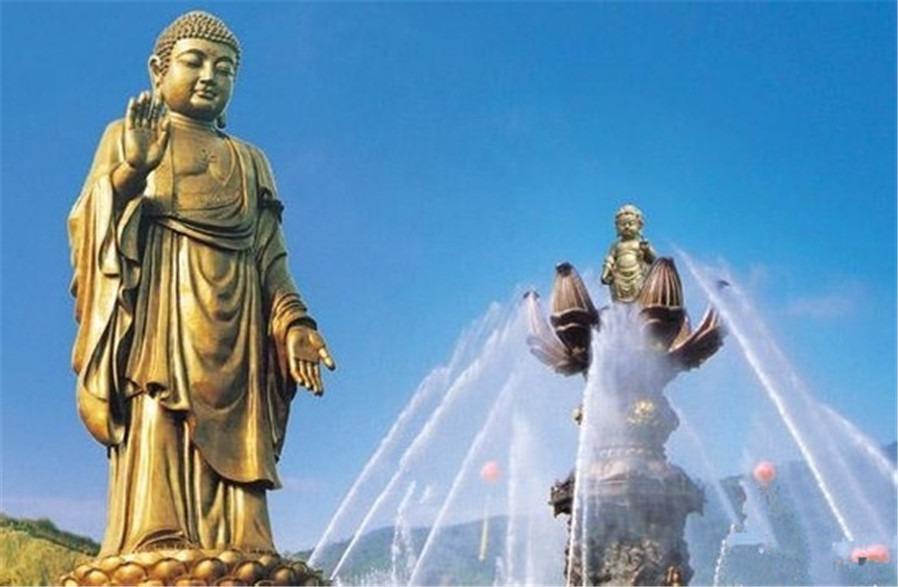 The final sight is Brahma Palace on Lingshan Mountain lasted for two years. Open to public in 2008, its splendid and marvellous design surprised every visitor. The whole palace shows the integration of the traditional cultural elements with western architectural features, embodying the extension, profoundness and loftiness of Buddhism. Many cultural heritage and art works can be found here.
After finished the visit of Lingshan Buddha, you will be transferred back to Suzhou.
DAY 3
Place&Transport: Suzhou--Nanjing by Bullet Train
Today's Activities: Dr. Sun Yat-sen mausoleum, Linggu Temple, Presidential Palace, Confucius Temple (Fuzi Miao)
Accommondation: N/A
Meal: N/A
In the morning, our driver will pick you up at your hotel lobby and drive you to Suzhou train station, it takes around 1.5 hours for one way. Once you arrived in Nanjing, our Nanjing local tour guide will wait you at the exit of train station with a welcome signage "Nanjing Private Tour". One day tour in Nanjing includes the following attractions and activities.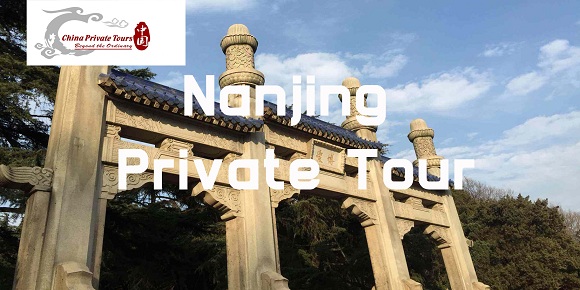 Our Nanjing Pick Up Sign " Nanjing Private Tour"
The first stop is Dr. Sun Yat-sen mausoleum, which is considered to be the rather of the Republic of China and forerunner of the Chinese Revolution. The Mausoleum were built on the central axis, along which the mausoleum rises gradually and squarely: marble dolmen, the pavilion, sacrificial hall and conffin chamber will come into view one by one, and perfectly demonstrate traditional Chinese architectural styles.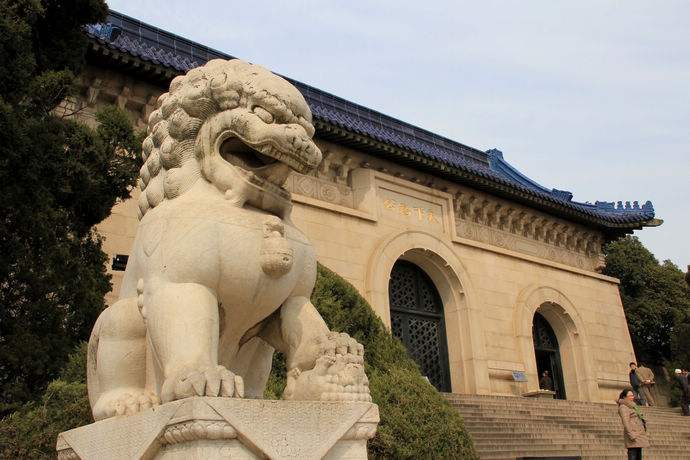 Next to Linggu Temple. Linggu Temple is famous in Chinese history, it was described as "the best Buddhist temple in the world". It is said that in the Ming Dynasty, Linggu Temple flourished. Crowds filled the place to burn joss sticks. It is said that it could hold 1,000 monks at that time. The environment here is very pleasant. The Linggu Temple is surrounded by aged dark green trees and a large park, . The sweet fragrance of flowers pervades, and the sound of the bell is melodious. The forest and springs around add vitality and wild pleasure to the temple.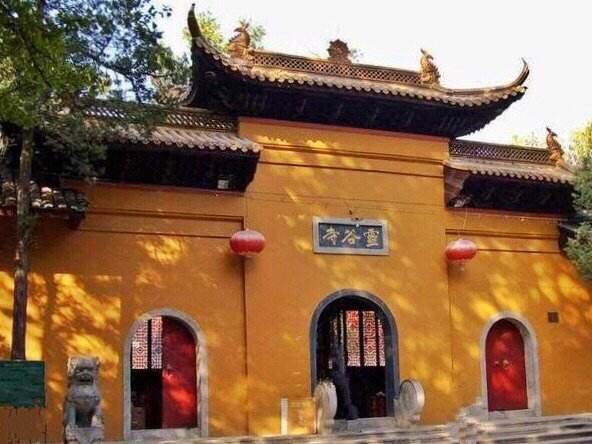 Then head to go to Presidential Palace, which was the backbone of the Chinese military and politics. Presidential Palace is a National Cultural Heritage Conservation Unit and also a famous tourist spot. Presidential Palace in many well-preserved remains of Chinese and Western architecture, it is the unique culture and rich history. It has beautiful natural environment and nearly 30000 square meters leisure zone. Nowadays, Presidential Palace is the biggest modern history museum in China.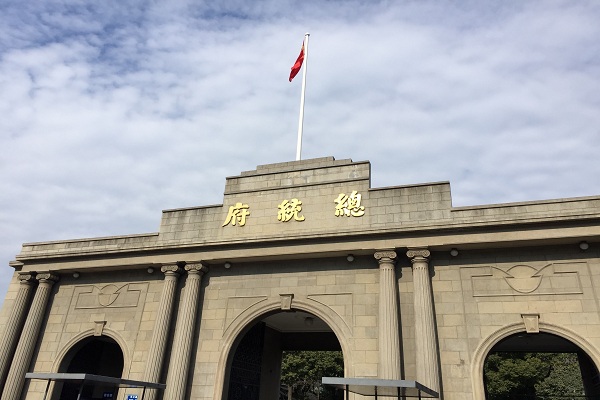 The last spot is Confucius Temple (Fuzi Miao), it was originally constructed in the year of 1034 in the Song Dynasty and was a place to worship and consecrate Confucius. The area around the temple consists of a series of tourist shops, snack bars, restaurants and tea cafes. They all appear to be in the architectural style of the Ming and Qing style. A variety of snacks encompassing eight of the most famous flavors are available for purchase at here.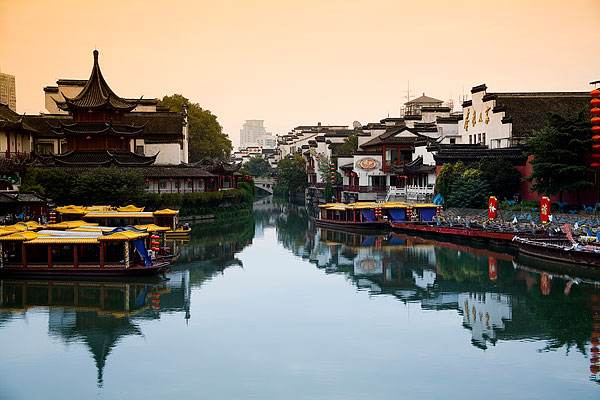 After tour ends, you will be taken back to Nanjing train station and you return to Shanghai.
Price Per Person in US Dollars