Summary
Traveling by bike offers a healthy, environmentally friendly, convenient, economical, safe and fun means of travel, transportation and recreation. In April, when spring is very much in the air, Yangchenghu Peninsula Tourist Resort is one of the best choices among Suzhou dwellers for enjoying spring outing. It has been named as a national tourist resort along with 16 other locations in the country, the National Tourism Administration reported recently. The title is considered the highest honor for tourist resorts in China, equivalent to the 5A rating for scenic attractions.
A 50-km round-the-shoreline bicycle lane, with a 7km section on water, is very attractive to bicyclists.
Tour Itinerary
Place&Transport: Suzhou
Today's Activities: Suzhou Industrial Park, Yangcheng Lake Peninsula, Chongyuan Temple, Eco-Sports Park, Sun Island Golf Club, Suzhou Ruohang Heliport, Yi Ou Lai Village
Accommondation: N/A
Meal: N/A
In the morning, our Suzhou local tour guide pick you up at your hotel in Suzhou downtown or Suzhou train station, you will find a welcome signage "Suzhou Private Tour". Then take a taxi to the Bike Rental Station around Yangcheng Lake. One Day Suzhou Bike Tour includes the following activities and attractions.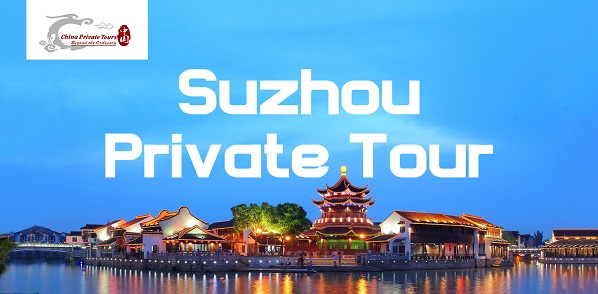 Our Suzhou Pick Up Sign "Suzhou Private Tour"
Starting from and finishing at the tourist center on Xinghua Street, one the way you will pass such scenic spots as Lian Chihu Park, Chongyuan Temple, Yun Shanhu Park, Yangcheng Renjia Pier, Xian Yinghu Park, Eco-sports Park, Sun Island Golf Club, Suzhou Ruohang Heliport, Yangcheng Lake West Orchard, Putian Eco-farm and Yi Ou Lai Village.
Chongyuan Temple: Chongyuan Temple is a Buddhist temple constructed in 503 during the reign of Tianjian Emperor Liangwudi, with a history of 1,504 years. The temple was contemporaneous with Hanshan Temple, Lingyan Temple, and Baosheng Temple. It has the highest and heaviest above-water indoor Guanyin (Goddess of Mercy) Pavilion of China.
Eco-Sports Park: It is the biggest public sports and recreational park in Suzhou, covering a total land area of 1,100,000 square meters. Eco-Sports Park green areas planted with 80 floral, grass, and tree species and 4.5km-long waterfront landscape. The park has multiple functions of eco-wetland, flood control, and environmental protection. It has been listed as key and pilot project in Suzhou as well as part of the city's protective forest and ecological belt along Yangcheng Lake.
Sun Island Golf Club: The golf club is close to the beautiful Yangcheng Lake, which is famous for its hairy crabs. The whole design is based on the concept of "Links" and the style of the Jiangnan area. The golf course has a fun and challenging layout with a variety of features. The design of the Suzhou Sun Island Golf Club is rather artistic with broad fairways and uniquely arranged sand pits.
Suzhou Ruohang Heliport: The 60,000-square-meter heliport, at Yangcheng Lake, can hold 60 light-to-medium helicopters and holds other facilities and a yacht club. People can now get a birds-eye view Suzhou.
Yi Ou Lai Village: Yi Ou Lai Suzhou Village is a luxury retail center housing approximately 100 boutiques and restaurants. The landscape supports a retail experience focused on the outdoors. Visitors are led along peaceful pedestrian shopping streets within the retail area and are afforded access to the central water garden. The central water garden is the calm refuge from the adjacent retail and hotel environments that gives visitors scenic views of the famous Yangcheng Lake.
After the tour ends, our tour guide will help you return the bike and drop you off your hotel in Suzhou or Suzhou train station (the taxi fee is on your side).
If you visit Suzhou from Shanghai, there are some useful Tips for you to puchase train ticket:
From Shanghai to Suzhou:
Option 1: G7104 Shanghai Hongqiao Station to Suzhou Station: Depart at 08:54AM and arrive at 09:30AM
Option 2: G7006 Shanghai Station to Suzhou Station: Depart at 09:00AM and arrive at 09:25AM
Please choose one of the above options according to your hotel location
From Suzhou to Shanghai
Option 1: G7119 Depart at 17:56 from Suzhou Station and arrive at Shanghai Hongqiao Station at 18:32
Option 2: G7243 Depart at 18:02 from Suzhou Station and arrive at Shanghai Station at 18:27
Price Per Person in US Dollars